Court Visions: The problem with Ben Howland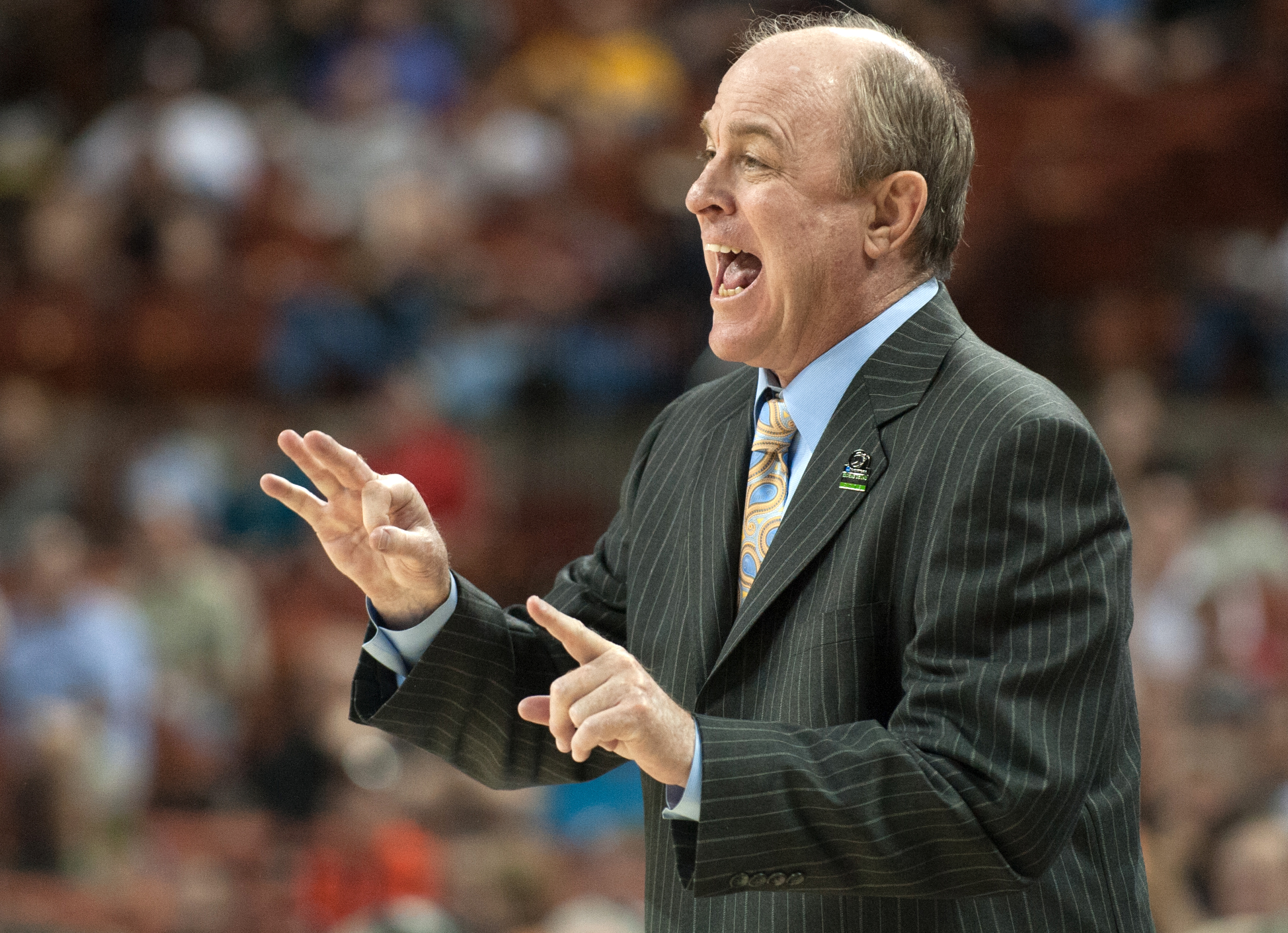 UCLA coach Ben Howland directs his team's offense during the Bruins' season-ending loss in the second round of the NCAA Tournament.
March 23, 2013 11:53 p.m.
AUSTIN, Texas — To external observers, the situation is baffling: How is Ben Howland, a coach whose resume is among the best in the country, about to get fired?
To those that follow the UCLA program closely, it's much more understandable.
Simply put: Howland lost his way.
If this is the end for Howland – and multiple reports have suggested it is, including one late Saturday night from Yahoo Sports that said Howland had been notified of his firing – he will leave Westwood as the longest-tenured coach since John Wooden and arguably the most successful since then.
Though he didn't win a national championship, he was a win away from one in his third year as UCLA coach. He followed that up with two more appearances in the national semifinals. That three-year period, often wistfully referred to as "those Final Four years," met the standards expected at UCLA. What followed did not.
Somewhere around the last of the Final Fours was when Howland got away from what made him so successful at UCLA.
Consistent Final Four teams have talent that sticks around and a coach who recruits players to fit his offensive and defensive systems. That used to be the Bruins.
Nobody on those teams were guaranteed spots in the NBA – they were hard-working, patient, defensive-minded players who overachieved. The players Howland recruited doubled as fan favorites: Jordan Farmar, Darren Collison, Luc Richard Mbah a Moute, Josh Shipp, Lorenzo Mata and Arron Afflalo, to name a few.
As the Bruins got more successful, Howland started attracting higher-profile recruits. He got one top-ranked high school player in Kevin Love, who carried UCLA to its last elite season. Jrue Holiday and Shabazz Muhammad followed, but neither was too worried about getting the Bruins back to where they were because UCLA was just a stepping-stone to the NBA for them. Neither had to listen to Howland. It didn't matter for their futures if they didn't.
Those weren't the only players Howland couldn't get through to. Reeves Nelson constantly butted heads with his coach. Joshua Smith never took the calls to lose weight seriously. Tyler Honeycutt and Malcolm Lee left for the NBA, despite Howland telling them they could be helped by more college basketball.
Then there were the transfers, an almost yearly tradition. For the last three seasons, the Bruins fielded a team that couldn't have played a game of five-on-five with each other, like a team under some sort of sanctions. Just seven scholarship players walked off the court after UCLA's season-ending loss to Minnesota in the second round Friday night.
Howland was to blame for all of that. His trust was tough to gain and easily lost. If it was frustrating fans in the crowd, can you imagine how the players felt? It was easy to see why so many left on their own and others simply didn't fit.
Maybe recruits just don't come like they did a decade ago. Howland spent the opening months of the last few seasons teaching his newcomers how to play man-to-man defense the way he wanted to. At times he would instruct the team to play a zone defense, something he admittedly hated to do, which only further stunted defensive development.
Really, it's a coach's job to find players who will work for him, regardless of how many stars recruiting services give them or how many points they scored in AAU ball.
This season, Howland got further away from what made him successful. He pitched a high-tempo attack to the players he was recruiting, straying from the cautious offense that was a hallmark of the Final Four teams. It helped him land Muhammad, Kyle Anderson, Jordan Adams and Tony Parker.
It was really nothing more than an emphasis to get points in transition as much as possible, which other teams do on a regular basis anyway. The plays in UCLA's offense still required the point guard to come to a near standstill at half-court and wait for Howland to choose a play from the sideline.
The players didn't like to execute in the half-court as much as they loved to run up and down. When it came time for the Bruins to run a set play, there were often confused looks on their faces. Three times on Friday night – twice out of timeouts and on the first play after halftime – UCLA looked like it had spent the stoppage of play on small talk instead of strategy.
Howland even said he shrunk the playbook down midseason to keep things simpler for the team. It only made things more predictable for the opposition.
There were other reasons to dislike Howland as a coach, although not fireable offenses.
Playing slow can be tough to watch, but coupled with the way the Wear twins took long two-pointers, it looked like he was coaching the game before the advent of the three-point line. He refuses to accept advanced analytics to enhance his game plan, something programs across the country are doing to gain an advantage.
Howland doesn't have the most endearing personality, either. He was coy with the media – if you played "Jeopardy!" with the answers he gave, there was no chance you could guess the question he was asked. He had different faces in front of the camera, for those within his circle and those outside.
College coaches aren't required to be forward-thinking or nice. But when a losing culture starts to settle in, anything can be perceived as the cause.
That's what makes this the right time to part ways with Howland. He may have two years remaining on his contract and it would take a costly buyout to let him go, but the culture of UCLA basketball is too toxic for him to come back.
Those remaining on the team would hardly be affected by a coaching change – few players could give passionate defenses of their coach Friday night. Even fewer looked disheartened after the season-ending loss, as if they were already looking to the future.
That future probably won't include Howland. He was a great coach, but forgot what got him to that point.
Email Menezes at [email protected] or tweet him at @ryanvmenezes.