Court Visions: Bruins need to stay cool as competition heats up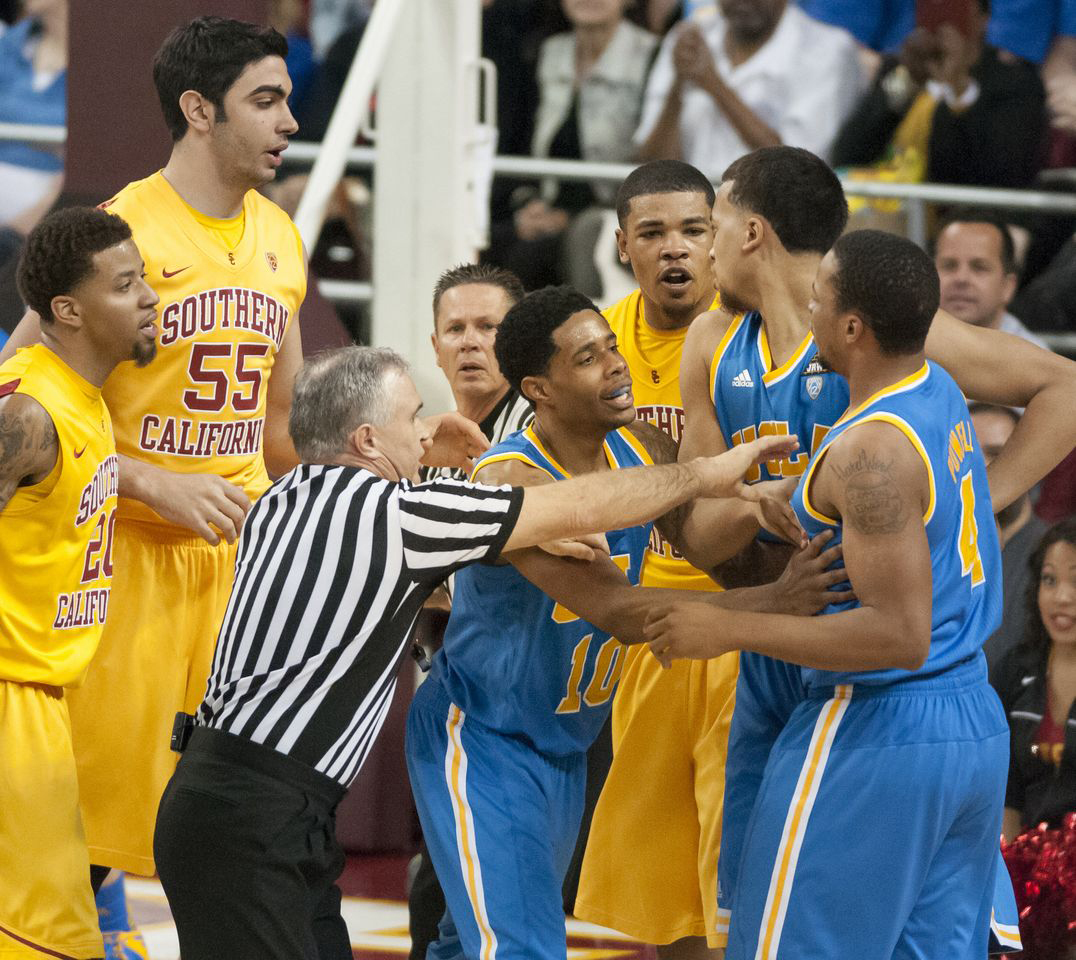 Sophomore guard Norman Powell is restrained by his teammates after an altercation with Trojan center Omar Oraby.
If someone hits you, do you hit back? Do you start a fight? Or do you handle it diplomatically?
When Norman Powell was shoved Sunday afternoon, he shoved back.
After the whistle had stopped a second-half play, the UCLA backup guard was harassed by USC's Renaldo Woolridge, who stripped the ball away from Powell.
The two were tangled up and Powell tried to walk away, with teammates around him working to separate the pair. The Bruins were up by 17 at the time and Powell looked like he didn't want the altercation to go any further.
But Trojans center Omar Oraby kept coming at Powell and taunting him. Oraby eventually crossed a line. So, Powell shoved Oraby away, an appropriate response given the unwarranted harassment.
Both Powell and Oraby received technical fouls, a small footnote on the box score of the Bruins' wire-to-wire 75-59 win at Galen Center on Sunday.
That incident was one of a number of chippy plays the cardinal-and-gold incited while the scoreboard wasn't in their favor. Each time, the Bruins handled it the right way, not letting their emotions run too high and get in the way of a much-needed win.
Older, deeper teams like USC will try to shove this youthful and shorthanded UCLA team out of the way during these last four games leading up to the postseason. The Bruins are more lovers than fighters (Powell is probably the only one of the eight scholarship players who I'd want on my side in an actual fight).
If the Bruins want to get to the NCAA Tournament and beyond, they'll have to handle that roughhousing the way they did Sunday – by using their play and responding only when appropriate.
"The younger guys, they like to talk a lot," said redshirt senior point guard Larry Drew II. "(Bang) their chest, go out there and bump people. I was telling them, 'We're up like 20. You don't need to go out there and talk to these dudes. Don't play down to their level. Go out there and let your game do the talking.'"
The diminutive Drew was on the receiving end of some dirty plays from 7-foot USC center Dewayne Dedmon. First, Dedmon pinned Drew to the floor after a foul had tripped up the Bruins' point guard. A play later, Dedmon tried to set an illegal screen to level Drew.
Both times, Drew didn't try to retaliate.
Shabazz Muhammad was on the wrong end of a flagrant foul later in the second half, with UCLA up 17. He didn't try to start anything either, calmly stepping to the free-throw line to extend the lead.
The Bruins have been great at landing some opening blows this season but when it comes to counter-punching, their killer instinct wanes. That explained the way they lost blowouts to Arizona State and California on the road and this same USC team at home last month.
On Sunday, with the emotions of the rivalry running high, the Bruins handled every blow and got their revenge.
Email Menezes at [email protected] or tweet at @ryanvmenezes.