Food review: 'Mon Amour Cafe'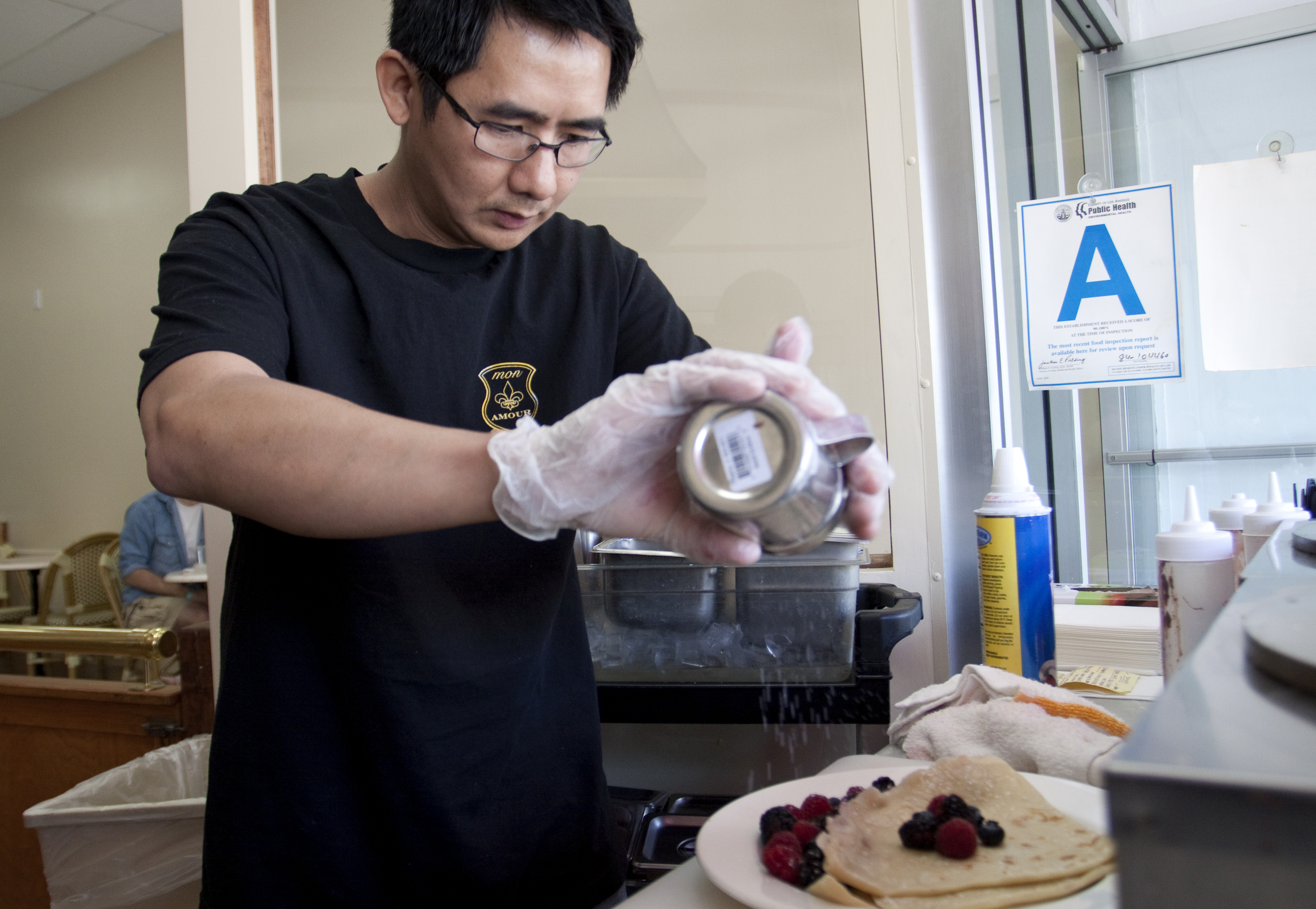 Michael Marcellana, a cook at Mon Amour Cafe, prepares a Berry Delicious crepe, filled with blueberries, raspberries and blackberries.
Crepe lovers in Westwood can rejoice, for Mon Amour Cafe is here to satisfy their cravings.
Nestled between BJ's Restaurant and Brewhouse and the popular Habibi Cafe on Broxton Avenue, Mon Amour is the newest eatery in Westwood, taking the place of Rocky Mountain Chocolate Factory.
Quaint and cozy, it truly is as its motto says – just "a bit of Paris in L.A."
The cafe specializes in French crepes, which are made-to-order in the front store window.
The two types of crepes, sweet and savory, offer an array of options to satisfy even the most demanding palates.
There are 14 named options available, including the "Elvis" with peanut butter, jelly and banana. These range in price from $3.50 to $8.50.
The turkey savory crepe was recommended, which was filled with roasted turkey, fresh spinach and melted goat cheese.
The pesto sauce drizzled on top tied it all together quite nicely, complementing all of the other flavors. It was just the right portion to be satisfying, and was reasonably priced at only $6.50.
The Berry Delicious crepe lived up to its name.
The rich, crispy shell was filled with fresh blueberries, raspberries and blackberries. Garnished with powdered sugar, whipped cream and a sprig of fresh mint, it was a near-perfect combination of sweet and tart.
For those who like to experiment, there is also a "Build your own Crepe" option.
With a base price of $3.50, it offers more than 15 different toppings, ranging from the popular hazelnut spread Nutella to filet mignon. At 50 cents or $1.00 each, the toppings can be combined to create a new masterpiece.
While crepes are the house specialty, panini, coffee drinks and assorted desserts round out the menu. Drinks such as San Pellegrino and Orangina sparkling beverages are also available.
A definite perk for night owls is that Mon Amour is open late.
Both eat-in and take-out options are available Sunday through Thursday from 11 a.m. to midnight, and Friday and Saturday from 11 a.m. to 3 a.m.
If dining in, limited seating is available both inside and outside. Because of its small venue, it is not ideal for larger groups.
The half-empty bakery display cases are evidence that the cafe has just opened and is still getting on its feet.
However, cream-colored walls and vintage French posters create a soft, welcoming color palette.
With the subtle decor and sweet French music playing in the background, Mon Amour's understated, yet effective, ambiance makes up for the growing menu.
The owner, who has worked in Westwood Village for more than 10 years, has put great attention into detail and created a great atmosphere for his new French cafe.
The friendly and attentive staff members are clearly excited for the newly opened cafe.
The service is quick and everything is made fresh as it is ordered, which is refreshing to see in a world where premade restaurant food often sits under steamers all day.
Bon appétit!