The Wes Coast to play first show at UCLA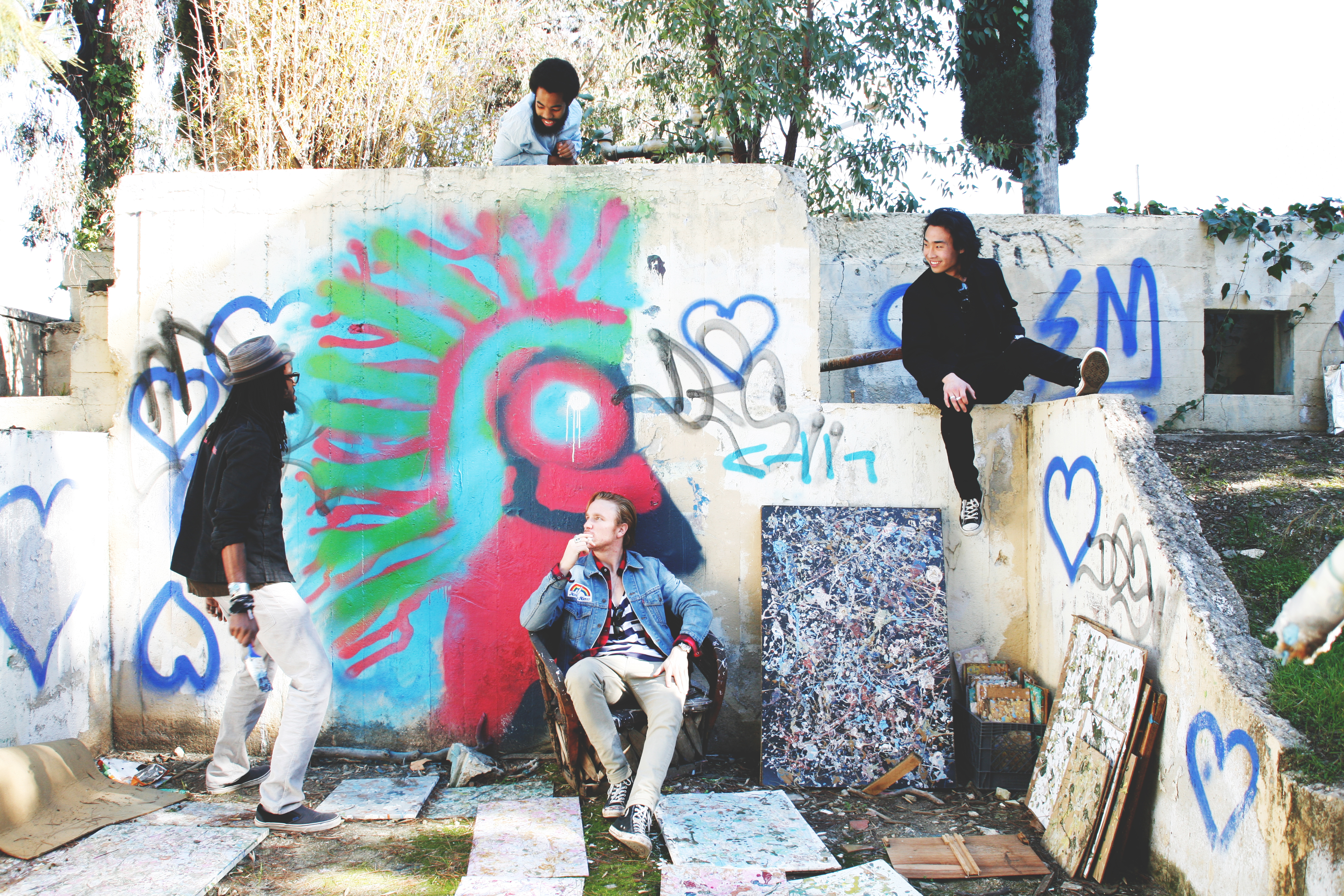 Wes Miller is the lead singer of the self-proclaimed "California rock" band, the Wes Coast. Miller and his bandmates Aroyn Davis, Brandon Bridges and David Han will play the group's first show on Thursday night as part of the Fowler Out Loud concert series.
The Wes Coast
Thursday, 6pm
Fowler Museum, FREE
Before the development of today's GPS technology, travelers relied on compasses to point them north on their journeys. The Wes Coast's band logo is a different kind of compass that points in all four directions, serving as a constant reminder of the places where the band sees itself writing and recording music in the future.
"We're a concept band. The plan, as of right now, is to go from west to east, north to south," said Wes Miller, a third-year ethnomusicology student and the lead singer. "Within the next seven years, we plan on recording in New York. From there, it would be great to go to New Orleans, and then maybe Alaska."
For now, though, they are starting on the West Coast, right here at UCLA.
The band members will kick off their performance career on Thursday, playing their first show ever as part of the Fowler Out Loud concert series.
Classifying themselves as "California rock," Miller said the group's musical inspiration is derived from bands such as the Red Hot Chili Peppers, the Foo Fighters and Kings of Leon.
"We're representing Southern California culture," Miller said. "We are all California kids; this is home, and it's a part of us and our music."
The band began when Miller rushed Sigma Alpha Epsilon in 2011 and met alumnus David Han, finding common ground with their love of playing guitar. The two worked on an EP project that summer, which is when they asked third-year jazz studies student Brandon Bridges to bring his drumming skills into the mix.
"We started with two acoustic guitars, and then we got the drum beat going. All we needed was the bass line. And then, six months later, along came Aroyn," Han said.
Bassist Aroyn Davis was the glue that pulled the band's sound together.
Coming into rehearsal without knowing what to expect, Davis' bass line instantly caught on and fit right in with the music, giving their sound more depth.
"For the first time, we sounded complete. When Aroyn came along, that's when we knew that we really had something," Miller said.
For Thursday's concert, the band will play covers including "Do You Love Me (Now That I Can Dance)" by the Contours, but mostly original rock songs, including the three songs off of its soon-to-be-released EP.
"We chose songs that we love to play and have fun with," said Miller. "But we also want the audience to have fun. There's a little something for everyone."
Miller asked Rachel Murray, a former musical theatre student at California State University, Fullerton and longtime friend, to sing with the band on some songs, including the band's recently released first single, "Delusional," which Miller wrote about a past relationship.
Davis, an experienced musician who has worked with numerous other bands, added that not all music allows for the listener to dive into the minds of the musicians and really grasp the ambiance of the piece.
"With songs like ours, your mind will form an image and you will be able to relate to it," Davis said. "They're not meaningless words. The songs at this concert are going to tell a story."
Miller said the music they will perform is different from the music on the Top 40 charts, which can be quickly forgotten about as new songs come to rise.
He compares listening to the band's songs to reading a book, where the story doesn't fade, but instead leaves a lasting impression on the reader.
"You should get something new out of a book every time you read it, and you should get something new out of a song every time you listen to it. Our music isn't meant to be chewed up, spit out and thrown away," Miller said. "We want our music to be something that people can hold on to."
The band members said they hope everyone will give their sound a chance even though it may be different from what they are used to listening to.
"It's definitely something that you should listen to a few times to fully understand," Han said. "You have to let it marinate. That's real music."
The band is excited to finally perform a live show after months of recording its EP in a studio.
"We're pulling out all the stops," Miller said. "We're so ready for this. We love what we do, we have a crazy amount of fun doing it and we can't wait to show the world what we've got."
Email Ashley at [email protected]