Graduate student holds bone marrow drive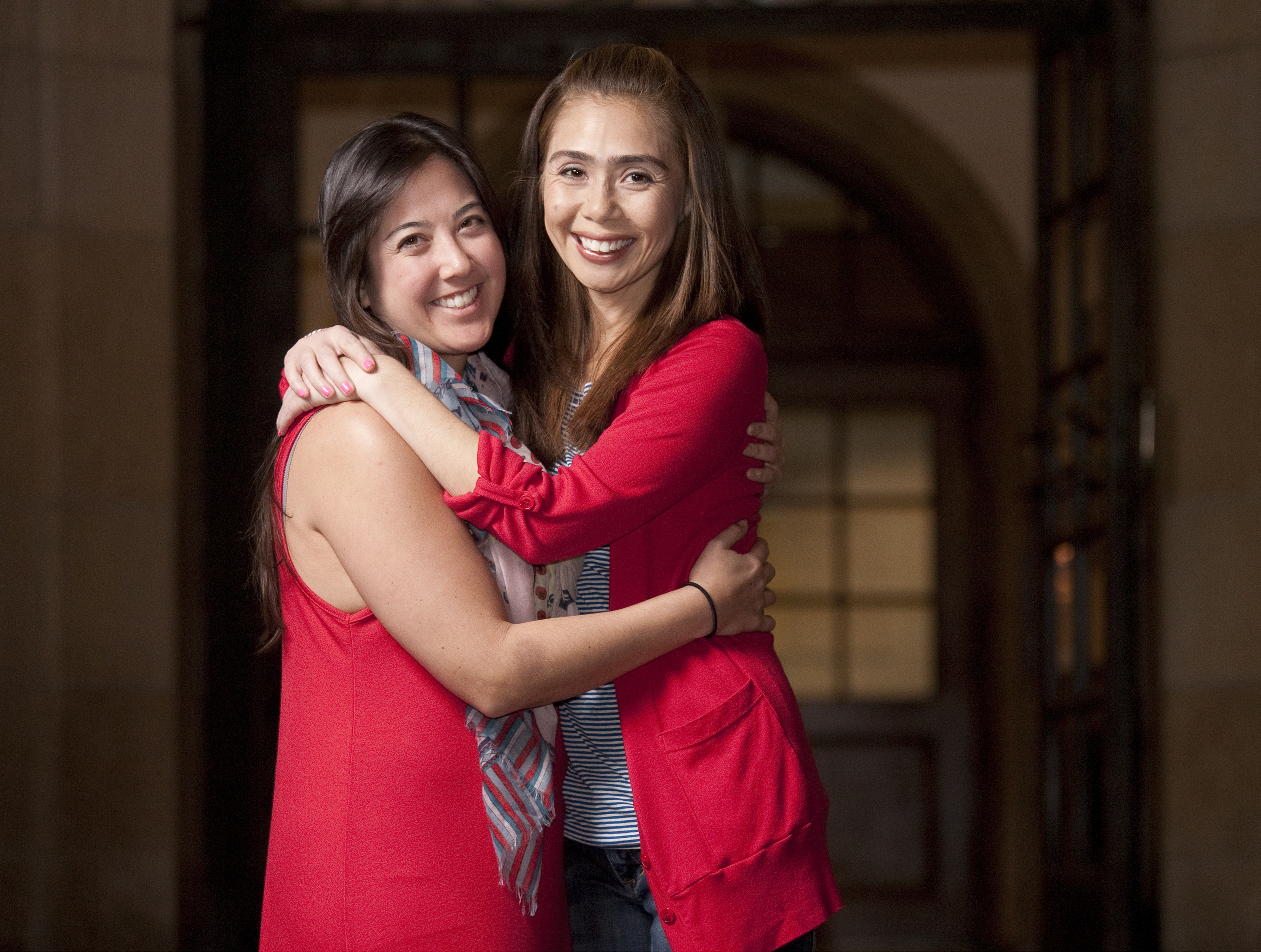 Valerie Sun, a graduate student at the UCLA Anderson School of Management, received a bone marrow transplant when she was 17 years old that saved her life. Now she's hoping to help her friend, Krissy Kobata, find a donor by putting on a bone marrow drive this weekend.
Their sterile suits had three layers. She could only see their eyes underneath the masks they wore.
Valerie Sun, then a 17-year-old USC student, lay in a hospital bed in her sterilized pajamas, where any exposure to germs carried by visitors could potentially result in a life-threatening infection.
Next to her, a thin plastic barrier separated her bed from the outside room.
In a bag above her bed was an orange substance: bone marrow, which pumped into her arm, helping to restore her immune system. This marrow began to produce red blood cells, platelets and white blood cells inside her weakened body.
Seven years earlier, Valerie Sun had been diagnosed with aplastic anemia – a blood disorder where the bone marrow does not produce enough new blood cells to replenish the old ones. Her only option for survival was a bone marrow transplant.
Without a transplant, doctors had said her life expectancy was five years.
"I was quite young," said Sun, now a third-year graduate student at the UCLA Anderson School of Management. "I was only 11 … but I understood that I could potentially die."
It took Sun seven years to find a suitable match for a bone marrow transplant.
Although she has had some complications after the procedure, she said she is grateful that she found a match at that time.
"The fact is that I wouldn't be alive today if (my donor) hadn't donated," Sun said.
Now, years after her transplant, Sun continues to be involved in the bone marrow donation process.
On Saturday, she is holding a drive in the UCLA Anderson Courtyard for her friend Krissy Kobata. Kobata has myelodysplastic syndrome, a condition where the bone marrow does not produce enough healthy blood cells. She is in need of a bone marrow transplant.
Valerie's Diagnosis and Search for a Match
At the time of her diagnosis, Sun was a gymnast. She noticed that she would get tired more quickly than others and would develop bruises easily.
She said the doctor told her it was either leukemia or aplastic anemia, and soon she began to receive monthly blood transfusions, which she described as a "Band-Aid solution." Her energy levels would decrease at the end of each month and increase once she received another transfusion.
Doctors told her she would eventually need a bone marrow transplant, and she began holding drives in search of a match.
Finding a match for bone marrow donation is based on proteins found on the cells of the donor and the patient. A number of these proteins must be similar for a match to be suitable.
A person of mixed ethnicity, like Sun, who is half-Chinese and half-white, would have a mixture of proteins from two or more different ethnic groups, making it more difficult to find a match, said Athena Asklipiadis, director and founder of Mixed Marrow, an outreach that focuses on patients and marrow donors of mixed ethnicity.
The majority of people – 70 percent – do not find a match within their families and must look to the public registry, she added.
Finding a Donor
Halfway across the country, a phone rang. Julie Ryan, sitting at her desk at work, picked it up and heard an unfamiliar voice. She then heard the words she never thought she would hear: her blood marrow was found to be a match for a patient. The doctors wanted to know if she was willing to donate.
Ryan stood up in a daze and walked around.
Six years prior, she had registered to be a donor at a bone marrow drive held on her college campus.
"I knew about the odds of being a match. So I was sort of like, 'Wow'… It's a big deal," Ryan said. "I felt pretty strongly that I would do it."
She was given pieces of information about the patient who would receive her marrow: She was a 17-year-old college student with aplastic anemia.
Ryan donated her bone marrow to Sun in 1999, and the two women have formed a friendship since then.
"People ask, 'What's the best thing you've done in your life?'" Ryan said. "This is far and away the top on my list."
This Time for Krissy
The same type of drive that saved Sun's life could now help find a match for Sun's friend, Kobata, who is currently searching for a bone marrow transplant.
The two friends met though an organization involving aplastic anemia and myelodysplastic syndrome and quickly became friends. Both are of mixed ethnicity and were able to share their struggles in finding suitable matches for marrow donation.
When Kobata, who is half-white and half-Japanese, was first diagnosed with myelodysplastic syndrome in 2008, she was 25 years old. For two years after her diagnosis, she and her family held drives every weekend at festivals, carnivals, high schools, universities and churches to register bone marrow donors, and potentially find her a match.
"Almost every single weekend of mine, I was somewhere doing a drive. My family and I kind of burnt out at that point because after two years, there was no match," Kobata said. "We had registered close to 5,000 people at that point."
Although none of the people who register for the upcoming drive may be a match for Kobata, they could be a match for somebody else, Sun said.
So far, Team Krissy – the group dedicated to finding a bone marrow match for Kobata – has found suitable matches for at least four other patients through their drives, Kobata said.
Until she finds a match, Kobata plans to continue holding drives and working through the media to educate others on the importance of marrow donation.
Sun said she plans to do the same.
"I know there are patients out there who don't have their match yet," Sun said. "The work is never done."
Email Somani at [email protected]