Bruins close out Harry Potter Week with Yule Ball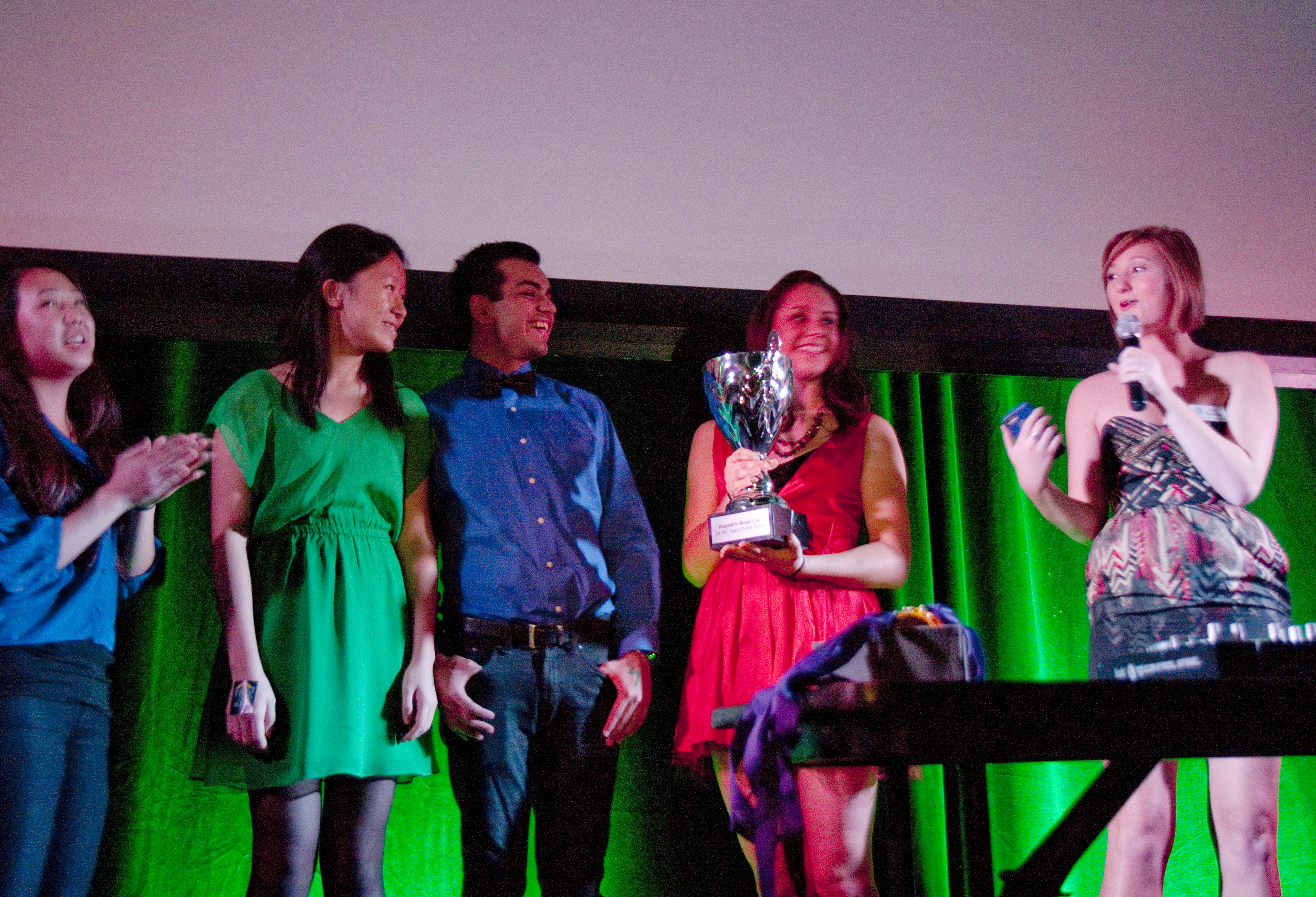 Recalling Hermione's transformation from bookworm to jaw-dropper, "Harry Potter" fans shed sweatpants for chiffon to end their week in proper Yule Ball style.
A slideshow of memorable "Harry Potter" scenes and events served as backdrop to the crowd in the middle – some in full "Harry Potter" costume, and most with at least a touch of crimson – dancing the cold night away. Decorated with dry ice mist and darkly lit except for a few stray beams of light, the Covel Grand Horizon Room took on a mystical presence to evoke the atmosphere of a Yule Ball.
Serving as centerpiece and finale to Harry Potter Week, the Yule Ball drew the biggest crowd of all the events, which included a Quidditch tournament, a festival, a Horcrux Hunt and an inter-residential competition for House Points.
It also acted as culmination: during the ball the House Cup was awarded to Slytherin, Sunset Village and Sproul, and medals were awarded to the tournament winners, Snitches Get Stitches.
"The Quidditch team pitched the idea of programming a Yule Ball," said Zoe Robbins, organizer of the week's events. "I thought it was something our residents would be really interested in, and it totally snowballed from there into an entire week of activities."
The planning for the week of activities began fall quarter, with advertising already in progress near the end. Word was spread mostly via social media like Twitter and Facebook, Robbins said, and fliers were made in collaboration with the Campus Events Commission. However, awareness proved to be a predominant issue with the events, particularly the festival.
"I don't think it was very well-advertised," said Vivian Liao, a first-year cognitive science student. "It was kind of disorganized, and there weren't many people there. I know there are lots of 'Harry Potter' fans on this campus, and they just didn't show up."
Although the events themselves were well-liked by residents, their visibility was an issue.
"I wasn't sure of all the events that were going on," said Jules Robins, a second-year physics student. "I wouldn't have known about the Yule Ball if it weren't for my friends."
As a result, attendance at the festival tended to underwhelm attendees. The entire event seemed too low-key, said Sophia Sherman, a first-year mathematics/economics student, noting the lack of a huge presence for the festival.
The Yule Ball, however, had no problems with scale. Although slow at first, groups of friends and couples started to pour in about halfway through, drawn by the desire to emulate the "Harry Potter" experience as well as the need for a semi-formal occasion.
"Ever since I read the books, I always thought attending something like the Yule Ball would be really cool," said Cathy Young, a second-year human biology and society student. "I think it's cool to have a dance and have fun and dress up. And it's a nice alternative to off-campus parties."
Crystal Kumtong, a second-year psychology student, echoed the sentiment.
"You don't get a lot of chances to have fun and to dress up," Kumtong said. "And doing it during the first week of winter quarter is great because it's not during midterms or finals."
She did have reservations about the music, which although largely consisted of popular hits and dance tracks, was not adequately DJed, and lacked the essential rhythm for dancing, she said.
Although she won't be running the events next year, Zoe Robbins said she hopes Harry Potter Week will continue into the future.
"I'd love for it to keep on going," Robbins said. "Because of the good turnout and positive feedback, I've left a long paper trail to make it as easy as possible to make this happen again."
Residents are also hopeful about the week's continuation, despite the hiccups that hampered some of its impact.
"I think it's really cool that they even made an attempt to do something like this," Sherman said. "If it happened again next year I'd definitely attend."
Although wildly varying in degrees of appreciation, participants were uniformly "Harry Potter" fans. As a culture phenomenon shared across generations, the concept alone provides the backbone of durability for Harry Potter Week.
"People can connect over 'Harry Potter,'" Liao said. "Over being nerdy about it, over knowing all the trivia and even the pick-up lines. … It's like a shared childhood."
Email Huang at [email protected]
Watch highlights from Harry Potter Week below: