'American Idol' judges attend show's world premiere in Royce Hall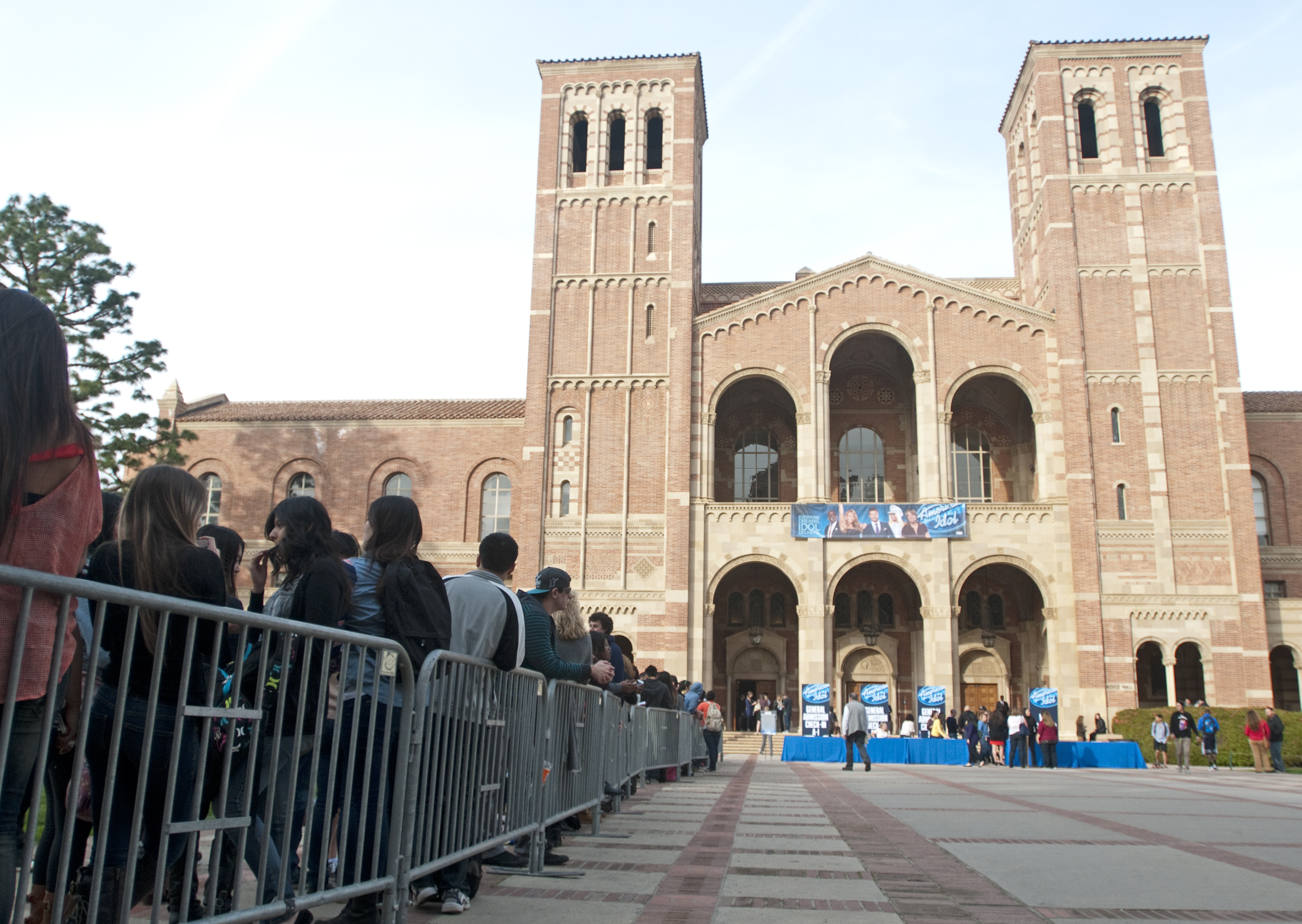 Students stand in a line outside of Royce Hall that extends to Janss Steps as they wait to see the world premiere of the 12th season of "American Idol."
Enthusiastic students and non-students alike stood in a line that stretched from Royce Hall all the way past Janss Steps to the Student Activities Center. It was apparent: people were excited to see the star-studded judging panel from "American Idol" come to campus for the show's world premiere.
Just three days into the new quarter, UCLA hosted a sneak peek and live Q&A with Ryan Seacrest, veteran judge Randy Jackson and new judges Mariah Carey, Nicki Minaj and Keith Urban. This event also served as the official kickoff for the 12th season of "American Idol."
Some students were surprised that the event was taking place at Royce Hall but nonetheless excited that the event was hosted at the heart of campus.
Omar Corona, a first-year biology student, thought that UCLA was a strategic place to attract a young audience for the screening.
"I feel like the demographic for the show is for young, teenaged people. Even though most of us aren't teenagers, universities are filled with young people so they would choose a place like UCLA to host it," Corona said.
Nacho Herrera, a first-year mathematics and applied sciences student, and Diamond Garcia, a
third-year Chicano studies student, had been waiting since noon.
"I'm here to meet, or at least see Nicki Minaj," Herrera said, "I do watch the show depending how interesting the people are, but I'm mainly here right now for Nicki."
Each of them was familiar with the show and watched its earlier seasons up until the sixth season. Garcia expressed that the show went downhill after the departure of judge Simon Cowell, but wanted to see where the show would go with new judges.
"I used to watch the show a lot in the beginning when he was there. Right now I usually just watch the auditions and see if it'll be a good season or not," Garcia said.
After hours of waiting in line, students were finally able to enter Royce Hall for the screening. Afterward, audience members were able to tweet in their questions about judging auditions and what the panelists look for when evaluating prospective contestants.
At the end of the event, the audience bustled out the doors, talking loudly among themselves about how they were glad to be able to see celebrities in such close proximity.
But despite the collective vibe of satisfaction among the students and fans, it is unclear whether the show will make a comeback, attendees said. Kateisha Menefield, a second-year psychology student, stated that even with a new panel of judges, the show would stay the same.
"I feel like 'American Idol' is using the judges to make the show. Before it was just pure talent; people watched it for the people who sang," Menefield said. "Now people watch it for the little drama that's going on between the judges."