UCLA Symphony performance pushes doctoral students' skills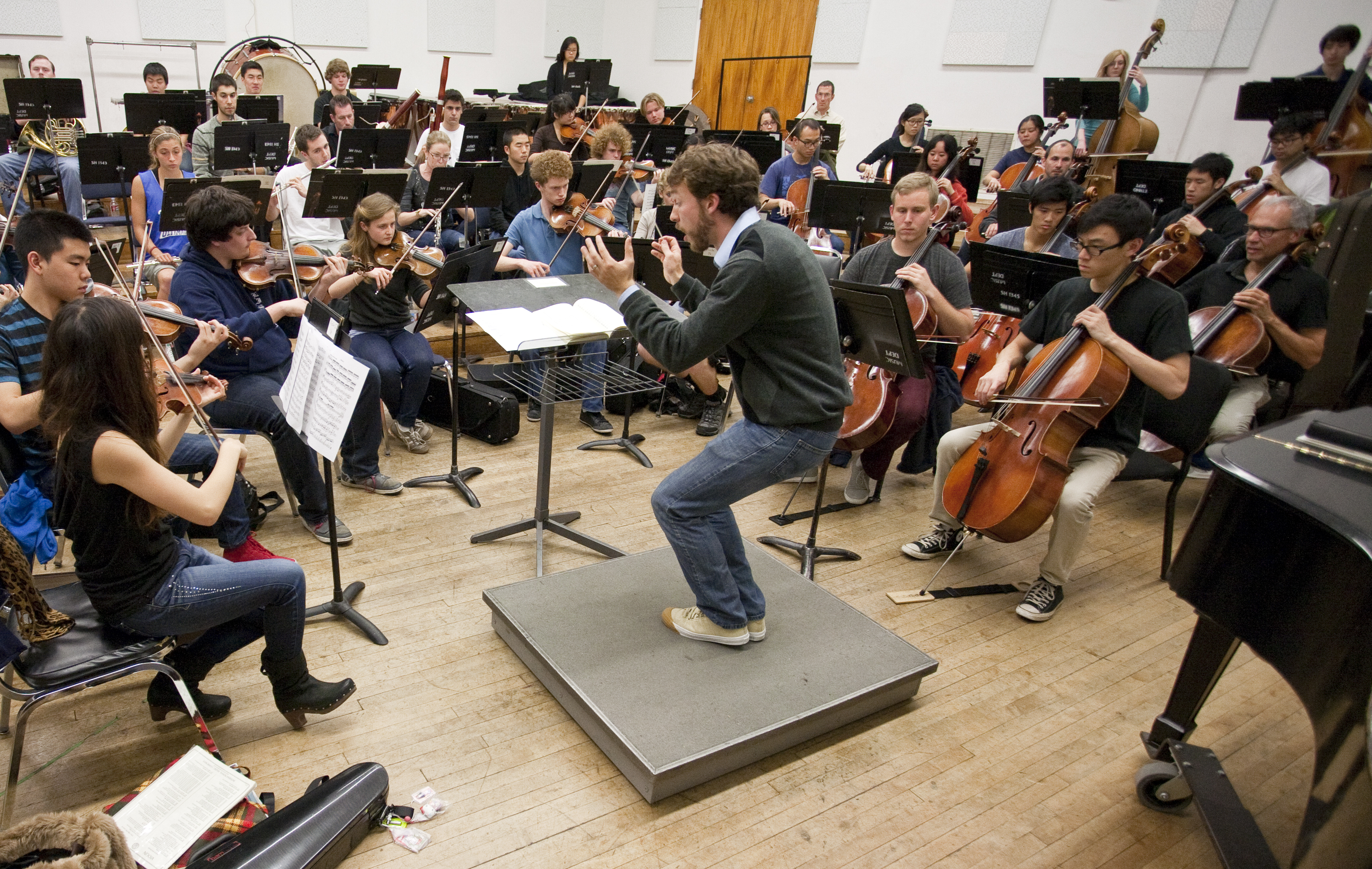 UCLA Symphony's doctoral students conduct Mendelssohn's Symphony No. 3 in A minor, Op. 56 and Sibelius' Symphony No. 1 in E minor, Op. 39.
Wide-open spaces, surrounded by majestic glaciers and limitless sky are called to Dean Anderson's mind as the mournful woodwinds sing out. The energetic violins reply with unbridled emotion that sends shivers through anyone listening.
The doctoral student in orchestral conducting hopes the UCLA Symphony will have this same effect on the audience as they perform Sibelius' Symphony No. 1. The UCLA Symphony, which is comprised of music students as well as non-music students, will take the stage to perform Mendelssohn's Symphony No. 3, conducted by doctoral student in orchestral conducting Ryan Dudenbostel, and Sibelius' Symphony No. 1, led by Anderson.
The pieces were chosen by Professor Neal Stulberg, the director of orchestral studies, in collaboration with the student conductors. Anderson and Dudenbostel had recommended Mendelssohn and Sibelius, among other composers, and both were pleased and excited with the final selections, as the symphonies would push their skills as conductors and allow them to explore each symphony in depth, they said.
Professor Stulberg decided on Mendelssohn's Symphony No. 3 and Sibelius' Symphony No. 1 because the symphonies are stylistically similar and evoke the same kind of raw emotion in listeners.
"The Mendelssohn piece is from the early Romantic period, and so there are echoes of Mozart and Beethoven, but Mendelssohn is moving beyond that," Dudenbostel said. "It was inspired by a trip he took to Scotland as a young man. "¦ It's kind of mysterious, and kind of folk-inspired."
Sibelius' Symphony No. 1 is also a romantic piece. Anderson said the piece was impacted by a trip to Finland, and the listener can hear Tchaikovsky's influence in the use of strings and low, heavy brass.
He said he hopes the music will shock the audience in a good way, and that they'll feel as though they have undergone an intellectual and emotional journey by the end.
"There are open harmonics and orchestration throughout the whole Sibelius' Symphony "¦ I would love for the audience to have a sense of awe and grandeur," Anderson said.
The student conductors both said they can imagine magnificent snowcapped mountains and snowy meadows, influenced by northern Europe, as they conduct the symphony. They can see perfectly the image that Mendelssohn and Sibelius were trying to convey through the fierce music.
Neither symphony is an easy piece to learn, Dudenbostel said. The pieces are musically intense and demanding, and instruments from every section can be clearly heard in each symphony, so musicians must be ready to hit every note. The music is fast-paced, with many runs and crescendos that increase from pianos to triple fortes.
Members of the symphony practiced outside of class as well as in sectionals in order to successfully learn their parts.
"It's really been a challenge learning the music. Sibelius, as well as Mendelssohn, is extremely challenging to play, as well as conduct, but over the course of the quarter the Symphony has really grown, they have improved so much," Anderson said.
Nikolaus Keelaghan, a masters student in percussion, will be playing timpani in Sibelius' Symphony No. 1, and his second instrument, the viola, in Mendelssohn's Symphony No. 3. He is looking to improve his skills as an instrumentalist, especially on the viola, by participating in the Symphony.
He said the conductors know what they want from the orchestra, and expect a lot from the musicians.
"Ryan is an energetic and creative conductor, he tells us what he wants musically by giving us a description of what he's picturing in his head; it's great," Keelaghan said. "Dean is really musical, he's a reliable conductor, and I've noticed he pays especially close attention to the percussion and works really hard with us, which is a section that is occasionally overlooked."
As a result, the audience can expect to hear a full, strong symphonic orchestra, with difficult and beautiful solos from violins, woodwinds and percussion, Keelaghan said.
"The symphony is really pushing itself on this repertoire. We are well-prepared, and if everyone is as focused as they can be, the concert will be really great," Keelaghan said.
Email Sontag at [email protected].