Renovated Pauley Pavilion reopens with festivities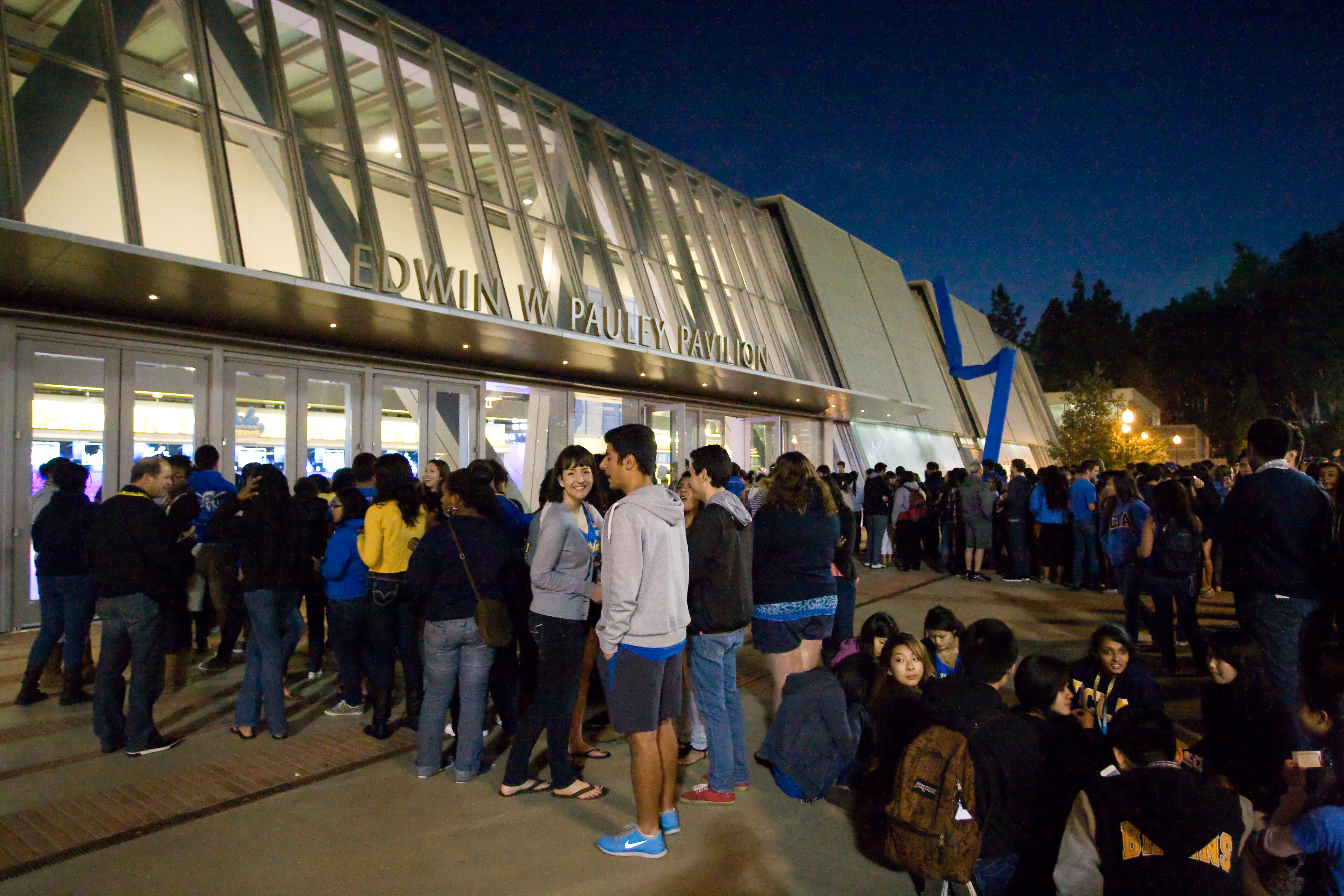 Several thousand student and parent attendees line up outside of the newly renovated Pauley Pavilion for Pauley Opening Madness on Friday night. Attendees also took part in the Homecoming festival that set up just outside of Pauley.
A large scoreboard hung over Nell and John Wooden Court, emblazoned with bright gold letters that read "Welcome to Pauley Pavilion."
About 7,000 students and parents rushed in Friday night to catch a glimpse of the revamped sports arena, which had been closed since March 2011 for a $136 million renovation.
The event was part of UCLA Recreation's Pauley Opening Madness and the Homecoming festival just outside Pauley.
"When they began construction, walls went up and Pauley was closed up "" there were cranes and (construction) people everywhere," said Asha Vaswani, a UCLA alumna who attended the event with her sister, a current student. "It really built up the anticipation to see what
was inside."
As the lamps on Bruin Walk started to light up and the sky's color slowly changed to a darker blue, a line of thousands of attendees reached all the way around Drake Stadium.
Some students and parents went outside to participate in the Homecoming festivities, while many went immediately to their seats
in Pauley.
Patrick Huang, a third-year physiological sciences student, said he was more excited to go to the Pauley opening than the Homecoming
event.
"This is UCLA, man. If you go outside (to the festival), then you'll lose your seat," said Huang, who arrived at 7 p.m. and quickly took his seat in the last row of the level closest to the court.
Still, hundreds of attendees ventured outside for the Homecoming festivities, which consisted of more than 20 student-group-run booths and activities, before taking their seats.
The smell of popcorn filled the air as families chit-chatted and played games. Students threw darts at balloons, tossed rings on bottles and shot free throws as music played in the background.
Lyolya Hovhannisyan, a third-year neuroscience student, and Matt Arguello, a third-year biology student, stepped into a jousting
ring.
"I'm really pumped right now. I want to win this," she said, punching her fist in the air and jumping.
Alyssa Der-Sarkissian, a third-year psychology student and Hovhannisyan's roommate, said she went to the event to see Pauley, but enjoyed the homecoming festivities as well.
"It's a free fun fair and good to relax after midterms," she said as she watched Hovhannisyan and Arguello joust. "It's very de-stressing."
Last year, the Undergraduate Students Association Council brought Homecoming back to UCLA after seven years without the celebration.
This year's Homecoming festivities attracted 2000 more attendees than last year's event.
Kaitlyn Williams, a third-year political science student and co-executive director of the Homecoming committee, said the committee plans to bring the Homecoming festivities back again next year.
"Obviously, it won't be the opening of Pauley, but the whole atmosphere is definitely repeatable," she said. "Now that things are established we can only build from here."
Once the main event started inside the pavilion at 8:30 p.m., the lights went down and the crowd screamed. UCLA Kyodo Taiko drummers took the floor, clad in black tank tops and black and white head bands with their arms painted blue and gold, began to beat on their drums.
Other performers included singer India Carney, the Nikkei Student Union Modern dance team and the UCLA Spirit Squad. The coaches of the women's volleyball, gymnastics, women's basketball and men's basketball teams also introduced their players.
EzMoney Harper, a first-year electrical engineering student, said he came to watch his best friend perform with the NSU Modern dance team.
"It was a great event for first-year students because there was a great explosion and information about UCLA's history," Harper said.
The crowd, which was mostly dressed up in blue and gold, cheered loudly at certain times throughout the night.
Harry Alber, an alumnus of the UCLA School of Dentistry, went to the opening with his daughter Sandra, a second-year astrophysics student, and his wife Mary Ann.
"Back then (Pauley Pavilion) was more crude. You could see the concrete and the seats were hard," Alber said. "Now it's more sophisticated "" more classy."
A final 8-clap echoed throughout the new Pauley Pavilion as the event came to a close. The ground shook beneath attendees' feet before they got up and started to make their way outside "" much slower than they had walked in.
Email Cashell at [email protected] and Marasciulo at [email protected]