Bruins celebrate homecoming tradition, attendees have mixed reactions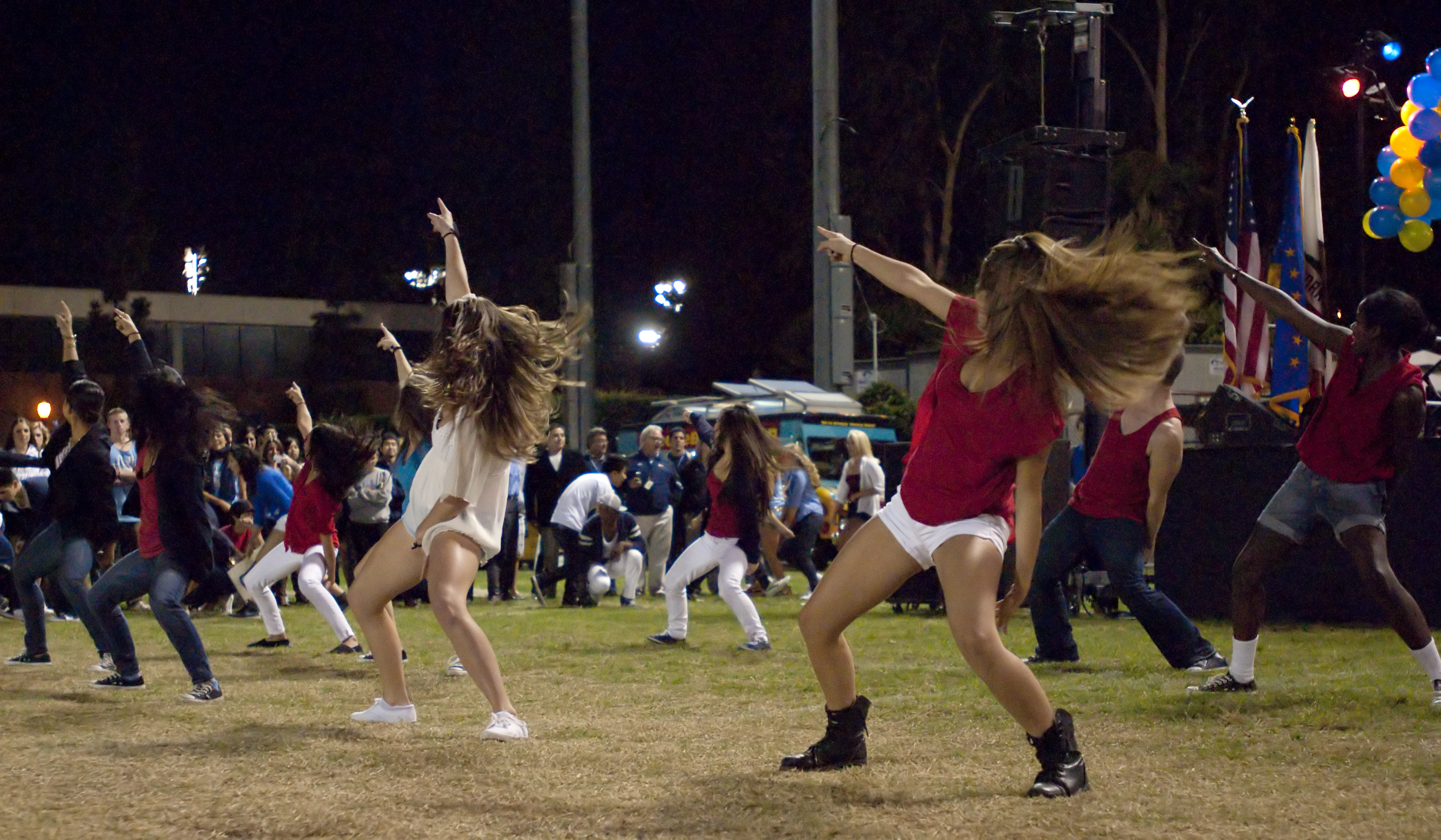 The Homecoming Carnival returned to UCLA for the first time since 2004. Attractions included learning the dance for the flash mob at the football game on Saturday, a velcro wall, an obstacle course, and much more. NSU Modern and Synthesis Dance Crew also performed.
Correction: The original version of this article contained an error. Although individual organizers set personal goals for attendance at lower numbers, an official number for projected attendance was never released.
By 11 p.m. on Friday night the Intramural Field was cleared.
The gold and blue arch of balloons that stood over the entrance was taken down; the inflatables and Velcro wall had been deflated; and all that remained of UCLA's first homecoming carnival in seven years were tents and a cleanup crew.
By the end of the night, 4,780 people showed up to the carnival.
After months of planning and some controversy over funding, homecoming weekend came and went.
A UCLA tradition had returned, but student reaction was mixed.
The homecomers
Students, administrators, parents and family members attended the carnival, a midsized operation housing booths from 30 different student organizations with games and activities. The event also included live entertainment from student groups and a speech by UCLA Chancellor Gene Block.
Kaitlin Jones, a fourth-year psychobiology student who worked a booth for Colleges Against Cancer at the carnival, said she liked the community atmosphere of homecoming and was impressed with USAC for putting the event together.
"It feels like high school spirit all over again, which is weird at such a big school," Jones said.
Resnick said the goal for the event was to unite the student body over a shared love for UCLA.
In the midst of midterm season, the carnival was a much-needed break from studying, said Raymond Alvarez, a first-year undeclared student. He stood watching the student dance group Synthesis perform to an upbeat music number.
Pasha Jahangiri, a fourth-year political science student, said the carnival was impressive for its first time. He added that he could see potential for homecoming to be a long-standing tradition.
A large number of those who enjoyed the carnival were parents of UCLA students.
Darryl Buck, an alumnus of UC Berkeley and parent of two UCLA students, was visiting the campus for Parents' Weekend but stopped by the homecoming carnival, even giving the Velcro wall a try.
"This is a blast," Buck said. "It's not just something for students to do. I don't know how many alumni are out here, but it's definitely a nice tradition."
Buck also attended the homecoming game on Saturday with his entire family.
*The less impressed *
Several students in attendance questioned the need for the event, especially considering the financial troubles of the student body and the university.
At a booth run by the USAC External Vice President's Office, second-year ecology, behavior and evolution student Andrew Liang filled out a petition postcard advocating for state and federal funding of higher education.
Liang said he was confused why the EVP office was at the carnival campaigning for more state funding when a large amount of money was spent on the event itself.
"I feel like (homecoming) is a waste of money, to be honest," Liang said.
In response to student concern with funding for the event, Resnick said organizers were as frugal as possible.
"We would never wastefully spend students' money," she said.
Resnick added that students often have heated reactions to surplus fund allocations.
"When you think about it, every student paid less than a dollar, which is not a ridiculous amount of money," Resnick said.
Kelly Knickerbocker, executive director of UCLA Homecoming, a registered student group, said the money used to fund the carnival was restricted and could only go toward large scale events such as homecoming.
Some students opted out of attending the carnival altogether.
Gavin Tsuchida, a third-year physiological science student, said he had a prior commitment but would not have attended regardless, as he needed to study for midterms.
Kevin Lin, a first-year electrical engineering student, said he wished USAC had publicized homecoming more because he had little idea about what it was.
Timing may have played a role in attendance. The event was held on the same night as a men's soccer game in Drake Stadium and the closing game of the World Series, Jahangiri said.
"I think it's a cool thing to bring to campus, but there could be more people here," he added.
A tradition?
Event organizers knew this was a trial run and had low expectations for turnout but were pleasantly surprised, Knickerbocker said.
Knickerbocker said UCLA Homecoming and the administration see the event as important for creating lasting memories for students and establishing an alumni base which could benefit UCLA in the future.
While Resnick, who spearheaded the return of homecoming, will remain at UCLA for an extra quarter next fall, she said ultimately it is up to next year's student government officers whether or not USAC plays a role in homecoming.
"The things we do this year aren't going to be revolutionary but hopefully the start of something great for years to come," Resnick said. "Even if one person had come, we would've been happy."
While organizers were happy with their event, they acknowledge the need for student input. Resnick said they plan to ask students what they liked and what they would want to change about homecoming, through a formal survey, a comment section on the website or talking to students on Bruin Walk.
The homecoming organizers plan to get feedback from the student groups who participated in the carnival and to also reach out to groups that were not involved to find ways to improve the event, Knickerbocker said.