Survey shows students lack political involvement on campus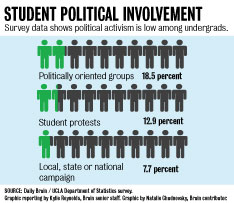 The original version of this article contained an error and has been changed. See the bottom of the article for additional information.
Despite the upcoming election, UCLA undergraduate students are largely uninvolved in politics, according to a Daily Bruin/UCLA Department of Statistics survey conducted between Sept. 24 and Oct. 9.
Fewer than 19 percent of students surveyed said they participated in a political student group, and fewer than 12.9 percent had been involved in a student protest. About 7.7 percent had worked for a political campaign.
UCLA's students' political involvement has fluctuated over the years, but the campus has never had a long tradition of political activism, a fact that could discourage future involvement, according to students and faculty who have seen the campus change over the years.
Student activity was higher during the 2008 presidential election than now, said Berky Nelson, director of Fraternity and Sorority Relations, who has worked at UCLA for 34 years.
Nelson attributes the level of activity in 2008 to the unprecedented situation of having a black candidate as a front-runner for president, and the country being involved in a war abroad while in the midst of an economic crisis.
Saly Heng, a recent UCLA alumnus, remembers watching many of his fellow students advocate for political issues during the 2008 election.
But in the four years since the last presidential election, attention to the current political situation seems to have declined, said Heng, who graduated in the spring with a bachelor's degree in civil engineering.
"Now though, even if people continue to vote, their involvement in issues is declining," he said.
Becoming involved is an effective way of educating peers about political issues, said Tanya Siddiqui, a third-year global studies student campaigning on behalf of Amnesty International for Proposition 34.
Siddiqui said she was promoting the issue to let fellow students know about the measure so they could make informed decisions, rather than to push her own opinion on others.
"An uneducated vote is probably the worst situation we could have," she said.
While there are groups on campus that are politically involved, the large majority of students do not seem to be taking action to promote the political issues, Nelson said.
"Maybe students are focused on academics so much here that they aren't investing in external events," Nelson said. "But it's a concern because these issues, such as (Proposition 30), can detrimentally affect student academics."
While she plans on voting, Samantha Mojica, a third-year English student, said she has chosen not to be affiliated with a political party but still considers herself to be invested in politics.
She said she does not think it is necessary to be politically involved in order to be invested in current issues. Mojica still cares about social, political and economic issues, and plans on voting to support her views, she said.
Outside of political factors, the campus's minimal political activity this elections season could have historic roots. For a long time, UCLA was unable to house all of its students on campus, which could have hindered the development of a cohesive community with political traditions, Thomas Schwartz, professor of political science at UCLA, said.
Because UCLA is not known for a tradition of political involvement, potential students who are deeply invested in politics may choose to go to other colleges that are known for high levels of political activity, he said.
The campus has a large number of students that are not from Los Angeles County, which can account for low involvement in Los Angeles politics, Schwartz said.
Age, education level and students' ability to vote in their own county play a part in political participation and affect the number of college students who get involved, he said.
"College students are still young and in the process of learning, meaning that their likelihood of participating in elections is low," Schwartz said. "In the U.S., only 45 percent of eligible youths vote."
Political participation may be low on campus, but the number of UCLA students surveyed who said they are planning to vote is above the national estimate of youth votes. While 87 percent may not be involved in a political student group, campaign or protest, around 12 percent of students polled said they did not plan on voting, according to the survey data.
It is, however, difficult to tell whether students who said in the survey they planned to vote will actually go to the ballot box on Tuesday, Schwartz said.
"Students might say they are going to vote, but when the time comes, they don't actually," he said. "But that in itself is important because they have the political freedom to remain silent."
Matt Wu, a fourth-year biochemistry student who said he is not politically involved, is choosing not to vote this election.
Wu does not see the need to participate in the election because he does not think that his one vote will make a difference, especially since California will most likely vote democratic as a whole, he said.
"Being aware of the issues is more important than saying you're a part of a political group," Wu said. "We should be able to form opinions, even if we don't necessarily act on them."
Correction: Fewer than 19 percent of surveyed students said they participated in a political student group, and fewer than 12.9 percent had been involved in a student protest. About 7.7 percent had worked for a political campaign.