Bruin Bash's evolution through the years has seen name changes, shift in music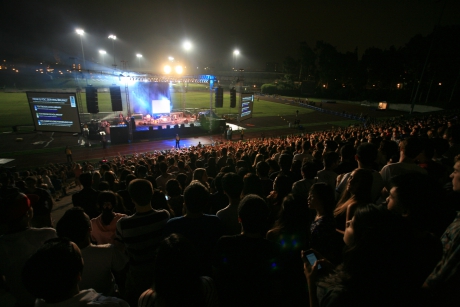 Since 2003, the UCLA school year has kicked off with the annual Bruin Bash concert.
Since 2003, UCLA students have looked forward to the yearly welcome-back party previously known as Black Sunday, a campus fraternity block party that was permanently shut down by Interfraternity Council and university police for overcrowding in 2002. The annual bash was replaced with a Welcome Back Concert in Pauley Pavilion. As the years went on, the Welcome Back Concert has now evolved into Bruin Bash. Early lineups seemed to balance rock and rap, while more recent ones have made the gig somewhat of a yearly hip-hop extravaganza. The 10th annual Bruin Bash, which features a lineup of Chiddy Bang, Ra Ra Riot and Los Rakas, will debut in Drake Stadium tonight. Doors open at 6:30 p.m., and the concert starts at 8 p.m. Here's a look at Bruin Bash through the years.
2012
The night will be set in motion by Oakland-based rap group Los Rakas. The Spanish-language group, known for their 2011 EP "Chancletas y Camisetas Bordada," will be followed by New York-based rock band Ra Ra Riot, which is known for indie hits like "Dying is Fine" and "Can You Tell." Closing the concert is Chiddy Bang, a hip-hop group comprised of Chidera "Chiddy" Anamege and Noah "Xaphoon Jones" Beresin. The group is known for its mixture of alternative hip-hop music, and has sampled from bands such as Radiohead and MGMT.
2011
The 2011 Bruin Bash concert was kicked off by Starting Six, a hip-hop group from Northern California. The six showstoppers opened the concert with an endless amount of energy and encouraged the crowd to get pumped up for a long night of music. Next, Compton-native Kendrick Lamar took the stage, dropping catchy lines and even a freestyle near the end of his set. But the energy of the young Bruins had not yet reached its peak until Childish Gambino (actor Donald Glover, star of "Community") showed up, backed by a full band that included an electric guitar and bass, multiple drum sets and a violin. After the Bruins' unanswered call for an encore from Gambino, Major Lazer closed Bruin Bash with the help of hype-man Skerrit Bwoy, who climbed rafters on stage and even wandered into the crowd after the show.
2010
Because of construction in Pauley Pavilion, 2010 marked the first year that Bruin Bash was held in Drake Stadium. Berkeley-based band The Cataracs, who are well-known for being featured on the Far East Movement track "Like a G6," started the night off. The first of two headliners to perform were the Ying Yang Twins, made up of Eric "Kaine" Jackson and De'Angelo "D-Roc" Holmes. The duo performed countless hits for Bruins including "Get Low" and "Salt Shaker." Near the end of the night, "D-Roc" even traveled into the crowd to dish out handshakes and hugs. The last act of the night was Travis McCoy, front man of Gym Class Heroes, who is well-known for his collaboration with Bruno Mars titled "Billionaire." Fans were treated to dramatic fog and a light show during McCoy's set.
2009
Bruin Bash 2009 started off with a few DJ sets by students, until hip-hop duo Clipse, comprised of brothers Gene and Terrence Thornton, took the stage in front of an excited crowd of Bruins in Pauley Pavilion. Next, LMFAO, a California-native electropop duo known for their eccentric songs and enthusiastic dancing, gave Bruins an all-out fun show. Bringing out multiple props and back-up dancers, LMFAO turned Bruin Bash into a full-blown college party. The dance routines were even choreographed around the setup of the stage, resulting in dancers jumping off speakers and props.
2008
Bruin Bash 2008 was put into play by hip-hop group The Cool Kids, which consists of rappers Mickey Rocks, born Antoine Reed, and Chuck Inglish, born Even Ingersoll. The group gained additional attention when their song "A Little Bit Cooler" was used in a well-known Nike commercial featuring puppet versions of basketball superstars Lebron James and Kobe Bryant. The first headliner up was Hellogoodbye, a band originally from Huntington Beach, Calif. The last headliner of the night was Estelle Swaray, or Estelle as her fans know her, who won a Grammy for her collaboration with Kanye West on "American Boy."
2007
At Bruin Bash 2007, UCLA students watched hip-hop artist T.I. perform, sporting a UCLA hoodie. In addition to being a well known hip-hop artist, T.I., or Clifford Joseph Harris, Jr., is also an actor, author and music producer, as well as the founder of Grand Hustle Records. He is known for hits such as "Bring Em Out" and "What You Know," the latter of which won a Grammy for "Best Rap Solo Performance."
2006
Bruin Bash 2006 was headlined by L.A.-based rock band Rooney. The group takes its name from Ed Rooney, the infamous principal in the film "Ferris Bueller's Day Off." The band's 1980s pop style is often compared to The Cars and The Beatles.
2005
The concert finally came to be called Bruin Bash in 2005 and featured Thrice, a rock band from Irvine, Calif., which is known for its fast tunes and heavy distorted guitars. The band's songs such as "All the World is Mad" and "Deadbolt" have been featured on games such as "Guitar Hero." The second act of the night was Lonnie Rashid Lynn, Jr., also known as Common, a hip-hop artist and actor who has appeared in films ranging from "Date Night" to "Terminator Salvation." His first Grammy award was in 2003, when he was awarded "Best R&B Song" for "Love of My Life (An Ode to Hip-Hop)." He received his second Grammy in 2008 for "Best Rap Performance by a duo or group" for his song "Southside" with Kanye West.
2004
UCLA threw a solid rock show for Bruins in 2004. Students at the second annual Welcome Week concert experienced Southern California-based band Wild Child. The band recreates a Doors concert experience from the 1960s, with extreme detail to stage craft, music, sound and energy. Appropriately enough, The Doors frontman Jim Morrison attended the UCLA School of Theater, Film and Television in the '60s.
2003
2003 marked the first annual Welcome Back Concert, a tradition that eventually became Bruin Bash, in Pauley Pavilion. Hip-hop duo Zion I, which is made up of DJ AmpLive and MC Zumbi and is know for its socially conscious lyrics, opened the show for punk rock headliner Bad Religion. The band, which formed in 1979, is responsible for singles such as "21st Century (Digital Boy)" and "Punk Rock Song." Bruins rocking out and crowd surfing at this show were unaware that they were taking part in what would become a legendary UCLA event.
Email Curcio at [email protected] and McQueen at [email protected] What's your favorite Bruin Bash performance? Tell us about it in the comments.