Catchy beats, flashy effects, famous artists captivate fans at HARD Summer Music Festival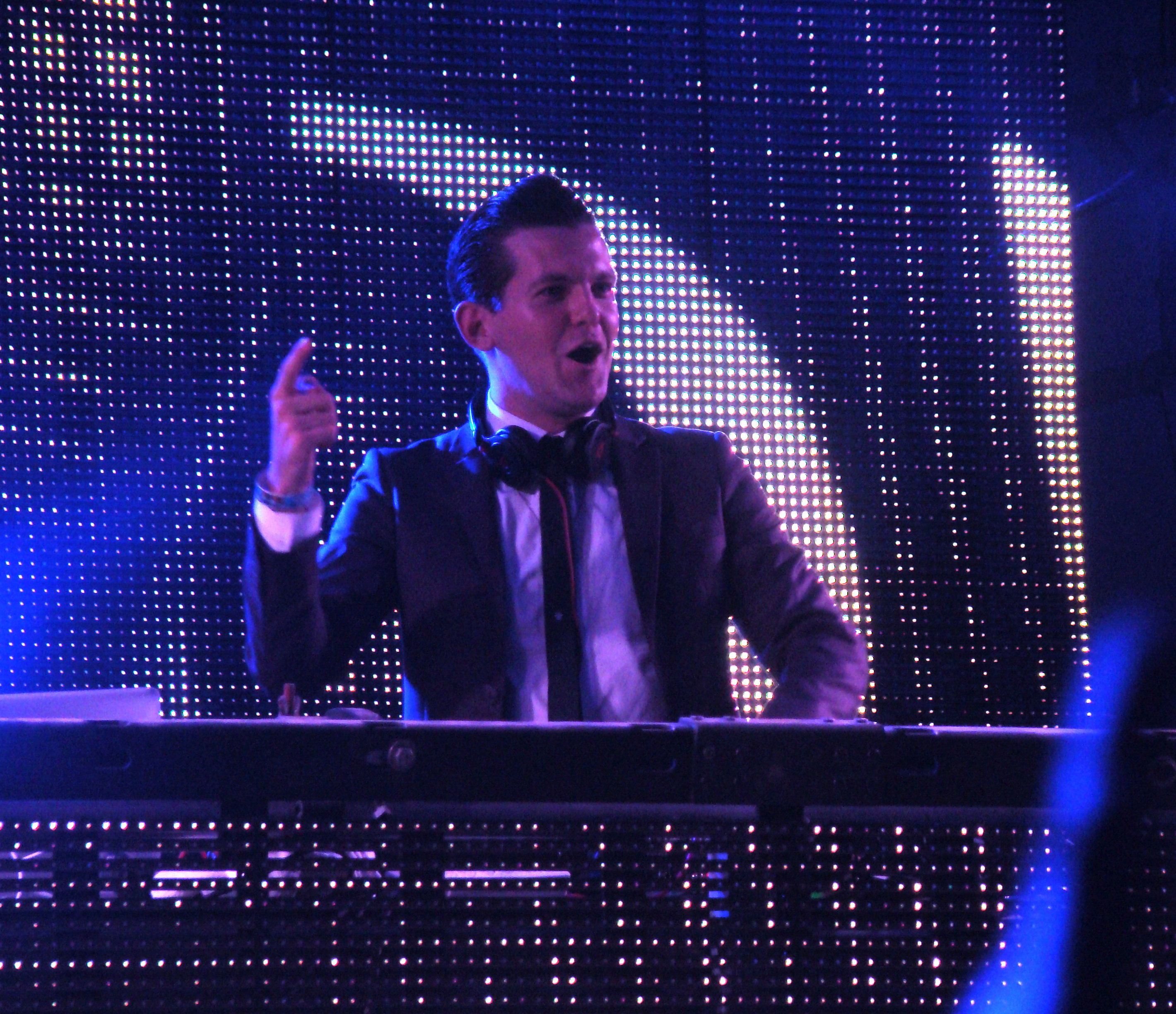 Electronic music producer Dillon Francis performs his set, which included songs "Masta Blasta (The Rebirth)" and "Music is Dead," during the second day of HARD, an electronic dance music festival held in Downtown Los Angeles.
Correction: The original version of this article contained an error. The word "moombahton" was misspelled.
Walking around the grounds of the HARD Summer Music Festival feels like being in the middle of an industrial, barren wasteland or an apocalyptic, futuristic setting of a movie.
But trodding closer to the center of the Los Angeles State Historic Park, the slow, steady beats of dubstep were inviting, and suddenly a grand stage called The Hard Stage, stands there, equipped with dazzling, flashing white lights and blinding smoke. Waves of people, including girls in bedazzled bras and tutus galore along with half-naked boys, are dizzily dancing around, in a world all their own.
For electronic and dubstep fans, HARD Summer is equivalent to being a kid in a candy store. During the span of two days, Friday and Saturday, the music festival and its four main stages hosted more than 50 DJs, producers and bands dropping beats. They include popular indie-rock artist Bloc Party and electronic DJ Boys Noize who both performed Friday night and dubstep artists Skrillex and Nero who headlined the festival on Saturday.
On Saturday, the smooth moombahton, a genre similar to dubstep, sounds created by Los Angeles native Dillon Francis suprised the crowd. Francis played some of his most popular remixes, which are often posted on his SoundCloud account. Francis even performed his newest song, "Masta Blasta (The Rebirth)," in addition to his recently released song, titled "Music is Dead," a collaboration with Doctor P, which Francis released two months ago on his Soundcloud. The catchy beats caused soaring hands to reach up towards the roof, water bottles shaking to the rhythm of the music. Francis, dressed in a sharp suit and tie, was a natural on stage, raising his arms in anticipation of every drop and also bobbing his head in beat with the audience.
In contrast to the high energy of Dillon Francis' set, UK dubstep duo Nero was more mellow. Because of this, the hour-long live set induced a bit of yawning among some concert-goers. However, their set became instantly upbeat when band member and singer, Alana Watson, joined them live on stage. Watson, clad in a tight leather bodice, sang their most famous song, "Promises" as many audience members screamed the lyrics at the top of their lungs. The band also performed other chart-topping hits, including "Me & You" and "Crush on You." Unfortunately, their set was cut short by technical difficulties, causing various audience members to leave while hurling profanities.
Bob Marley tunes played over speakers soothed the crowd momentarily, as the masses eagerly awaited dubstep artist Skrillex, the final performer and definite headliner of the night. He emerged on stage in a giant spaceship, set against a backdrop of smoke and occasional bursts of flames and fireworks. Wildly popular Skrillex hits including "Right In" and "Scary Monsters and Nice Sprites" caused almost hysteria in the crowd, while girls sat atop of the necks of dudes, waving their arms in the air. "My name is Skrillex" served as the perfect introduction and a smooth transition to one of his drops, emphasized by bursts of smoke emitting from the front of the stage. The bright lights and dazzling firework display throughout his set enhanced Skrillex's performance as opposed to distracting from it. His strong stage presence consisted of turning knobs and pushing buttons on his turntable and getting lost in the music. Euphoria took ahold of the masses, and people lost themselves in the music as the mix of electronic waves and heavy beats of Skrillex's set encouraged the crowd to bob their heads in unison, making the reigning king of dubstep the favorite of the night.
As they deperated from the fifth annual HARD Summer Music Festival, memories of Skrillex's wild bass drops and Nero's smooth UK-inspired beats lingered on people's minds, which resulted in a newfound appreciation for the head-bob inducing music that most have come to know as electronic dance music.