Bruin alum Russell Westbrook's determination lands him a starting spot in the NBA finals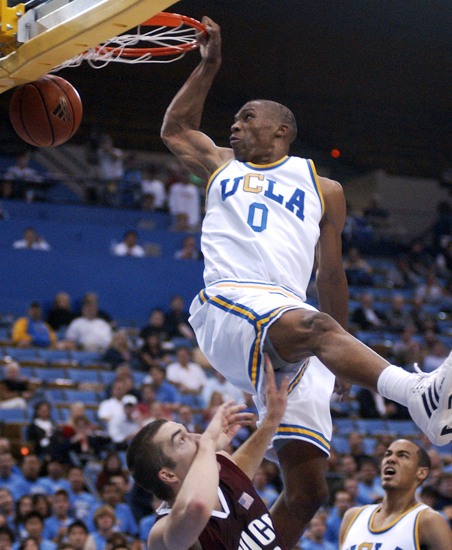 In this 2007 Daily Bruin file photo, Russell Westbrook took over many of the point guard responsibilities in UCLA's 93-55 exhibition victory over Chico State. He finished with 22 points, four rebounds and four assists.
This article is part of the Daily Bruin's Graduation Issue 2012 coverage. To view more multimedia, galleries, and columns, visit http://dailybruin.com/gradissue2012
By
Daily Bruin Staff
June 10, 2012 9:35 p.m.
Greatness is expected from many of the basketball players that have come through UCLA over the years.
However, nothing of the sort was expected of Russell Westbrook, who came to Westwood as an unheralded 17-year-old.
On Tuesday, Westbrook will start in the NBA finals for the Oklahoma City Thunder, continuing a rapid rise that started six years ago at UCLA.
His evolution from energetic sparkplug to one of the top point guards in the NBA has come as a shock to many.
But, talking to some of those who knew Westbrook best, the signs were there during his two-year stint as a Bruin.
Quiet beginnings
Kerry Keating, now Santa Clara's coach, was the UCLA assistant who led the recruitment of Westbrook. He wasn't the main attraction back then, a motif that has stuck with Westbrook at every level of his basketball career.
Keating: "His junior year, while I was recruiting Darren Collison, he was playing on an adjacent court. … I liked his energy and I liked his effort. I don't see anything different in what he's doing now from what he was doing then."
Scott Garson, UCLA assistant: "We didn't know what we were getting. We had no idea Russell was going to be the fourth pick in the NBA draft and be a surefire NBA All-Star from game one."
Kenny Donaldson, men's basketball assistant director of academic services: "He really had no profile. A lot of guys come here, they're McDonald's All-Americans, city players of the year. He was just this guy that played at Leuzinger (High School)."
Westbrook's scholarship opened up only after Jordan Farmar declared for the NBA Draft.
In 2006, Westbrook joined a team still full of NBA talent in Darren Collison, Arron Afflalo and Luc Richard Mbah a Moute. All were adept at defending guards, a necessary roadblock in Westbrook's progression.
Keating: "He got pushed off the court his first week in practice because he was going crazy. He didn't understand what he was doing."
Mustafa Abdul-Hamid, Westbrook's UCLA teammate: "The level of competitiveness in those practices was incredible. Russ played hard, talked a lot of trash and pushed everyone."
Westbrook's freshman year was nondescript. Save for one start, Westbrook logged just an average of nine minutes a game.
He still managed to see the court in every game, starting a games-played streak that has yet to be snapped, even in the NBA.
Summer surge
The freshman ended the year with orders from the coaching staff to work on his all-around game, especially his jump shot.
Few expected him to improve as much as he did, as fast as he did.
At that time, NCAA rules barred coaches from interacting with their players over the summer. The UCLA coaching staff could only listen as reviews of Westbrook's games with elite, NBA-level talent in the Men's Gym poured in.
Donaldson: "In those games, guys don't want to get embarrassed. There's a minimal amount of defense being played. Most of the guys are working on their jumper. Russell, every time he got the ball he would take it to the hole and try to dunk."
Ryan Finney, men's basketball sports information director: "I remember saying to some of our assistants he had really progressed. I don't have the coaching background, but from what I saw, he wasn't afraid."
Ben Howland, men's basketball coach: "All our NBA guys are coming out of the gym are saying "˜Russell, Russell.' Earl Watson especially was really on his bandwagon. Earl was in Seattle when they drafted him. I think those guys in that front office really trusted Earl's assessment."
Garson: "Things were going for him a million miles an hour. The game really slowed down for him after that year. That summer, between his freshman and sophomore year, I have never witnessed a player make that big of an improvement."
Donaldson: "That summer is where he got the confidence that's carried him to where he's at now."
Beyond the shirts
Before the bold shirts and lensless glasses made it into the national mainstream, there was the "Flaming Mohawk," the hairstyle Westbrook showed up with for his sophomore season.
Keating: "He had a flaming basketball shaved into his head. … I called him and told him to cut it off."
Finney: "He just did it to get a little attention, at least that's what I thought. His game started to speak for itself."
Now, Westbrook's postgame wardrobe choices have gained attention as the Thunder advances through the NBA postseason. To those who know him, his fashion sense is indicative of his true personality, which the public gets only small tastes of.
Donaldson: "All this stuff people are just picking up on. He would walk around here with glasses without lenses. I don't have a lot of pictures, but I wish I had taken pictures back then. That was his style then."
Garson: "Russell's a very outgoing personality. He's not afraid to show you exactly who he is, wears his emotions on his sleeve all the time. That plays into (his style)."
Abdul-Hamid: "The bottom line is Russ has a confidence and swagger that is almost unworldly. He doesn't care what people think about his wardrobe, and I don't think he does it for attention. … His approach to life is the same as his approach to basketball "" same sort of confidence, creativity, a little bit of flash."
Howland: "He was also the self-professed best dancer on the team. He could really go."
Making the leap
The 2007-08 season saw Kevin Love arrive on campus as one of the most highly touted recruits in UCLA history. Collison also spurned the NBA to return to a Bruins team that had made it to back-to-back Final Fours.
UCLA had plenty of names grabbing attention. Westbrook joined that talk by showing off one skill: dunking.
Donaldson: "The interesting story I've heard about Russell is that he didn't dunk until the 12th grade."
Howland: "No one on our team is a junior in high school who can't dunk."
Keating: "I've got a picture of him dunking against Chico State (in a 2007 exhibition). Going towards his left and dunking back towards his right, on a guy's head."
Garson: "Everytime he went to the basket you knew something special was going to happen."
The clearest victim might have been Jamal Boykin, then California's starting center, during a road game in Haas Pavilion.
Keating: "He jumped over a guy that was 6 feet 8 inches in the middle of the lane. That probably opened up everyone's eyes."
Finney: "When I first started noticing the pickup in media requests for him was after that dunk at Cal. I think everyone caught a glimpse that this kid is athletic and destined for something."
When the Pac-10 honored Westbrook Defensive Player of the Year that season, it didn't surprise the coaching staff, but the strides he took in his offensive game did. Soon people began to wonder if UCLA had another superstar-in-waiting.
Garson: "We expected him to be our best defender. We didn't expect the ability offensively. Anything he was giving us there was a bonus."
Abdul-Hamid: "I think Kevin being there may have kept him under the radar. … It seems though that it wasn't until he forced people to take notice with his eye-catching highlights that people started to wake up."
There wouldn't be much waiting for Westbrook. A few months after UCLA reached its third straight Final Four, he was the No. 4 pick in the NBA draft.
Spotting a superstar
In four NBA seasons, Westbrook has racked up plenty of accolades, most notably his appearances in two All-Star games, two All-NBA team selections and a maximum contract extension from the Thunder.
He has also dealt with his fair share of criticism, little of which can be heard now that the Thunder won the Western Conference title this year with Westbrook playing a major role.
The ones who knew him best at UCLA now watch proudly from afar, defending his every move because they see plenty of what they saw back then in the present day.
Howland: "He is a self-made player. He has earned everything that he is getting. He's put the time in and he deserves all the credit he's getting."
Donaldson: "If people question anything it's his maturity. I think people mistake it for competitiveness."
Keating: "He just needed more time to understand. Unfortunately for Bruins fans, the real time his understanding came was in the NBA."