A cappella group AweChords showcases common love for music in upcoming spring concert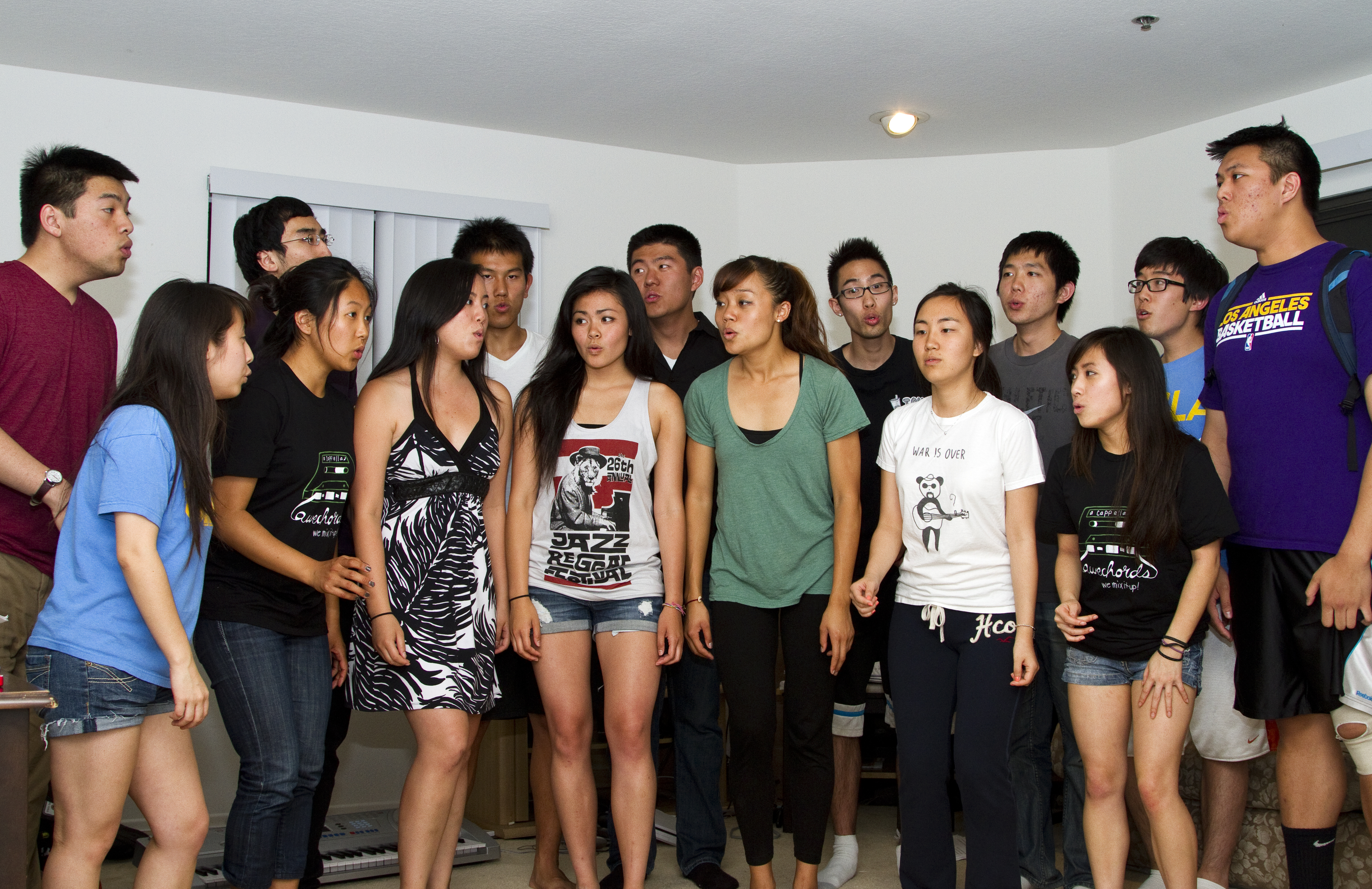 Orginally named Nhip-Am, AweChords was formed as a choir for the annual Vietnamese Culture Night and was only officially formed last year as a non-competitive a cappella group at UCLA. Members arrange their own music that covers various genres from R&B to hip-hop in preparation for their spring concert performance happening this Saturday at Kerckhoff Meeting Room.
AweChords Spring Concert
Saturday,6 p.m.
Kerckhoff Meeting Room, FREE.
Joseph Choi is referred to as the "piano" of his a cappella group, the AweChords, because of his perfect pitch.
The second-year biology student joined AweChords last year even though he had comparatively little singing experience. However, his skill of perfect pitch, which he developed after being in high school choir, is helpful at the AweChords' group rehearsals, where members work with one another for solos and arranging mashups.
"I feel like members have to be equally contributing, and that's very important for a cappella groups; you can't have one star player. The group has to work together," Choi said.
Now, Choi, along with 14 other AweChords members, are preparing for their upcoming spring concert on Saturday, arranging their own contemporary music in anticipation for the group's first-ever showcase at UCLA. YouthPhonics, a community-service based a cappella group, will open the show.
The AweChords, who officially became a UCLA a cappella group just last year, are different than other a capella groups because they are not a competitive team. Six years ago, the group began as the singing component of Vietnamese Culture Night, and were referred to as Nhip-Am, which means rhythm in Vietnamese. Last year, they decided to branch off and become an independent a cappella group.
Karrie Liu, a fourth-year economics student and president of AweChords, also began singing in college and joined the group her freshman year. She said most members join because they want to still be involved with music after high school, even if they don't necessarily intend to study it.
"I know in high school, a lot of us were in choir, (or had) some sort of musical background. Coming into college, we just wanted to stay connected to music because a lot of us are South Campus majors. This is our break from all the science-y things," Liu said.
AweChords arranges its own songs, which they make a group activity. This year, they had multiple members put together arrangements so there is a wide variety of genres, ranging from R&B to hip-hop.
According to Liu, their spring concert set list will include "Fallin'" by Alicia keys, a Sara Bareilles medley, a slow rendition of "Better Half of Me" by Dash Berlin, and also plenty of mashups, a favorite of the group.
Choi said that the group places a big emphasis on listening to a wide variety of music, such as international or older music, which he said helps with arranging.
Oliver Doan, a fourth-year electrical and computer engineering student and the musical director of AweChords, looks over every arrangement the group works on. He said that his job is getting the group to sound like the music in his head and in order to do that, understanding that the voice is an instrument is important.
"I wouldn't call myself a vocal coach. I'm not that well trained. I just know what sounds good. … You don't know what anyone is thinking, like that sound in my head. Everyone is different," Doan said.
Liu said that one of the main goals of the group is to build its musical repertoire. Another goal is encouraging each of its members to find confidence in his or her solo.
"One of our goals is to improve our voices when we do solos. Rehearsals are a place where we build up confidence. We encourage everyone to do solos. Through that, you find your own voice," Liu said.