Water polo unable to pull off comeback against Cal, ending team's 10-game winning streak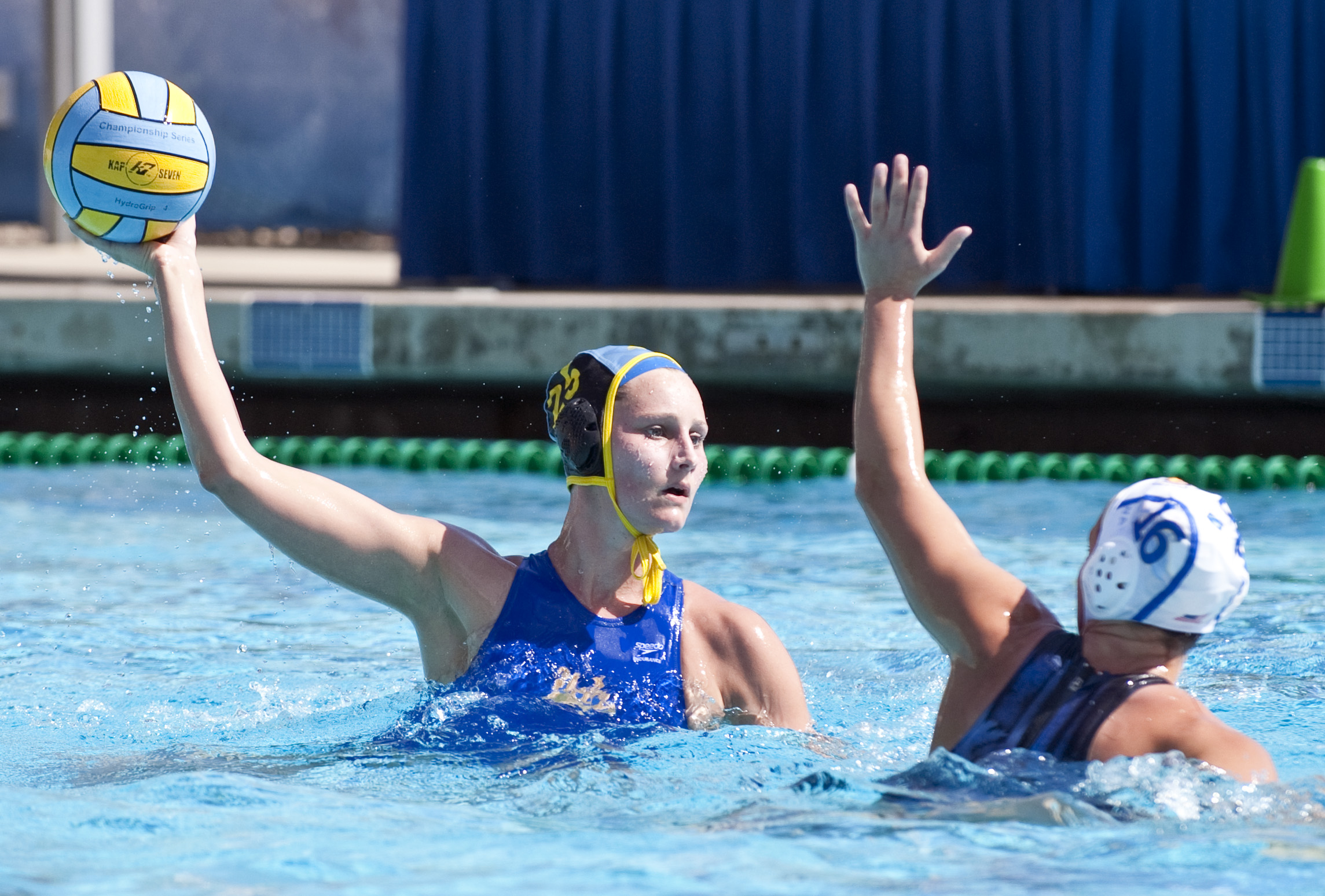 Sophomore utility Becca Dorst led UCLA with three goals in the team's 8-6 defeat at the hands of UC Berkeley at Spieker Aquatics Center over the weekend, scoring against her sister, Cal goalkeeper Lindsay Dorst.
Women's Water Polo
Cal 8
UCLA 6
Behind the Score:
3
Goals scored by sophomore Becca Dorst
5
Unanswered goals given up by UCLA
9
Saves by senior Caitlin Dement
Had Saturday's game against Cal been just a quarter longer, the UCLA women's water polo team might have been able to extend its 10-game winning streak.
The No. 1 Bruins were their usual second-half-dominant selves at UC Berkeley's Spieker Aquatics Center, but ultimately had their momentum stopped by the final buzzer and fell to the No. 5 Golden Bears 8-6 on Senior Day.
Throughout the season, UCLA (16-2, 5-1 Mountain Pacific Sports Federation) has found itself falling behind early in several games only to regroup and charge ahead late. Saturday marked the first time the Bruins haven't overcome a first-half deficit in more than two months.
"We battled for a bit, but it just goes to show that if you're always going to go down early and rely on coming back in the second half, sometimes you're going to run out of time," coach Brandon Brooks said.
Hungry for a win after a defeat at the hands of No. 3 USC last weekend, Cal (17-6, 4-2) held UCLA scoreless for an 11-minute stretch during the first half. The Bruins' dry spell allowed the Golden Bears to score five unanswered goals and never look back.
"Our communication defensively was down and that sort of circulated into our counterattack and our offense," senior utility KK Clark said. "Cal didn't do anything that special or anything we haven't seen before, but we as a team didn't come out and really play like we have been playing."
Saturday also brought on Dorst Bowl II, as UCLA sophomore utility Becca Dorst faced off against her older sister, Cal junior goalkeeper Lindsay Dorst, for the second time this season. Becca Dorst made a statement early, tying her season high with three goals, but it was Lindsay Dorst who would have the last laugh, swimming away with eight saves and the victory.
While the Dorst sisters strive to perform well against one another, it is clear that their intent when their schools meet is to stay level-headed and play team water polo.
"I had been visualizing all week whether I was going to score on her or not and luckily I did, but obviously at this time in the season, both of our teams just want to be the best that we can be," Becca Dorst said.
"So whether I can play Lindsay and win or if she's winning, it's not like we're fighting each other. It's for our schools and we both have our own reasons."
As the postseason nears, the Bruins will try to learn from Saturday's loss and find motivation for their next match, a road contest against the UC Irvine Anteaters.