Arizona knocks UCLA women's basketball from postseason in first round of Pac-12 Tournament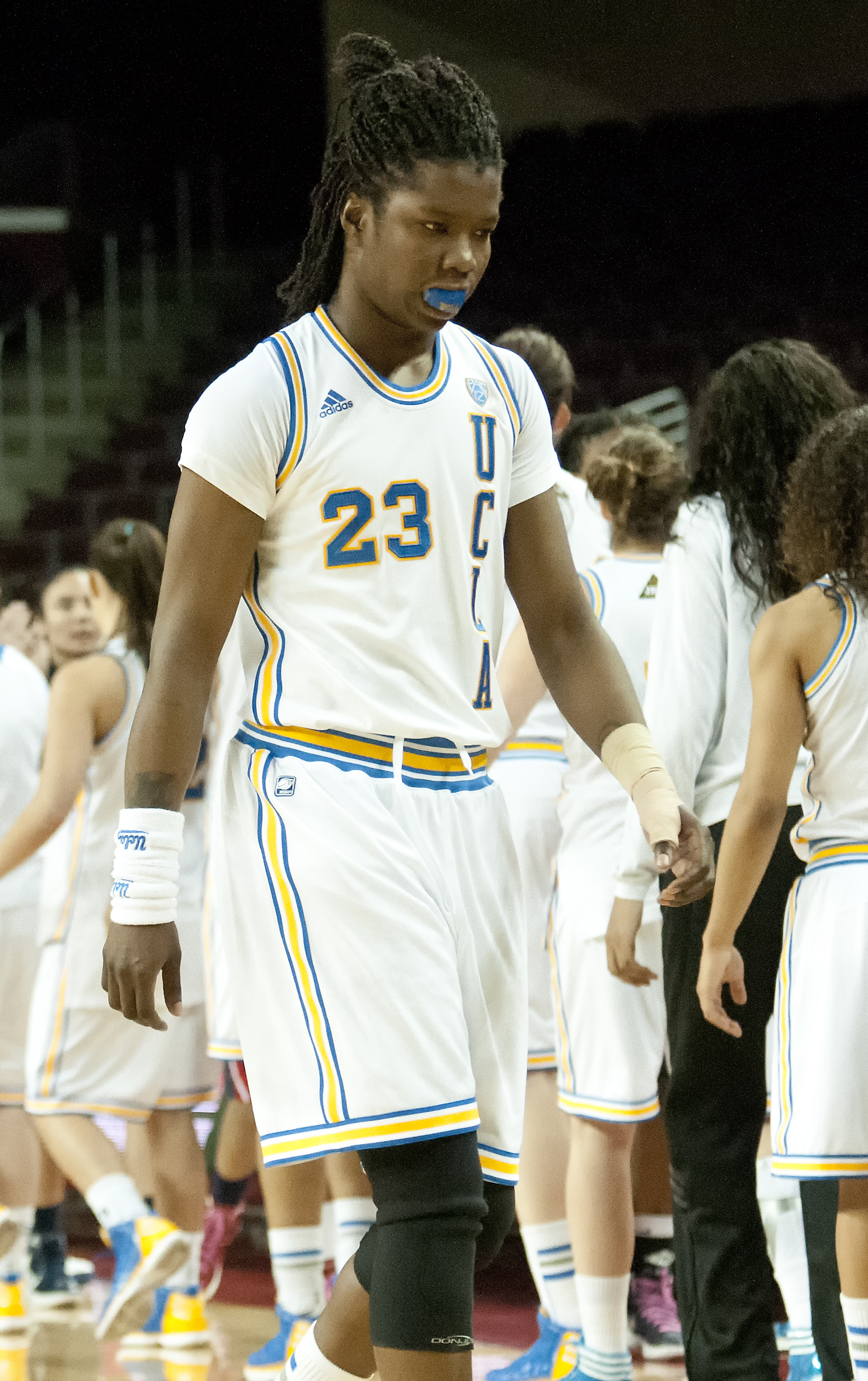 Junior forward Markel Walker walks off the court following UCLA's 61-57 loss to Arizona.
Women's Basketball
Arizona 61
UCLA 57
The UCLA women's basketball team had one more chance at this whole thing, one last crack to make the NCAA tournament.
Unfortunately, in what can only be considered a disappointing end to a season full of adversity, the Bruins' (14-16, 9-9 Pac-12) chance was cut short by a team the Bruins had beaten not two weeks ago, the Arizona Wildcats (15-16, 3-15 Pac-12). UCLA's season ended at the Galen Center on Wednesday afternoon, Arizona leading at the final buzzer, 61-57.
"We will always be looking back at the plays we could have, should have made," coach Cori Close said. "But the reality is for, as this team's coach, they have overcome great adversity, they have been resilient, they have been really committed to each other, and for that I will be forever grateful."
There were a number of readily available story lines for this game: turnovers, missed shots, Arizona runs. None of those seem to account for this loss, however; the Bruins had enough talent and the gameplan in place to defeat the Wildcats. They saw it work, and work well, two Saturdays ago in the Wooden Center.
It seemed, after a long season of long minutes, the short bench had finally caught up to UCLA. They were flat out tired, both mentally and physically, and it showed all over the court.
"We definitely feel like we should have got the win," senior guard Rebekah Gardner said. Wednesday was Gardner's last game in UCLA blue and gold, as the senior has exhausted her eligibility. "Every game is going to have turnovers and missed shots, so I don't think you can blame it on that. I think, just at the end of the game, we had a couple defensive possessions where they got baskets and we needed stops. I think that's what it really came down to."
It was not a lack of effort, nor a lack of desire, that led to the Bruins' downfall. They nearly won this game, and likely would have if a few shots here or there had gone in rather than not. The Bruins got solid performances from their stars: Gardner had 21 points on 8-of-17 shooting, and junior forward Markel Walker had 22 points and 11 rebounds.
The Bruins poured out every ounce of energy they possessed, and simply came up wanting.
Close has dismissed fatigue as a storyline for most of the season, but it's one that seems, at the end, unavoidable.
"Even (Gardner and Walker), who have the most experience on our team, were not depended upon (as) scorers, having to carry the burden every night," Close said. "Jasmine Dixon averaged the most amount of minutes last year at just under 26. So for them to be playing 35-plus, to be carrying the load, and to be playing a new role "" every single person on our team was playing a role they've never played before."
That seems to be a fact that is slipping by in a season that looks mostly like mediocrity. With a new coach, having lost much of last year's squad, and lacking its best returning player, UCLA ended the season yet fighting for a tournament berth. A fully healthy roster was predicted to finish fourth in the conference, and UCLA's decimated roster found itself tied for fifth at season's end.
While this is nobody's idea of a dream season, it is not one they will be ashamed of.
"The transition helped to bring us closer, and made us really fight for something. We'd be in practice just really going at it. It brought us closer," Walker said.