Tim Lin Jazz Quintet finds harmony through jazz music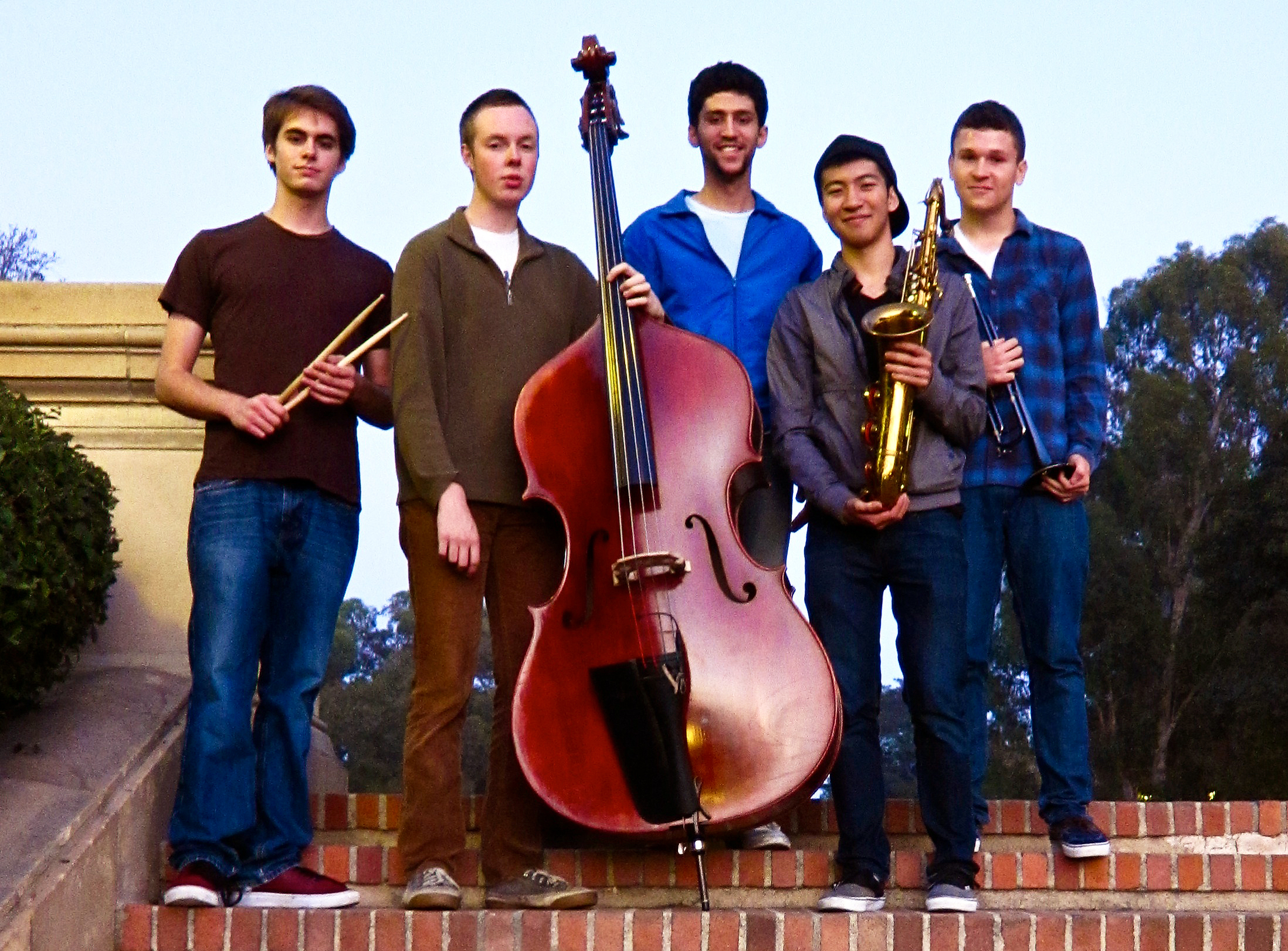 courtesy of AMANDA HAAS
The Tim Lin Jazz Quintet includes UCLA students Tim Lin (second from the right) on tenor sax, Colin McDaniel (left) on drums, Owen Clapp (second from left) on bass, Kiefer Shackelford (center) on piano and Zach Ramacier on trumpet.
After listening to a solo recording by American jazz saxophonist John Coltrane during his junior year in high school, Tim Lin said he was pulled in by the wonders of jazz and immediately loved it, practicing non-stop to improve his skills. Now, Lin, a second-year jazz performance student, leads a group at UCLA called Tim Lin Jazz Quintet.
The quintet, which was created a couple weeks ago, is set to perform tonight at Kerckhoff Coffee House for the Cultural Affairs Commission's weekly concert series.
The five-man jazz band features tenor saxophonist Tim Lin, pianist and second-year jazz performance student Kiefer Shackelford, drummer and first-year jazz performance student Colin McDaniel, bassist and third-year jazz performance and composition student Owen Clapp and trumpet player and first-year undeclared engineering student Zach Ramacier.
Lin said he created the quintet because he wanted to push himself musically.
"I wanted to play with the best people that I felt would match my musical personality. I love playing with Owen, Kiefer, Zach and Colin. … They inspire me all the time," Lin said.
Lin said he originally wanted his jazz ensemble to be a quartet, but after meeting Ramacier, Lin was impressed by his high-energy trumpet playing and added him to the group.
Ramacier, who has played the trumpet since he was 9 years old, said he became interested in jazz around the age of 12.
"(Jazz) is so innovative. When you're playing jazz, you can take it pretty much wherever you want. It's about finding yourself through the music and establishing your own voice," Ramacier said.
Shackelford also said he became interested in jazz at the same age.
"It was around the same time I was developing a really good skill for perfect pitch. When that happened, jazz started to make a lot of sense," Shackelford said. "I personally think it's the biggest genre out there. … It's so vast."
The quintet will be performing a two-hour set comprised of original music composed by Shackelford and McDaniel and also arrangements of some jazz standards.
Aside from knowing several hundreds of jazz standards, Shackelford, who practices 30 hours a week, said that an integral part of jazz is knowing how to improvise, a skill that requires a lot of practice.
"The important thing to understand about jazz is that 99 percent of it is off the top of the head. When I practice, I put on a CD by a particular piano player I want to absorb, and I would write down note for note what his improvisation is," Shackelford said.
Lin said that he also uses this method of transcribing when he practices the saxophone.
"Every jazz musician has a different way of practicing. … You listen to a record and you try to copy exactly what the person you're trying to study is doing. Its like trying to learn a new language, and you're trying to copy the accent of that language," Lin said.
Because it's a newly formed group, Lin said it's still trying to find its sound as a group, and he hopes to find that sound with the guys in the future. As of now, their music has a slight hip-hop and rock influence.
During certain jazz performances, some members are showcased in solos. Solos are often not over-rehearsed in order to remain fresh, and Lin said the group discusses solos before each performance.
"It's a matter of who's more comfortable with chord changes because jazz harmony is about chord changes. There's specific change in each tune that creates the harmony," Lin said.
Lin, who attributes modern jazz as his favorite style, said he hopes to someday play in New York City. He also said he wants to make a great first impression for his quintet tonight.
"I want to play my best. It's my first self-led group here, so I have high expectations for mainly myself, and I just want to see my friends and hope they enjoy and they can connect with something I'm trying to say," Lin said.