The play "˜Ching Chong Chinaman' challenges stereotypes with satire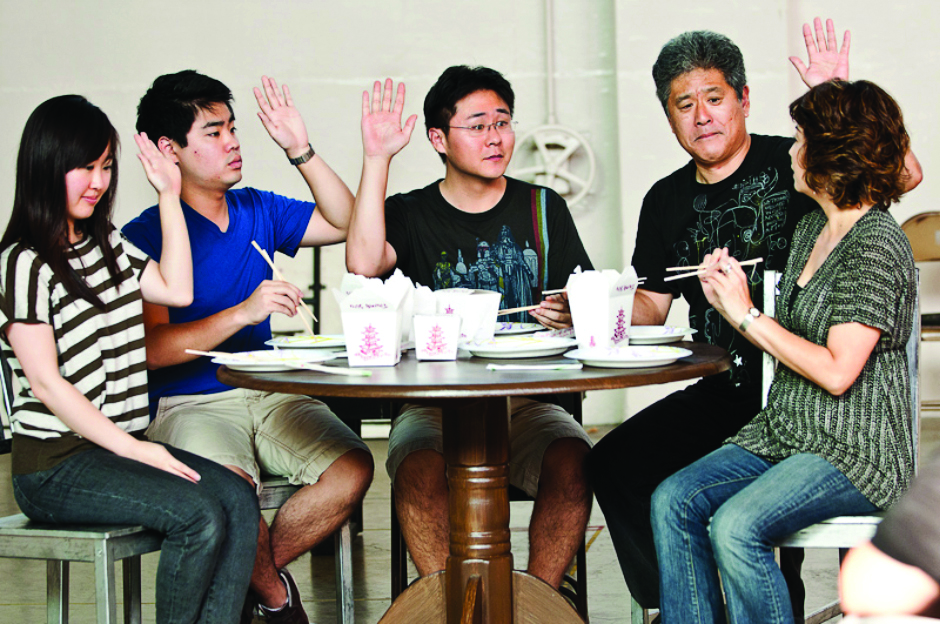 Julia Cho, Scott Keiji Takeda, Steve Hu, Ken Narasaki and Helen Ota star in the comedic "Ching Chong Chinaman," which deals with the idea of Chinese American identity and will run through Nov. 20.
"Ching Chong Chinaman" ""it's a play title that may warrant a double take.
Playing at The Actors Company and presented by theater collective Artists at Play, the comedic and controversially titled play "Ching Chong Chinaman" deals with the Wongs, a Chinese American family completely assimilated into American culture "" so much so that the members don't recognize their ignorant behavior directed toward their newly immigrated indentured servant, Jinqiang.
Jinqiang is hired to do the family's chores and homework so that the son, Upton, can participate in a "World of Warcraft" tournament and daughter, Desdemona, can get into Princeton University. Despite his work, the servant is stereotyped and mocked by the family for his culture.
Artists at Play, comprised of founding members Julia Cho, Peter J. Kuo, UCLA alumna Stefanie Wong Lau and Marie-Reine Velez, initially started their collective with the primary goal of bringing this particular play to Los Angeles audiences. According to Lau, Artists at Play plans to expand its collective to produce plays such as "Ching Chong Chinaman" that would otherwise not show in Los Angeles.
"We started Artists at Play earlier this year just intending to produce "˜Ching Chong Chinaman' as independent producers," said Lau. "The idea is that the four of us are producers and curators of art, "¦ and "˜Ching Chong Chinaman' is the poster child of the kind of work that we want to do."
Playwright Lauren Yee said she intended to write about a white family and the concept of "gold-farming," where affluent gamers hire players from Third World countries to play video games for them in exchange for currency.
"It was in the writing process that I came up with the idea that it could be an Asian American family, and how that relationship might be more problematic for who they are as people, and what kind of baggage they bring along in terms of their identity," Yee said.
Cho, who is also a professional actress and plays the character of Desdemona, saw a production of the play in Berkeley and said she was attracted by how the play subverts Asian stereotypes and the concept of Asian identity in theater.
"What's interesting about Asian American theater is that in the past, it's delved a lot into identity, about who we are. We're moving past that and the play tackles that and turns it on its head. Lauren Yee has a great way of tackling issues of cultural identity and she does it in a really funny way," Cho said.
As far as the title is concerned, Lau said that while there have been some people uncomfortable with it, she said she believes it's an opportunity to start dialogue about reappropriating the term.
"We know that there are people who are going to be uncomfortable with the title and we think that that was the purpose," Lau said. "It's a jumping off point to get started in that deeper conversation. We're not ignoring people who have issues with it. We know the people will have issues. We want to engage people in that conversation."
Having already premiered "Ching Chong Chinaman" in Berkeley and New York, Yee said she hopes to continue providing a fresh take on Asian American theater in Los Angeles.
"One of the questions that I always ask myself as an Asian American is how we can continue pushing the limit of Asian American theater," Yee said. "I feel like Asian American identity and Asian identity in general is shifting in America. I think we just have a responsibility to push it forward and not just tell the same stories over and over again because they're easy."