New TEDx conference at UCLA provides a stage for presenters to share their insights, innovations in science, technology and art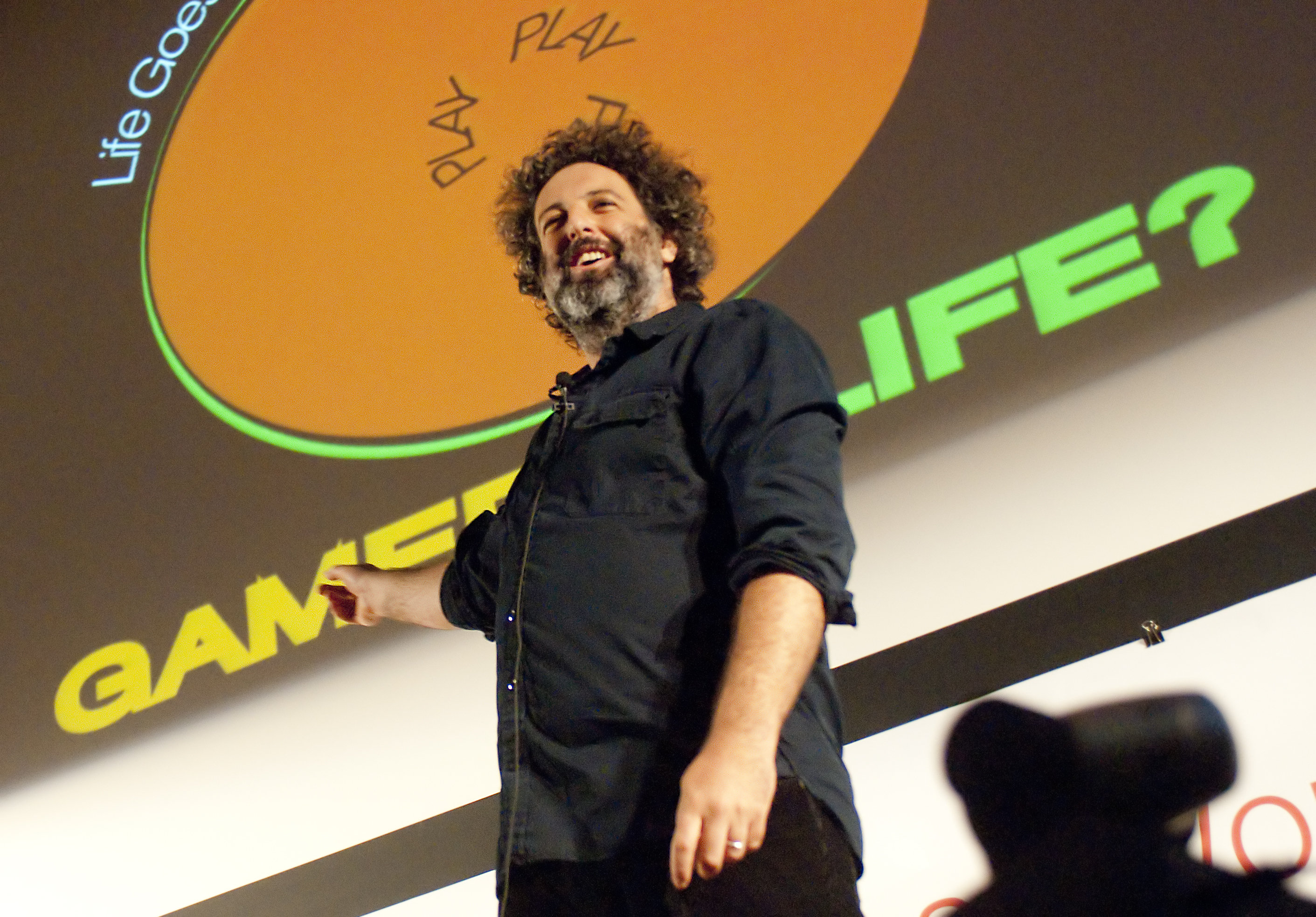 Eddo Stern, a UCLA professor of Design | Media Arts, demystifies the gamer's mentality and interrelates games and reality during a presentation at the TEDx conference on Saturday. A number of UCLA instructors gave presentations.
A sellout crowd of more than 400 people packed a Broad Art Center auditorium decorated with multiple visual displays, musical instruments and a crowd-sourced, fully-automated Nerf gun.
A video recording of cracking and flowing arctic ice pacified an excited audience. In the first presentation of the day, Rebecca Mendez, a professor of Design | Media Arts, reminded people of the delicate balance between nature and man.
"Every time I find myself in these spaces, I'm able to understand much more my relationship to nature," Mendez said of her visual representations of icy landscapes. Technology and artistry, for Mendez, mediate a connection between people and the external world.
Mendez's ideas, and other creative applications of technology, were the focal points of the first-ever TEDx conference at UCLA on Saturday.
TEDx conferences are a branch of Technology, Entertainment and Design, known as TED. With the motto "Ideas worth spreading," the nonprofit conferences enable communities to independently organize and run TED-like events at the local level.
Nearly half of those attending the conference, called TEDxUCLA, were UCLA students and faculty, said Scott Hutchinson, program director of visual arts at UCLA Extension and curator for the conference. Hutchinson spent nine months planning the conference and compiling a list of 100 potential presenters before narrowing it down to the final 18.
For the fast-paced conference, presentations were limited to 18 minutes each. Presenters included UCLA faculty, as well as a bike messenger, poet, landscape architect, musicians and educators from other universities.
Social media was a recurring theme. Michael Newman, an instructor at UCLA Extension, targeted audience members holding a digital "hot potato" with an automated Nerf gun. The hot potato was passed by texting Newman's phone, intending to demonstrate how connections between technology can work.
Yoh Kawano, UCLA's campus geographic information systems coordinator, demonstrated how Twitter can be used to save lives through crisis mapping. In the aftermath of the recent earthquakes in Japan, cell phone coverage was down in many disaster areas, but wireless internet remained, said Kawano, also a lecturer in the School of Public Affairs.
Services like Twitter that can share GPS coordinates can be used to locate victims and coordinate disaster relief. Kawano asked audience members to participate in his demonstration by live-tweeting keywords that his crisis management tool would discover.
During the talk, Kawano joked about his own crisis "" having technical difficulties displaying his Twitter tool during his presentation. Other presenters encountered technical problems as well, but Hutchinson's team quickly remedied them.
Omar Yaghi, professor in the chemistry and biochemistry department, showcased metal-organic frameworks, human-engineered combinations of metal and organic molecules.
Certain metal-organic frameworks have pores that fit carbon dioxide molecules and can be used to reduce greenhouse gas emissions, he explained to the audience.
Other presenters had less academically oriented presentations. Andrew Byrom, a professor at Cal State Long Beach and teacher at UCLA Extension, presented his recent work developing typefaces, or fonts.
Byrom sees typefaces in everyday objects, such as the letter "h" in chairs. He then creates an entire alphabet out of everyday objects and digitalizes or constructs them for his clients.
The day-long event concluded, however, with a technologically challenging performance, in which the Seoul Institute of the Arts in South Korea played a live performance with a Los Angeles-based fusion group called Yerak.