Though UCLA has so far avoided cutting staff in order to preserve quality, the specter of layoffs still looms as an option that cannot be completely ruled out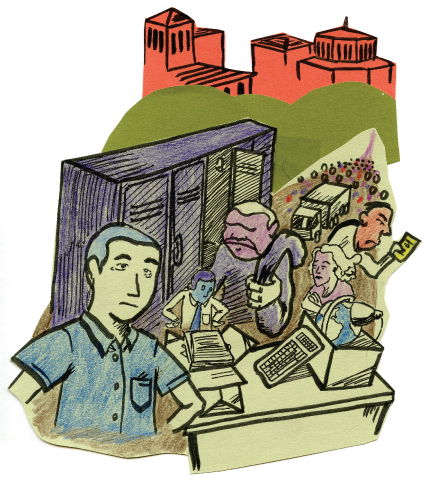 Read more from A Closer Look: Staffing UCLA
This article is part of the Daily Bruin's Graduation Issue 2011 coverage. To view the entire package of articles, columns and multimedia, please visit:
Staff layoffs have not been part of UCLA's own plan to cope with a $96 million budget cut approved in January, but University of California officials predicted that the option will be on the table systemwide.
Nearly 3,500 UC staff members have been laid off in the past several years, and current employees have reduced working hours.
The UC is concerned that the loss of any additional workers would damage its overall ability to operate, said Dianne Klein, a spokeswoman for the UC Office of the President.
"We're not going to cut into the bone," she said, reiterating UC President Mark Yudof's commitment to maintaining the quality of the institution. "It's going in with a scalpel, not a hacksaw. We hope it doesn't come to (layoffs)."
UCLA does not plan to reduce staff to match state funding, said Steve Olsen, vice chancellor of finance, budget and capital programs.
Instead, UCLA is taking a number of steps to increase money coming into the university and make the campus more efficient in its operations to adapt to the state's dwindling support.
"We can't promise there will never be layoffs "" they happen even in relatively healthy positions "" we do what we can in order to minimize layoffs," Olsen said.
Since 2009, 173 employees have been laid off at UCLA "" a relatively modest number compared to the 30,427 people the campus employs but still affecting a large number of individuals, Olsen said. Most of the layoffs were due to attrition, when employees leave or retire and their former position is left unfilled. Many occurred within the medical center or research programs that had lost funding.
Layoffs have saved UCLA $10.4 million since the budget cuts of the 2009-2010 academic year. Since then, there remain 524 unfilled positions, leading to savings of $68 million. Gerard Au, president of the UCLA Staff Assembly, said there is concern among staff that there could be additional layoffs.
As a longtime worker for UCLA restaurants in Ackerman Union, 40-year-old Jorge Elguezabal said he has seen some workers on campus anxious about job stability.
"They don't work (happily) thinking day-by-day," Elguezabal said. "They have families … and everything is expensive nowadays."
Although he said workers all have different opinions regarding layoffs, Elguezabal said he does not think layoffs are the solution to financial problems.
Despite the concerns, Au said an ultimate determination on staff positions is still uncertain until the state budget is finalized.
"We're really trying to be proactive and plan for a percentage cut," Au said. "We've been pretty lucky to not have major layoffs."