"˜Pains of Youth' play depicts brutal coming-of-age of Austrian medical students in 1920s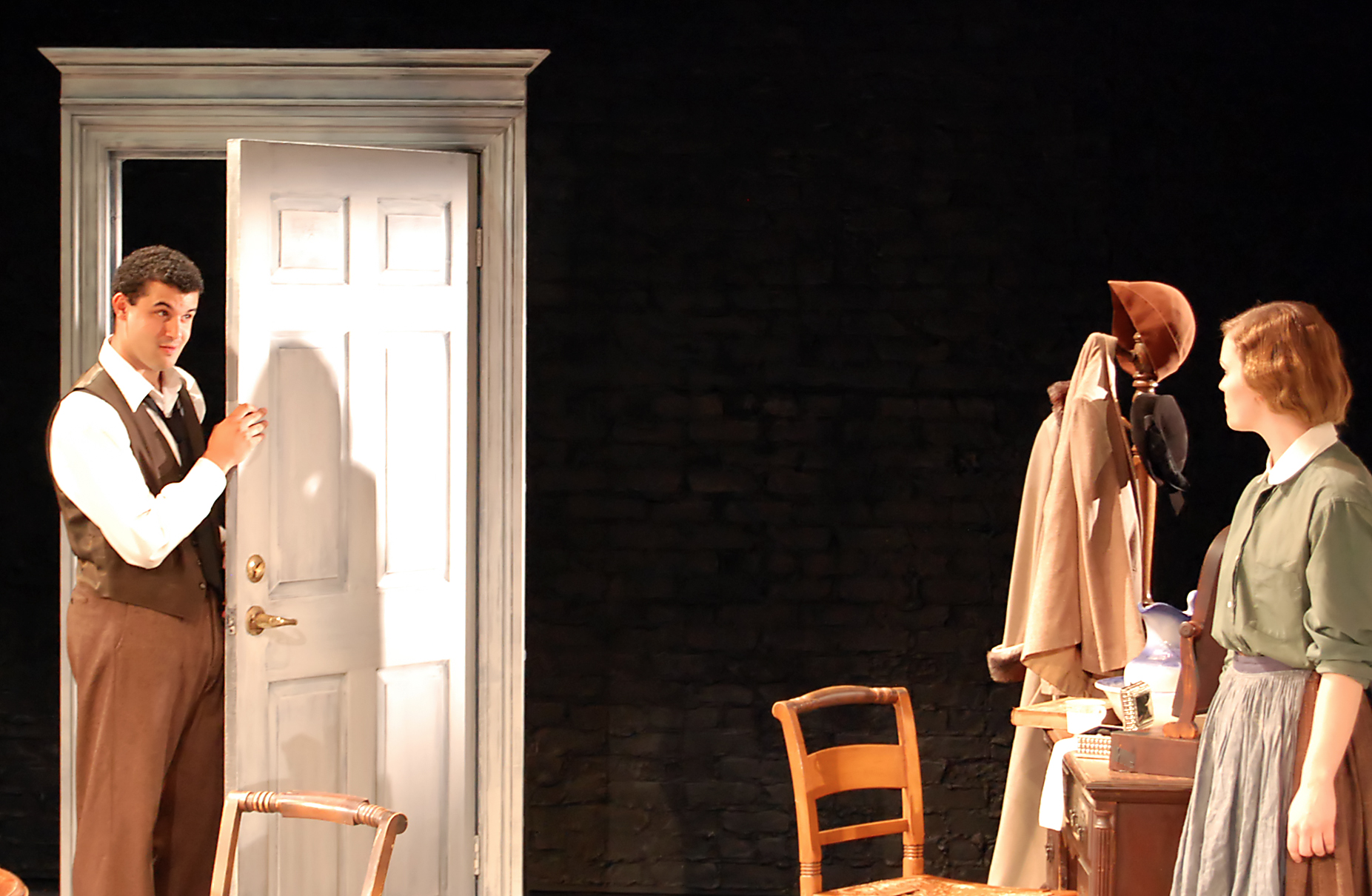 Master of fine arts in directing student Conor Hanratty's production of "Pains of Youth" opens tonight at Macgowan Hall. The play focuses on six promiscuous medical students whose lives intertwine as they balance school and life in their boarding house.
Pains of Youth
Through June 3 "" Opens Friday, 8 p.m.
Macgowan Hall "" Little Theater
Tickets available at Central Ticket Office
A moment of violence occurs between two women who grow competitive over a man. Tensions soar and the situation results in a vicious brawl in which the character of Irene, played by fourth-year musical theater student Leah Bezozo, is tied by her auburn hair to the base of an ottoman.
Bezozo rolled up her leggings to the knee to expose several quarter-sized bruises.
"I've got some knee bruises, but it's fine. We're doing the fighting super safe, but it's kind of crazy," Bezozo said.
This is one of many brutal scenes in the UCLA School of Theater, Film and Television's production of "Pains of Youth," premiering tonight at 8 p.m. in the Little Theater of Macgowan Hall.
"Pains of Youth" is a 1920s drama that captures a week in the life of seven Austrian youths associated with the medical school at the University of Vienna. Centered in a boarding house bedroom, the story begins with an intricate web of promiscuity that slowly unravels and fuels tension among the characters. The characters act upon their personal anxieties by resorting to violence.
Master of fine arts in directing student Conor Hanratty said the production derives its intensity from the pressures of the transition from college life into adulthood, a pressure he said he has become very familiar with as he approaches graduation from the Master of Fine Arts Directing program at UCLA.
"I think that at the end of the quarter, this issue is on a lot of people's minds. The idea is that if this is one period of life that ends, the next step could be quite troubling," Hanratty said.
In a cast of only seven undergraduate actors, Hanratty said this is one of the most intimate shows he has ever done, requiring that he and the performers maintain a keen attentiveness to detail and in-depth character analysis.
Travis Leland, a second-year acting student, said he has come to face certain challenges with portraying Freder, the main antagonist.
"He's kind of a pig. He's manipulative and gets so much joy out of taking people and turning them around, just to mess up their world. As an actor I've had to try to make him fun and … justify why he does these things," Leland said.
Hanratty said the design for the production was inspired by the works of 19th century Danish painter Vilhelm Hammershoi. The designers have taken hints of the Roaring '20s glory, but they have brought the aesthetic to a more ordinary and practical level to convey the mood of people living in the midst of a depression.
"(The performance) is about real people, but we don't want to go to the theater to see ordinary people and sets. We can sit in the cafe and do that. I think we owe our audience the most beautiful version of what we're showing that we have the ability to achieve," Hanratty said.
The set also features an exciting visual spectacle, known as a coup de theatre, that Hanratty is keeping a surprise until the show opens. The production also incorporates music to which two romantically involved female characters share a slow dance. Hanratty noted that a relationship between two women would have been completely censored on Broadway in the 1920s but was nevertheless performed to great acclaim in Austria and Germany at the time.
"There's nothing in the story that comments on this relationship. It's just a part of the story, that two of the characters are in a relationship and they are both women. Marvelously, they simply are who they are," Hanratty said.
Hanratty said he is committed to unsung plays that people do not often get the opportunity to see and that he believes "Pains of Youth" is a rare gem that falls within this category.
"It's an interesting and beautiful play about who we are," Hanratty said. "I find it especially relevant to our time, and while it's not necessarily a cautionary tale, it is a play I hope will resonate and move people."