After a disappointing regular season, UCLA softball to defend title in NCAA Regional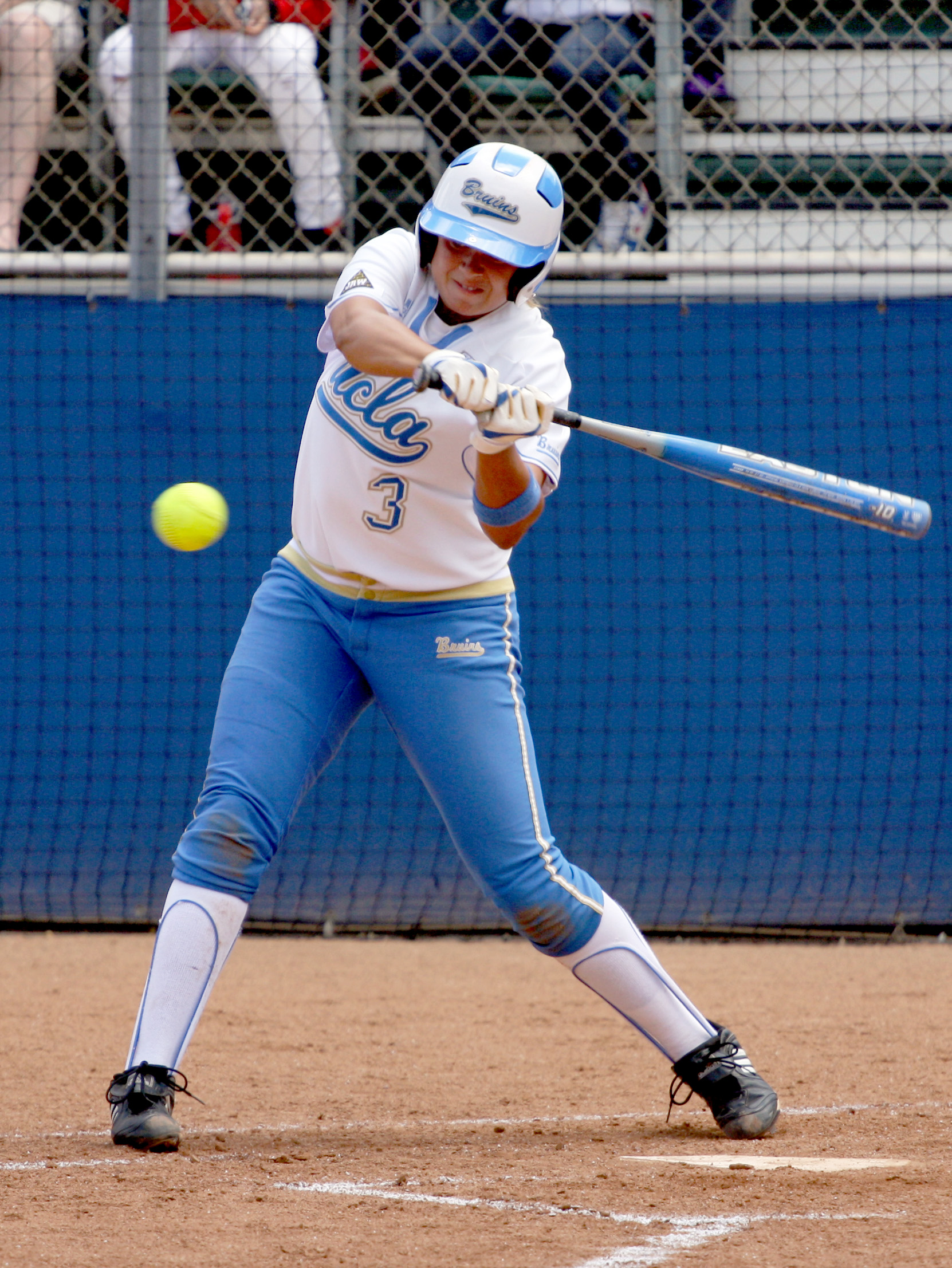 Senior GiOnna DiSalvatore, who is the program's all-time leader in doubles with 63 in her career, returns home to Florida when UCLA takes on Jacksonville in Gainesville, Fla., today in the opening game of the NCAA Gainesville regional.
Jacksonville
Friday, 12:30 p.m.
Gainesville, Fla.
Watch the live stream on ESPN3.com
Toss out the 11 NCAA titles, because there's no mistake about it.
The UCLA softball team, which began its championship-winning postseason trek around this time one year ago, is heading into the playoffs as an underdog, and it's no elephant in the outfield.
"Nobody expects us to do anything," senior third baseman GiOnna DiSalvatore said. "Yeah, we are the defending national champs, but it's a new season and the title doesn't matter. Nobody is going to expect much from us, so we just go out there with nothing to lose."
Indeed, the Bruins (33-17, 9-12 Pac-10) don't seem to be fretting much as they head into today's NCAA regional tilt in Gainesville, Fla., against the Jacksonville Dolphins (43-14, 18-2 Atlantic Sun).
As the players, coaches and family members took in the NCAA Tournament selection show during the annual team banquet on Sunday, it was more excitement than heavy silence that emanated once it was announced that UCLA will be going away for the NCAA regional for the first time since the 2003 season.
"Obviously, it's great to be home, but I think this is good for our team, to go away," sophomore center fielder Devon Lindvall said. "It's something new and different, and it'll be good for us to just be focused on ourselves. … The season hasn't been what we imagined it to be, but the postseason is a chance for us to start over. This is where it all counts."
News of UCLA's assignment to Gainesville marked a pleasant surprise for DiSalvatore, who hails from Palm Harbor, Fla. Having played in front of friends and family last year when the Bruins traveled to Florida for the Dot Richardson's National Collegiate Softball Invitational, she will have a chance to do so again, in her last playoff push as a Bruin.
"I saw "˜Florida' and "˜UCLA' and stood up and started cheering," DiSalvatore said, referring to her initial reaction upon discovering her team's destination. "Obviously, I get to go home and my whole family gets to come, and I couldn't think of a better way to go out as a senior."
Despite the optimistic anticipation and DiSalvatore's homecoming, the Bruins still face a daunting uphill climb if they wish to make a return trip to the College World Series.
Even if UCLA were to come out victorious against Jacksonville, it is likely that the Bruins will have to face No. 4 seed and host team Florida (47-9, 21-7 Southeastern), which is paired up against Bethune-Cookman (33-24, 17-1 Mid-Eastern Athletic) in the other bracket of the Gainesville regional. The Bruins faced the Gators once before this season, losing 4-1 in a Feb. 25 contest at the Cathedral City Classic.
As for today's opponent, the Bruins will be dealing with first-time NCAA Tournament participants in the Dolphins, winners of the Atlantic Sun Conference. Jacksonville brings a 15-game winning streak, as well as an offense that is batting .278 overall, and is led by sophomore catcher Sarah Simon, who is hitting .371 with nine home runs and 40 runs batted in this year.
In the circle, junior pitcher Sarah Sigrest has been the Dolphins' steady ace, with a 1.01 earned run average and a 26-5 record.
It will certainly be a coastal affair come the first pitch, as West Coast meets East Coast. But the one distinct advantage the Bruins have in their favor?
"Now you step up and bring it with whatever you have," coach Kelly Inouye-Perez said. "Now is when experience says, "˜We know how to slow the game down.' And I look forward to the seniors grabbing the freshmen and taking them along, knowing that our freshmen are impact players."
Update on the injury front
Junior pitcher Aleah Macon is still dealing with a right shoulder injury, while redshirt junior outfielder Samantha Camuso is nursing a lower-body injury. Junior catcher and first baseman Dani Yudin also remains out after being hit by a pitch on the neck in a game against Oregon on May 12. All three players are listed as day to day.
Senior shortstop Monica Harrison, who is out for the entire season, will not be playing a redshirt season next year, bringing her UCLA career to an end.