Alumna Lesli Margherita plays lead role in new production of "˜Kiss Me Kate'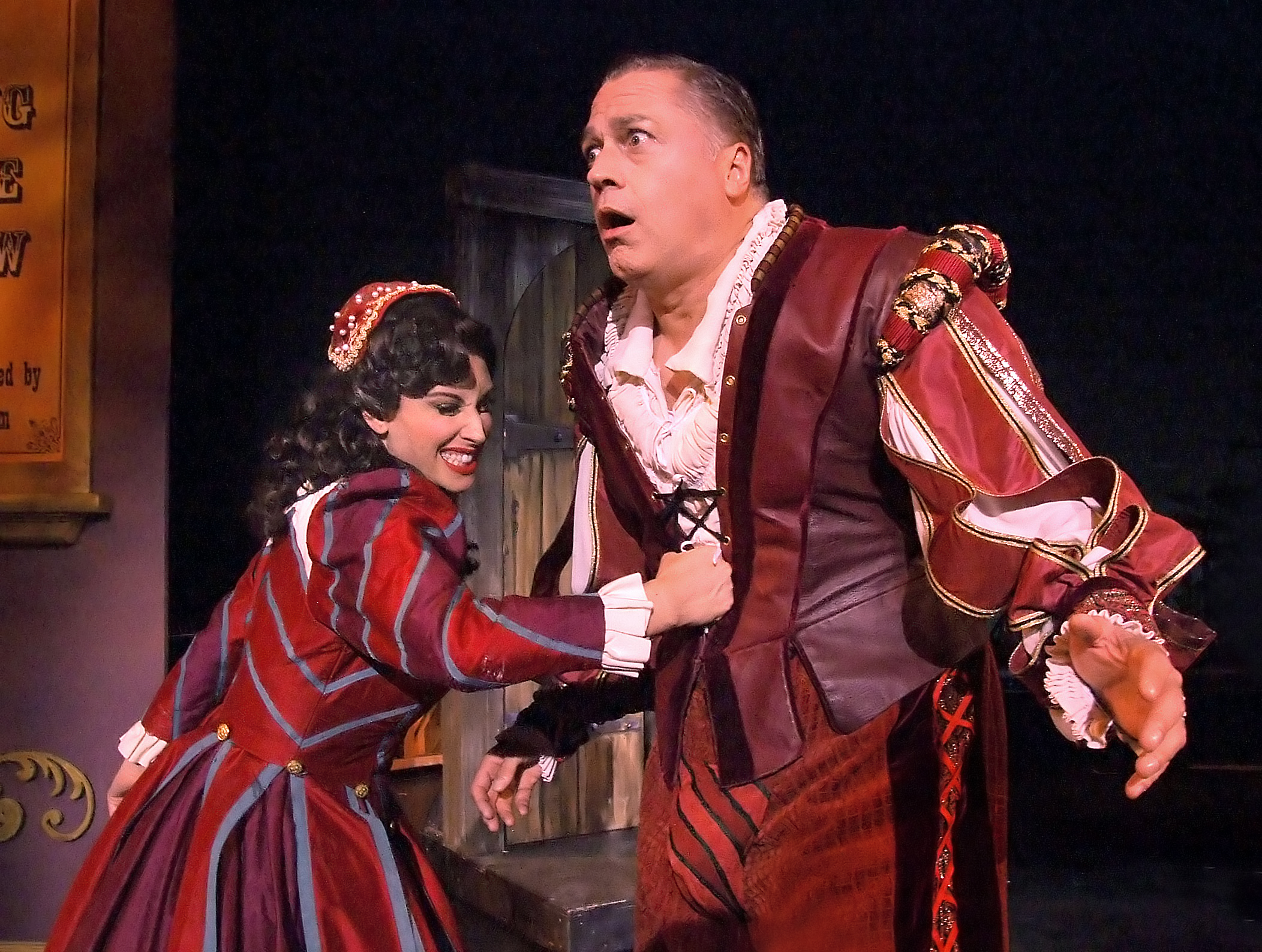 Lesli Margherita, left, and Tom Hewitt perform in Reprise Theater Company's "Kiss Me, Kate," which will premiere tonight at UCLA's Freud Playhouse. Credit: Ed Krieger.
"Kiss Me, Kate"
Through May 22
Freud Playhouse, $55-75
Despite performing on stages in multiple continents, Lesli Margherita sometimes still ends up using the same dressing room as she did in college.
Beginning tonight, Margherita will star in Reprise Theatre Company's version of the classic 1948 Cole Porter musical "Kiss Me, Kate." The two-week run will be held at UCLA's Freud Playhouse, where Margherita performed as a student in the Theater, Film and Television program.
Margherita will play Lilli Vanessi, the star of the play within a play, William Shakespeare's "The Taming of the Shrew." Embroiled in a quarrel with her ex-husband and Shakespearean co-star, Lilli must navigate her relationship troubles both offstage and onstage, in the role of Katherine.
Reprise Theatre Company's producing director Gilles Chiasson said that a major part of producing "Kiss Me, Kate" is finding actors like Margherita who can inhabit both aspects of the characters' double parts.
"They're tough roles," Chiasson said. "The challenge is to find the group of people who can take the Shakespeare stage and inhabit the 1940s world."
To bring out the style of those songs, Lee Martino, the choreographer, made sure to match the various dance numbers, some of which involve Margherita, with the time-specific musical style.
"You stylize it so that it puts you back in that time period. It's very jazzy, low to the ground and visceral," Martino said. "It's sexy in a 1940s way, so not thrashy. You definitely don't want it to look like a music video."
This isn't the first time that Margherita has appeared in a Reprise production, but she said that she wouldn't have had the chance to join a professional group in Southern California had it not been for her college training.
"If I didn't have the tools when I left UCLA, I would have just been eaten alive in Los Angeles," Margherita said. "I think it's tougher than New York any day."
During the first week of rehearsal for "Kiss Me, Kate," Margherita had the extra challenge of juggling not just two roles at once, but three. Adjusting to both Kate and Lilli, she also starred as the timid and abused Audrey in "Little Shop of Horrors." The two parts ended up providing little mental overlap.
"It's been so weird to go from Kate, this ballbuster, to playing a beaten-down woman (as) Audrey," Margherita said. "Psychologically, it's a little all over the place, but I just have to remember how strong a woman Kate is."
Part of the strength of Lilli's Kate comes from her need to keep up with her ex-husband Fred Graham's Petruchio, played here by Tom Hewitt. Their lovers' quarrel that often ends up spilling into the production of "The Taming of the Shrew" has provided Margherita with some of her favorite moments of the rehearsal process.
"There's a fight scene between Petruchio and Kate, but Fred and Lilli really decide to pound each other on stage. I'm loving that," Margherita said. "As long as we don't actually kill each other, it'll be great."
Chiasson said that this production of "Kiss Me, Kate" won't be a radical shift from the traditional time and location setting that audiences might have seen before. Not straying too far from the original will give Cole Porter's songs the opportunity to stand out.
"Iconic songwriters like Porter are part of the culture. People identify with a show through the songs because of that," Chiasson said.
While the staging of the show will stick to the time period, Chiasson said the musical will take on a slightly different visual style. During the Shakespeare portions of the show, Freud theatergoers will observe the characters react and interact before they go "on stage."
In addition to the visual change, Margherita said that her personal approach to the character has helped her to form a new interpretation of her dual characters, giving the crowd something else a tad unexpected.
"I don't think that I'm a conventional Kate. She's this Hollywood grand dame and I'm a little more goofy," Margherita said. "There's always a worry that fans of the show will be disappointed if you do your own take on it, but hopefully this new version will resonate with the audience."