Linn Meyers' "˜Every now. And again.' at the Hammer Museum explores philosophy of aesthetic design through intricate uses of lines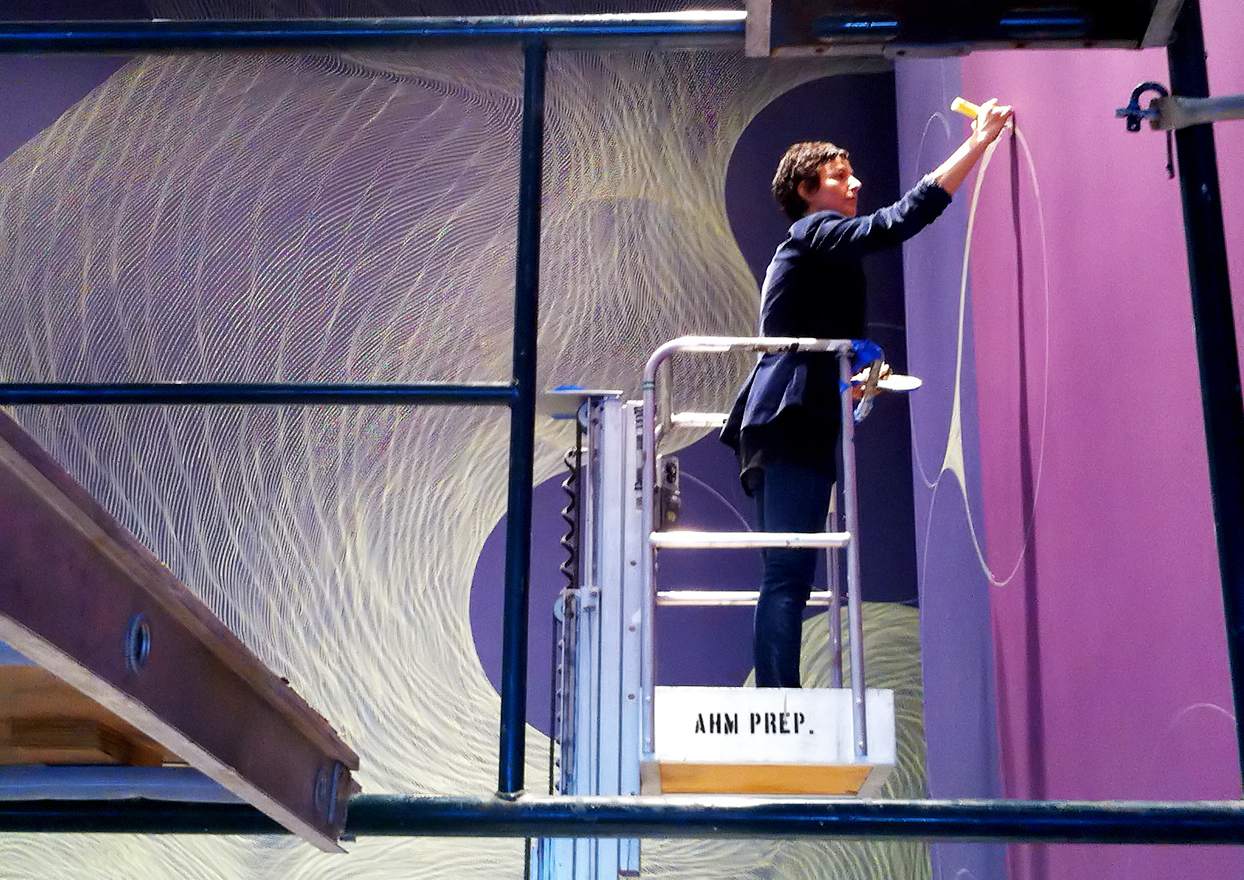 Linn Meyers works on the Hammer Museum's lobby wall. Her artwork features consecutive lines drawn in repetitive patterns within pre-drawn circles.
(Courtesy of Amanda Law)
Linn Meyers
Through Nov. 6
Hammer Museum, FREE
One line follows another as artist Linn Meyers' hand guides vibrant yellow paint in circular spirals across the dark violet walls of the Hammer Museum's lobby.
Meyers' intricate design, "Every now. And again" will be featured at the Hammer through Nov. 6.
Anne Ellegood, senior curator at the Hammer, said Meyers' work is new to L.A. audiences, as she usually features her work on the East Coast where Meyers lives in Washington, D.C.
Meyers' site-specific Hammer Museum drawing is her first solo show in Los Angeles.
While she typically uses muted colors in her work, Meyers said she chose vibrant colors to represent the L.A. environment.
Her process begins with predetermined circle sketches which she fills in with weaving lines that accumulate in repetitive patterns.
"It's the tempo and the repetition that we are all living with, all the time both in our physical beings and in the world that surrounds us. So the "˜And again' part (of the title) is the repetition in tempo, and the "˜Every now' part relates to every moment, every line, every intention within the process," Meyers said.
According to Ellegood, Meyers visited the Hammer Museum lobby several times to study the space before developing her drawing.
"I thought about the architecture of the space and the initial composition grew out of the fact that it comes down the staircase. I thought about the drawing tumbling down the stairs," Meyers said.
According to Meyers, she spends hours daily drawing lines as she listens to music, audiobooks and podcasts on her iPod. It was while listening to Salman Rushdie's "Shalimar the Clown" that Meyers said she found a connection to her drawing.
"There was a moment where (Rushdie wrote) about walking on a tightrope and how one character said to another character something along the lines of "˜Don't think of it as a rope in the sky. Think of it as a gathering of the air.' I really loved that, in relationship to my work," Meyers said.
Meyers said that while a line is a basic mark, it can be taken in a different direction that turns into something unexpected.
"The very simple act of making a line is this very fundamental part of being a human being. We use the line in all aspects of our life whether it is language, music, drawing or any fundamental thing that has to do with communication "" putting down ideas," Ellegood said.
According to Ellegood, Meyers' work is also about personal endurance, as she worked late hours drawing by hand without the help of assistants.
"I like the intricacy of (her drawings). You can't really take your eyes away from (them). It's just overwhelming how detailed they are," said curatorial assistant Emily Gonzalez. "From a distance they are intriguing and up close you just get pulled right in."
This organic quality of the wall drawing is evident in the lines' undulating waves.
"You start to see this quality of movement across the space, so the work really shimmers," Ellegood said. "You see the way light reflects off of it "" just as your body moves through the space the piece changes a lot."
According to both Ellegood and Gonzalez, Meyers' linear details are best seen in person to understand the full scale and impact, rather than reprinted images.
"The scale of the work … surrounds you," Ellegood said. "You are in the work literally when you are standing in the lobby. You can't duplicate that in an image."
Visitors can see the varying quality of Meyers' lines and patterns "" including the amount of pressure Meyers put on the pen in a given design, said Ellegood.
"It's amazing that you can have that amount of visual energy in something that is so simple in its basic design," Ellegood said.