Sexual Reign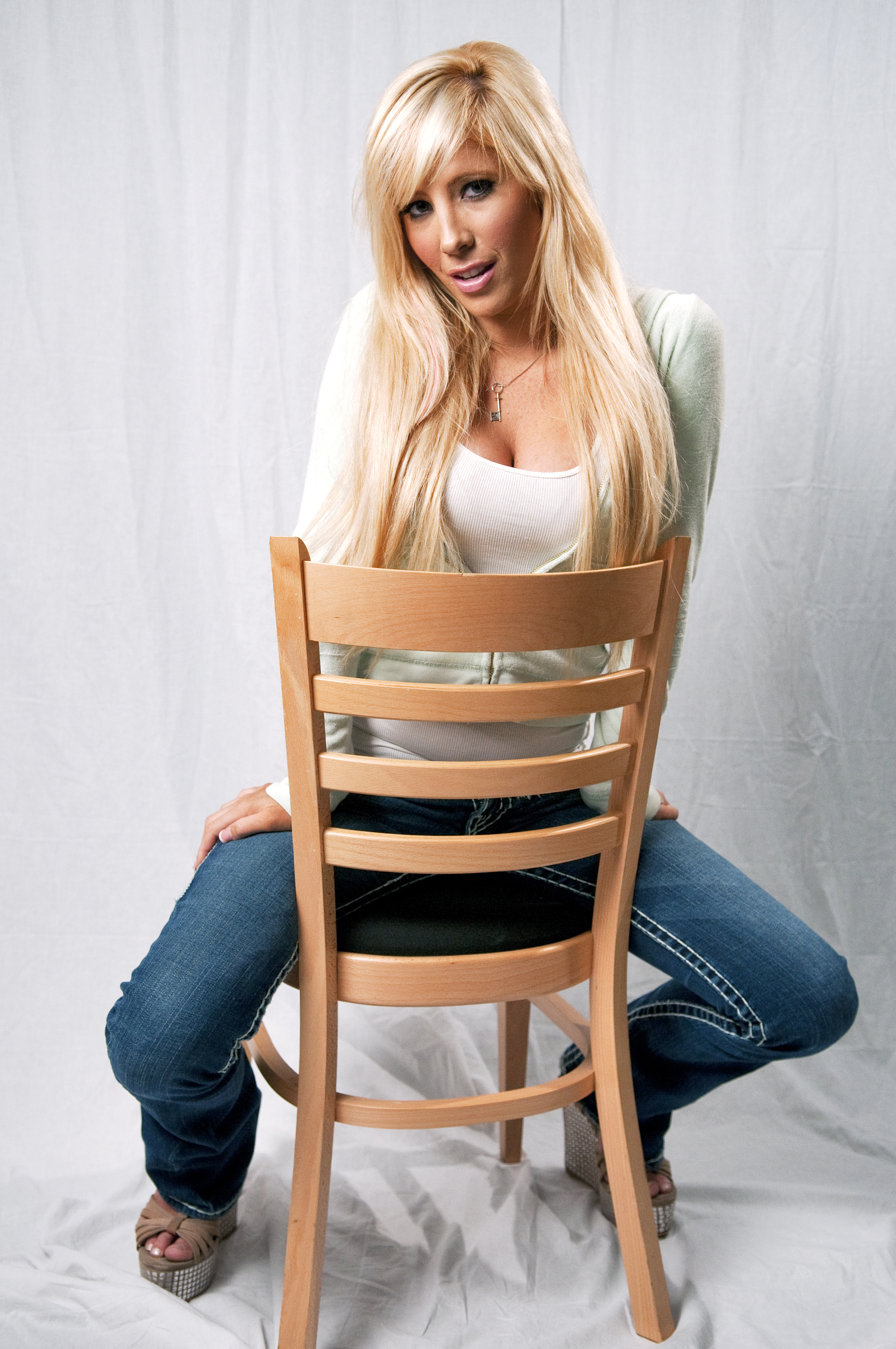 Fourth-year Women's Studies student currently acts in adult films.
Rachel Swimmer sat outside of Ackerman Union, dressed in skintight jeans, platform heels, white wifebeater, sea green velour jacket and a key-shaped charm necklace.
Her long platinum blonde hair and heavy makeup stood out slightly among girls walking by, but nothing was fully out of the campus norm.
Then a male student stopped, stared with a dropped jaw and exclaimed, "I'm a fan!"
He was referring to the work Swimmer, a fourth-year women's studies student, does outside of class – as a porn star.
Performing under the name Tasha Reign, Swimmer began her career in the adult film industry seven months ago.
She is often recognized by her campus peers, especially the males, but she said she doesn't mind it most of the time.
Though Swimmer had just come from the set and normally wears sweatpants to class, she wears the key charm that falls onto her surgically augmented cleavage proudly.
It was given to her when she became a Penthouse Pet, an honor in the renowned adult magazine, manifested as a centerfold feature in April and a May cover.
Swimmer began stripping professionally at Santa Monica's "Silver Reign" at 19 and started nude modeling for Playboy and other magazines shortly after.
She said that she knew she wanted to be a nude model since as far back as elementary school, when she would run around naked and take photos, and that her mom was always aware and accepting of it, even if it wasn't her first choice for her daughter.
It was not her career that inspired her to become a women's studies student but the other way around.
Although Swimmer was a fan of pornography since adolescence, the ideals of her field of study helped her cross over into adult film.
Before transferring to UCLA, a women's studies professor at Santa Monica College persuaded her to have a new outlook on sex – that women should enjoy and embrace it rather than obeying the popular societal view that it's all about the guy getting off.
This new perspective helped her transition into pornography, which according to Swimmer was a way to advocate females embracing sex in the most dramatic, impactful medium possible.
Swimmer did not make the decision until she was fully comfortable with doing so – starring in a few scenes and leaving the industry was not an option as the videos would be around forever.
"For me it was a planned thing – I knew I wanted to (become a porn star). My parents knew I wanted to do it. It was never something that just happened," Swimmer said.
Swimmer has now filmed for production companies such as Twistys, Braisers, BangBros and Reality Kings.
In a typical workday she earns between $1,000 and $4,000, depending on sex act and nature of the shoot, which typically consists of the opening dialogue, a photo shoot, sex on camera and further photos.
She works anywhere from one to five days a week, depending on what her agent is able to book.
According to Swimmer, sex on camera is actually safer than sex in the real world because all performers must show proof of negative STD and STI tests every two weeks as well as provide two forms of identification showing that they are over 18 and shoot a video stating their consent.
"Porn is actually very clinical, super professional. I didn't know it would be so business-like," Swimmer said.
Swimmer's agent schedules her work around school, which she currently attends two days a week.
She plans to stay at least a fifth year because of the pressure of her career.
"I didn't know I would be at UCLA (while) being a performer. It's definitely a handful," Swimmer said. "Because I work so much and the adult industry is so based on … the way that you look, and school is something that's here forever … I'm on a time constraint. I go to work and (then) go to school around that."
Swimmer doesn't recommend just any girl become an adult actress because it is a personal choice that may not work for everyone.
She is, however, a firm believer in being proud of one's sexuality, regardless of gender and societal norms.
"You should be proud. … If you want to be a transvestite or be gangbanged, whatever you want, it's all up to you. It shouldn't be … what society wants you to believe," Swimmer said. "I want girls to watch me and realize that I have such confidence in my work and that sex is an empowering thing. It's not something that's done to me, it's something that I do."