Diners and restaurants offer shrine to music, rock "˜n' eats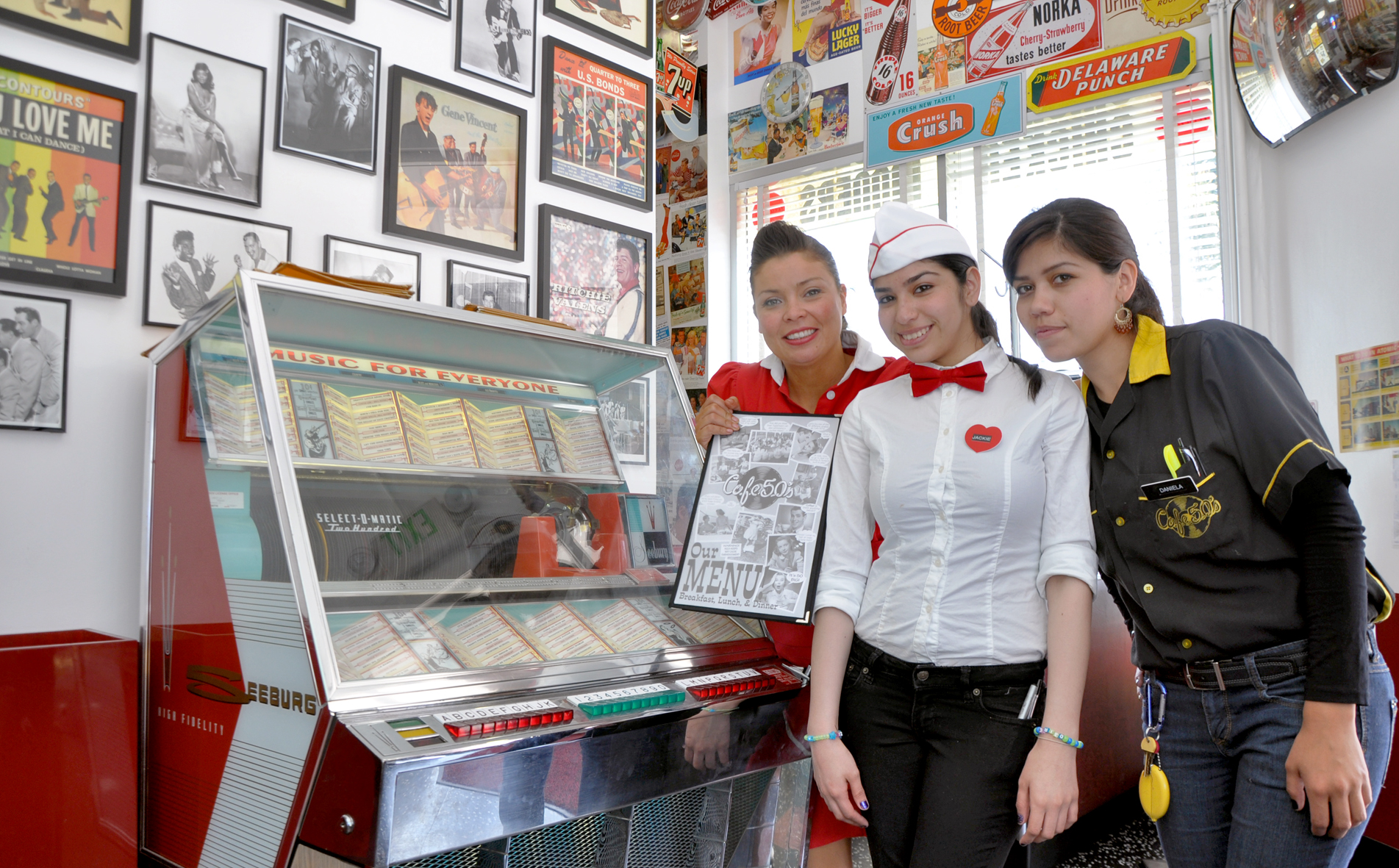 (From left) Waitress Anna Schultz, cashier Jackie Calderon and manager Daniela "Dani" Calderon stand next to the old-fashioned jukebox at Cafe 50's in Hollywood. Cafe 50's is one of several establishments in Los Angeles that evokes a rock "˜n' roll diner feel.
courtesy of ALEXANDER GALLAGHER–SOLTES
ROCK "˜n' ROLL DINERS
A few L.A. options for rocking out while you eat:
"¢bull; Dukes West Hollywood: 8909 W. Sunset Blvd., West Hollywood
"¢bull; Cafe 50's: 11623 Santa Monica Blvd., Los Angeles, and 850 N. Vermont Ave., Los Angeles
"¢bull; Hard Rock Cafe: 1000 Universal Studios Blvd., Universal City
"¢bull; Canter's Deli: 419 N. Fairfax Ave., Los Angeles
"¢bull; Toi On Sunset Rockin' Thai Food: 7505 1/2 Sunset Blvd., Los Angeles
"¢bull; The Blue Star: 2200 E. 15th Street, Los Angeles
Hungry visitors to Cafe 50's are greeted by an old jukebox, walls covered in vintage-framed albums and oldies like Del Shannon's "Runaway" playing "" though these days the music doesn't come from the jukebox, but from a satellite radio. For the price of their loose change, however, customers can still request songs from the functional jukebox.
Technology has changed a great deal since the 1950s, but rock "˜n' roll diners and restaurants that serve their food with a side of songs still draw crowds hungry for good old-fashioned fries and milkshakes, as well as an authentic retro atmosphere.
Co-owner Craig Martin grew up on a military base in Germany listening to Wolfman Jack on Armed Forces Network Radio. He established the first Cafe 50's in West Los Angeles in 1982 to fill what he saw as Los Angeles' need for a dining hangout that combined classic American cuisine with 1950s nostalgia and a friendly atmosphere, according to the Cafe 50's website.
After a year of decoration and preparation, Martin opened another Cafe 50's on Vermont Avenue. Manager Daniela "Dani" Calderon at the second Cafe 50's location said the restaurant is filled with college students from Los Angeles City College, who are free to use the Wi-Fi and outlets at every table during the week. She said people also come in to get into a mellower mood after life's daily stresses.
Cafe 50's has a house magician who also helps people forget about their cares by turning die into ice cubes and spades into diamonds. Pajama Night, every last Wednesday of the month from 6 p.m. to 10 p.m., also creates a friendly atmosphere in which those in traditional button-down pajamas get a free meal.
The Blue Star restaurant also offers a 1950s atmosphere and relaxing mood, hosting a "Rock and Roll Barbeque" on Fridays in exchange for tipping the person grilling. But this isn't your regular backyard grill session "" there are also live bands that add to the rock "˜n' roll vibe.
The Kibitz Room in Canter's Deli, a Jewish-style delicatessen in Los Angeles since 1931, also hosts live music every day of the week, with many performances turning into jam sessions by midnight. The Kibitz has been a platform for everyone from The Byrds and Frank Zappa to The Wallflowers and Fiona Apple.
When it was founded in 1968, Dukes West Hollywood was the place where musicians from Frank Sinatra to The Doors and The Runaways came after working up an appetite during gigs at places like Whisky a Go Go on the Sunset Strip. Since then, it has been remodeled for a more modern look, but its rich history still remains. For those late-night jam sessions, they serve breakfast until 4 a.m. on weekends.
A more recent shrine to music, the Hard Rock Cafe is a museum where you can rock out and eat. Third-year microbiology, immunology and molecular genetics student Max Belasco said that, while it is a great hangout for birthday parties, the price sometimes discourages him from coming back.
And while he said the loud music is hard to hold a conversation over, sometimes the only company you need with your meal is Don Felder and Sammy Hagar. There is nothing better than a face-melting guitar solo to go with your patty melt and pint glass of Sam Adams.
Toi On Sunset Rockin' Thai Food is a more intimate music shrine, complete with old rock posters and corny Beatles lines sung from waiters asking "All Together Now?" in regard to the bill.
As a premium place for food and music, Los Angeles has many restaurants that combine the two into a synesthesia of taste and sound. For the constant rock "˜n' rollers who don't want to take a break from their lifestyle to eat, these places serve them with songs and a smile.