Organ professor and university organist Christoph Bull to rock Royce Hall with mash-ups of classical, contemporary music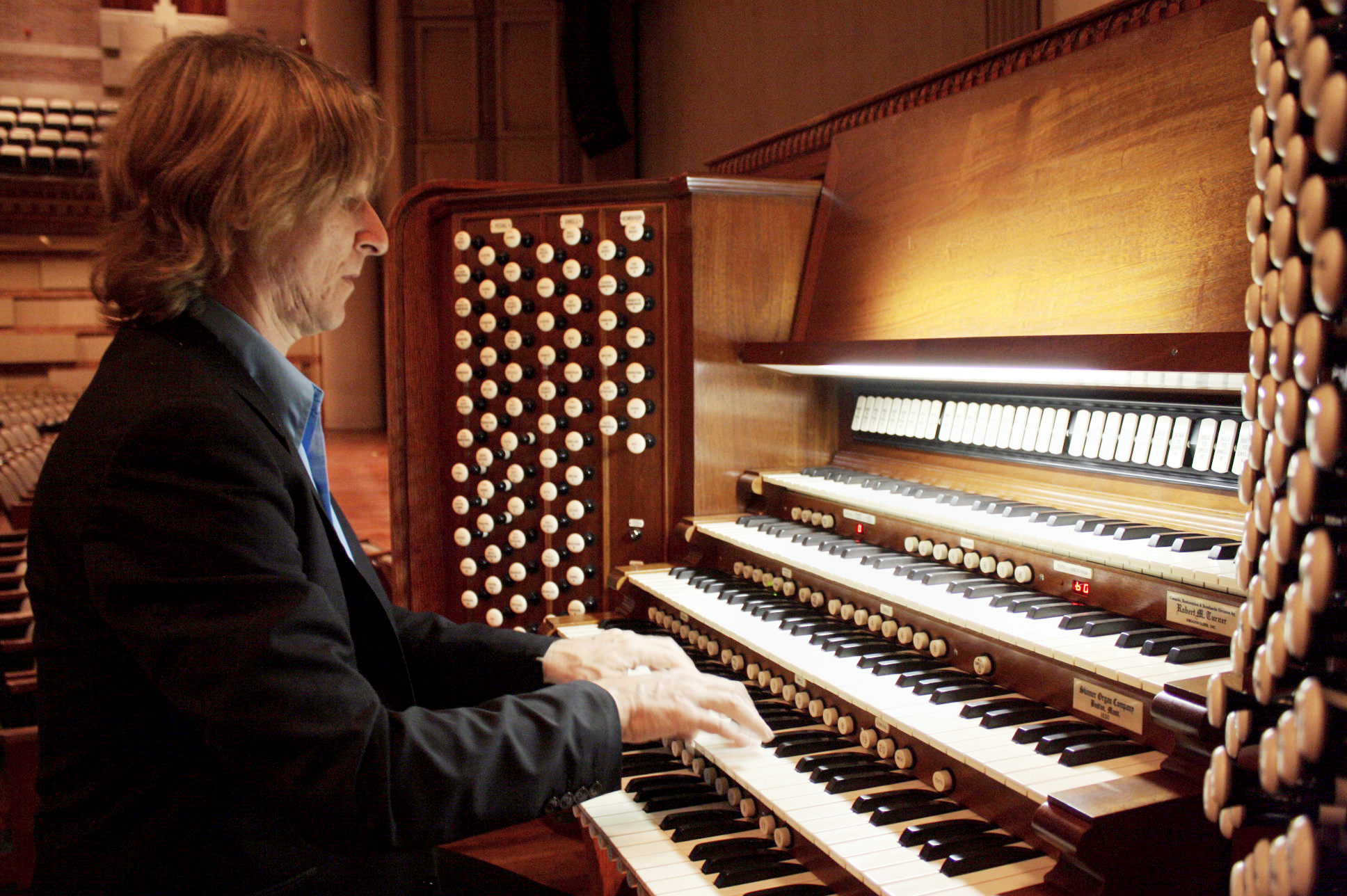 Organist Christoph Bull will play the Skinner pipe organ in Royce Hall Saturday at 2 p.m. His performance will include Bach compositions and pieces from his new album.
Courtesy of Ian Erlich
Royce Hall Organ Recital
Saturday, 2 p.m.
Royce Hall, $15 for students
Fingers danced upon the keys and feet shuffled across the 32-foot long pedals as "Shine On You Crazy Diamond" by Pink Floyd resonated throughout Royce Hall during rehearsal.
Organist Christoph Bull, celebrated for his rock- and jazz-infused improvisational style, will perform songs by Pink Floyd and other artists on Royce Hall's Skinner pipe organ at 2 p.m. Saturday for UCLA Live's annual Organ Recital. The recital will focus primarily on compositions by Johann Sebastian Bach and include two pieces from Bull's new album, "First and Grand," as well as various improvisations and requests from the audience.
Bull creates what he calls "mashup" pieces by splicing classical and contemporary songs and styles. At Saturday's recital he plans to perform a mashup of Michael Jackson's "Billie Jean" and Frédéric Chopin's "Prelude in E Minor." According to Bull, he gathers his rock influence from groups like Pink Floyd and Led Zeppelin, as well as contemporary songs like Coldplay's "Viva La Vida" and Lady Gaga's "Poker Face."
Bull, who hails from Mannheim, Germany, has been UCLA's organ professor as well as the university organist for nine years. He has played pipe organs at cathedrals throughout Europe, and in California, he has performed at venues such as Walt Disney Concert Hall, Whisky a Go-Go and The Viper Room.
According to Bull, the Skinner pipe organ, named after the Skinner Organ Company, took about a year to construct. It was built into Royce Hall during the building's construction in 1936 and is now worth several million dollars. It can produce sounds from the oboe, clarinet, French horn and nearly 100 other sound effects which Bull incorporates into his performance.
"It is one of the most important installations in California," Bull said. "It's kind of like a Rolls-Royce."
Jill Cassaboom, first-year music student studying organ performance, first heard Bull perform in 2009 at Spreckels Organ Pavilion in San Diego, which houses the world's largest outdoor pipe organ.
According to Cassaboom, when most people hear of an organ recital, they envision an elderly man reproducing memorized songs from the back of a church. Bull, on the other hand, lives to create improvisational pieces.
"If you've heard organ music before, this is nothing like it. He's breaking stereotypes," Cassaboom said.
In past performances, Bull has kicked down organ stops, switches that engage the 6,600 pipes, and rolled his forehead over the keys in what he calls a "head crescendo." According to Bull, classical music is not that much of a stretch from rock 'n' roll, especially in heavy metal groups like Led Zeppelin and Deep Purple, who were influenced by classical musicians.
"Rock 'n' roll is all about attitude," Bull said. "It's not about playing for the Queen while everyone's sipping tea."
Kyle Block, fourth-year music student studying organ performance, said that for organ performers, integrating classical and contemporary music is an extremely difficult task. This is because of not only technical difficulties in maintaining an effective balance but the social stigma present in the organ community.
"Some people in the organ world could be turned off by what (Bull) is doing because he doesn't stick to what's considered traditional, " Block said.
Bull has his own philosophy backing his musical choices.
"I think the people who look down on (pop music) would be better advised to pay attention to the rhythm," Bull said.
Bull will rehearse while listening to rock drum loops on Garage Band, as he desires a strong rhythmical foundation to build upon.
"Whether someone is educated in music or not, they will respond to something that gets their attention rhythmically," Bull said. "It just has that tribal quality."
Bull said he tries to avoid categorizing music, as the act is somewhat artificial. His new album compiles a rendition of "A Day in the Life" by the Beatles and the Pinocchio classic, "When You Wish Upon a Star," as well as pieces by Bach.
"In the 21st century, that's what music is about anyway … mashing things up," Block said.
Audience members will have a chance to test Bull's improvisational skills by leading with a song of their choice.
"If they're brave enough to sing a theme," Bull said. "I'll improvise on it, even if I don't know it."