Gymnastics heads to regionals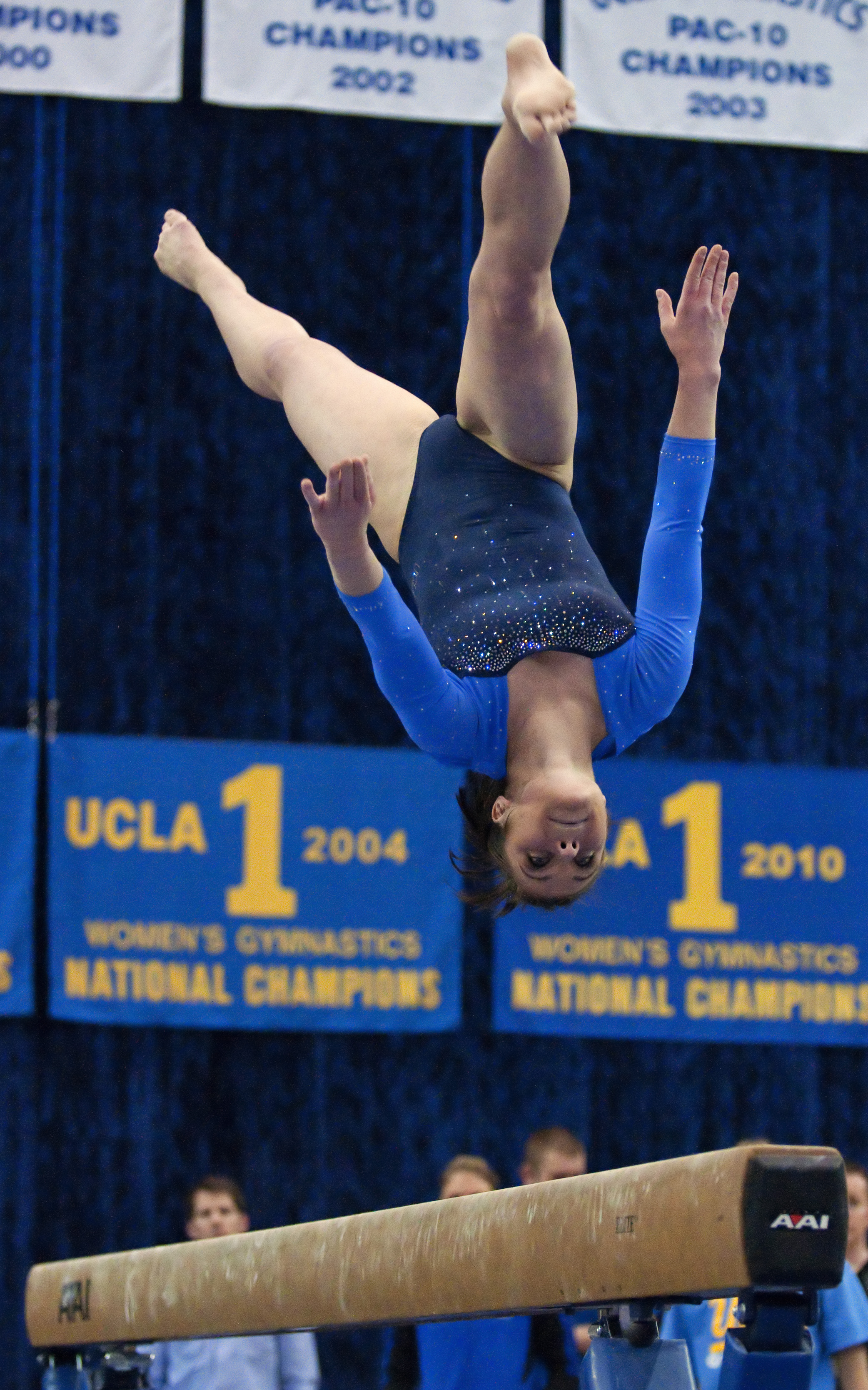 Junior Elyse Hopfner-Hibbs performs on the beam in a tri-meet on March 6.
Correction: The original version of this caption contained an error. Elyse Hopfner-Hibbs is pictured performing on the beam.
Gymnastics
NCAA REGIONALS
Saturday, 1 p.m.
Athens, Ga.
Follow live stats on georgiadogs.com
Spring break is over, and the new quarter has begun. While other students are out socializing before midterms take over, the UCLA gymnastics team is just focused on one thing "" the NCAA title.
The No. 6 Bruins are heading to Georgia to compete in the NCAA regionals among talented company, including the home team, No. 8 Georgia, as well as No. 28 Maryland, No. 29 West Virginia and No. 26 North Carolina State.
UCLA met both Georgia and North Carolina State previously this season. The Bruins came in second behind the Bulldogs in a double meet with Arizona and beat the Wolfpack at home with their highest score of the season, 197.475.
Georgia and UCLA have combined to win 13 of the last 14 national championships.
"They're excited to go into a big, competitive environment like Georgia," coach Valorie Kondos Field said.
Redshirt senior Brittani McCullough is excited for her last trip to an NCAA regional.
"It was emotional at first, but I've gotten past that," McCullough said. "Now I'm focusing on enjoying this and having fun. We just need to go into the meet confident and well-prepared."
Upperclassmen such as McCullough and junior Elyse Hopfner-Hibbs have been to the nationals and even won an NCAA championship. But the UCLA squad boasts stellar freshmen who have been key contributors throughout the season, including Sydney Sawa, Samantha Peszek and Olivia Courtney.
"They're a pretty experienced freshman group," Hopfner-Hibbs said of her young teammates. "College competition is different than elite, but they've all competed quite a bit this season. Regionals is like round one of the nationals, and I know they'll be ready for anything."
Kondos Field faces a lineup dilemma heading into the regionals. She's considering putting Sawa on vault in place of sophomore Lichelle Wong.
"I have seven athletes that are my top three," Kondos Field said. "They're all at the top so I don't know who to take out. Hopefully I'll have some divine intervention with making that decision before Saturday."
UCLA had a lot of trouble in the balance beam early on, but now Kondos Field faces a tough decision as all of her athletes have been strong as of late.
Regardless of who does perform on the beam, the team members have each other's backs. Kondos Field gave the team one crucial assignment during their Tuesday practice "" to find inspiration.
"We just find a way to inspire ourselves and each other," McCullough said. "Sometimes we each have hard days, but with inspiration we can keep getting better, and that's really our key to win."