Exhibition to showcase Master of Fine Arts students' works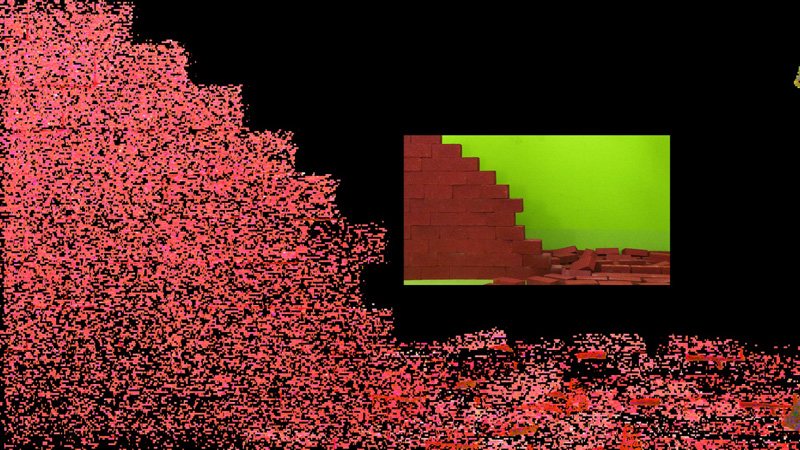 A still from master of fine arts student Math Bass' "WRCKING WLL" video.
Through April 9, Opening reception 5-8 p.m.
New Wight Gallery "" Broad Art Center, FREE
When second-year graduate painting student Sanya Kantarovsky traveled to Moscow, he was unfamiliar with the way the museums were set up in comparison to a western style museum. His trip managed to spark inspiration for his thesis project in the MFA #2 gallery exhibition. Opening tonight and running through April 9, the second of four final exhibitions by Master of Fine Arts students will be showcased at the Broad Art Center's New Wight Gallery.
The show features work by four artists, Ivan Iannoli, Sanya Kantarovsky, Dashiell Manley and Math Bass, in the style of an art gallery split into four sections.
Second-year MFA new genres student Manley said the students' interest to showcase their thesis projects together began when they expressed admiration for each other's works during fall quarter.
"Some people base their decision on practicality and logistics, and some base it on when they actually want to have the show. We kind of based it on what we saw as potential content similarities between our works," Manley said.
The thesis project of featured second-year MFA photography student Iannoli includes videos, sculptural work and traditional framed photographs. The overall theme of his work revolves around the idea of looking and perception. He said his interest in research revolves around the difference between looking at something for the purposes of gathering information as well as a separate visual experience.
"More importantly, (my work is) about manners of experiencing. First experiencing a photograph or image for itself and then how it relates (to) how we interact and experience visual stimulus in the world outside of the gallery," Iannoli said.
While the four students will show their work together, the ideas and inspirations behind the projects were developed independently. Kantarovsky said that the showcase is more akin to a curated show rather than a collaboration.
"It's more … singular bodies of work created by four different artists," Kantarovsky said. Kantarovsky described his multimedia installation as a floating portable museum "" upholstered walls give the illusion of floating as paintings and stained glass windows hang between them.
"My work is really about depicting basic states and problems of the human condition, while also including contemporary mediums, clichés of modernism and self-reflectivity," Kantarovsky said.
When Kantarovsky traveled to Moscow to research, he said that he was inspired by the country's provincial museums and their foreign aesthetic in comparison to western contemporary art. Through this unfamiliarity was the departure point in creating his work for the exhibition, which took about a year to create.
"What I wanted to do was I wanted to create a kind of bubble in this light, cleaned cubed space which was very American and minimalist and make this moment that … reports to a different time and different place," Kantarovsky said. "In my case, the different time and place (was) a kind of alternative history of art making and image making in Eastern Europe and Russia (and) the ways of displaying things."
Among Manley's works are two videos that are supplemented by objects, photographs and abstract oil and acrylic paintings.
"All of the work that I make has had a past life, and this past life, or history, is apparent through the photographs and videos," Manley said. "I am trying to present works that in some way stand against an idea of a conclusion or static state. There is a strong movement to everything I make."
One of Manley's videos is a text-based stop motion animation that relates to the physical space surrounding the videos.
"It deals a lot with history and politics and I guess more specifically, it focuses on contemporary social conditions and contemporary political conditions and seems to create a genealogy of those conditions," Manley said. "I just fell into it and … went with it."