Theater Review: "Beauty and the Beast"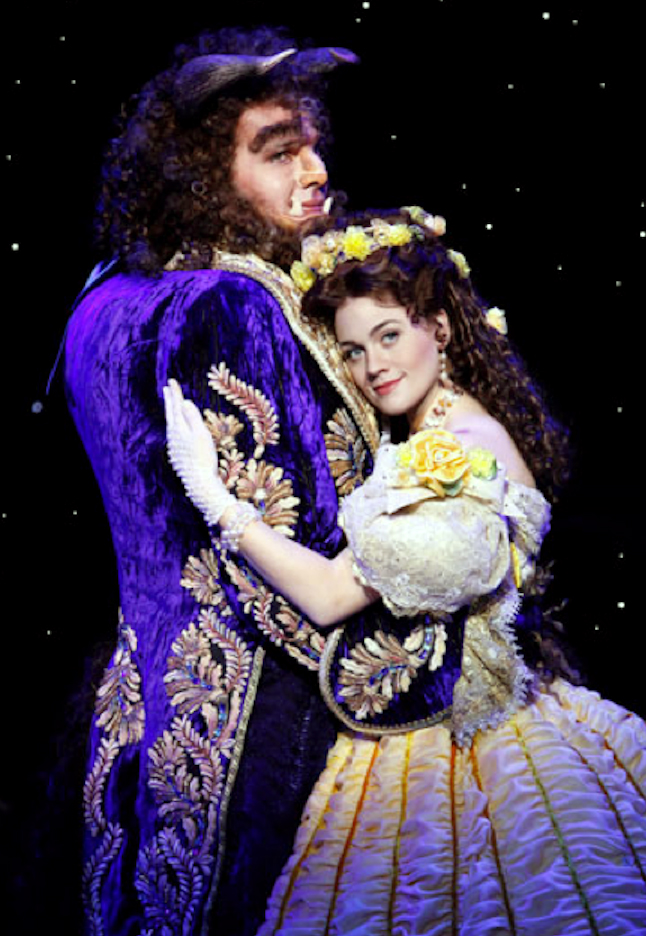 (Courtesy of Joan Marcus)
"Beauty and the Beast"
The Pantages Theatre
Through March 26

If Disney's "Beauty and the Beast" is a cautionary tale for anything, it would be that no one should ever go into the woods unless they want to be chomped up by wolves or get stuck in a castle with a man-beast.
Faithful to the 1991 animated film, NETworks presents Disney's "Beauty and the Beast" in musical form at the Pantages Theatre in Hollywood for a limited engagement through March 26.
The musical begins with the young Prince's transformation into a beast after he rebuffs a beautiful enchantress disguised as an old woman. She gives him a gift, though: a rose that will make his beastly condition permanent, unless he makes someone fall in love with him in his current hirsute state before all the petals fall. But as any Disney production goes, it gets better.
Cut to the brainy Belle, whose love of books are a mark of weirdness amongst the villagers. When her equally weird father gets lost in the dastardly woods, she goes off to find him imprisoned in the Beast's castle, where she switches places with him as captive. At first, Belle's reluctance and Beast's gruffness clash. It seems that they'll never get together, but as I said, it gets better.
Liz Shivener plays a convincing Belle, and Justin Glaser as the Beast has an appropriately baritone voice that can growl on point. Nathaniel Hackmann plays Gaston, the village hunter and town meathead vying for Belle's hand in marriage. His character is so fittingly vain and fist-pumping that he can fit right in with the cast of "Jersey Shore" if they ever need a gorilla juice-head village idiot.
After a little spat, Belle storms off into the woods, but of course no one seems to think the woods are the worst. After being attacked by wolves, Belle gets a case of dreamy eyes as the Beast helps fend them off.
As Belle tends to Beast's wounds back at his castle, her dreamy eyes turn into a case of romantic Stockholm Syndrome as they have all sorts of accidental hand-brushing interactions, which gives the audience hope that Beast's furry condition can be reversed.
Meanwhile, the servants of the Beast house, loyal almost to a fault to their master, make the best of their lives as household wares who were also afflicted by the curse.
Hoping to lift themselves out of the depressing reality that they'd lose their humanity, the utensils and the clock of the Beast mansion cheer their master on in his wooing of Belle, and serve as an utterly amusing peanut gallery. For instance, Merritt David Janes as Lumiere the candelabra delivers suggestive quips so sassily on point that it's pretty hard to criticize the lascivious French stereotype going on.
The theatrics of the show are over-the-top, but fittingly so. During the uproarious rendition of the song "Be Our Guest," canons blew out streams of metallic confetti, Nascar-style, as dancing plates scantily shimmied on stage.
However, it is the music that makes the show worth seeing, confetti canons notwithstanding. Composer Alan Menken's music hearkens back to classics such as the title song and "Something There," which breathes continuous life into the two-decades-old Disney film.
If the Disney reminder isn't prevalent enough, though, Belle is handed a bib with an image of the lobster Sebastian on it from the 1989 Disney film "The Little Mermaid." While the play delighted a large majority of the adult audience, the Disney overload can be a bit much for those averse to the opulent dance numbers and highly animated acting.
But like a Facebook trend that forces you to use old-school cartoons as your profile picture, the musical brings back the nostalgia of watching the film as a kid or as a very mature baby. And if there were any musicals out there that made Stockholm Syndrome into a delightful love story, this one is definitely it.
E-mail Jue at [email protected]