Graduate student Dallas King films sci-fi movie short "˜Most Wanted' on campus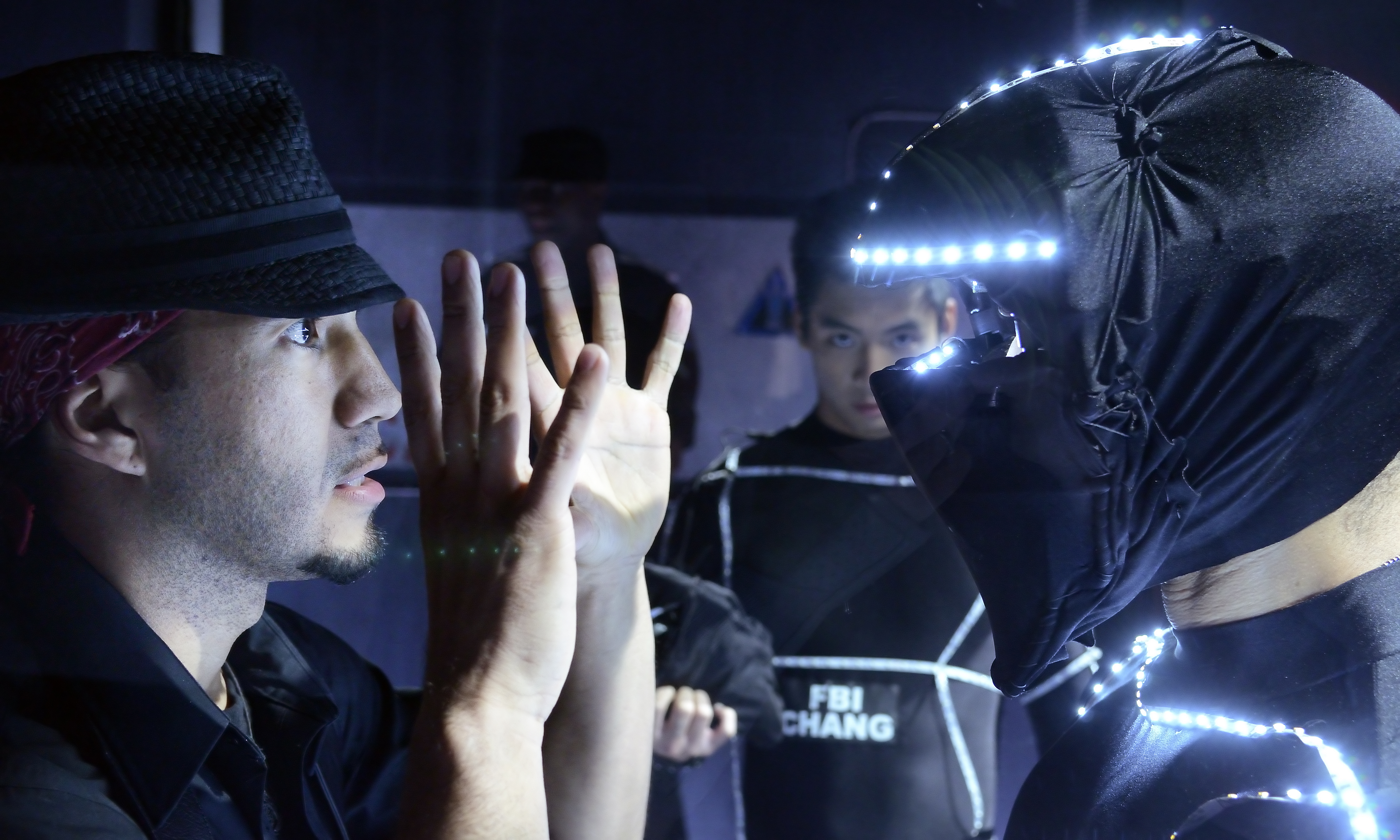 UCLA School of Theater, Film and Television graduate student Dallas King, left, directs actor Michael King at the UCLA soundstages for his futuristic science fiction film "Most Wanted."
(Courtesy: Michael Moriatis)
Correction: The original credit for this photo was incorrect.
While shooting his futuristic short film "Most Wanted," second-year graduate film student Dallas King's set triggered the fire alarm twice, on two different days in two different buildings. According to King, the first fire alarm went off in the John Wooden Center on the third day of the shoot, before the crew had even started filming, due to smoke from a haze machine.
The same thing happened eight hours into shooting the next day on the UCLA soundstage in Melnitz Hall. On both days the buildings were evacuated and a fire marshal gave the crew a warning.
"How do I get through that? I just think positive and I say whatever is supposed to happen will happen," King said.
Between March 1 and March 6, filming for the 15-minute science fiction short film "Most Wanted" took place at UCLA and in locations throughout Culver City.
To shoot the film, King, the director and writer, worked with friends, volunteers and established film industry members, and rented and borrowed equipment valued at more than $250,000.
King and his crew began each shoot by preparing a day in advance by e-mailing every member of the crew a detailed call sheet.
On the call sheet is information such as when call time is, who is going to be there, what scenes will be filmed, where the nearest hospital is and when the sun will rise and set.
King said the UCLA School of Theater, Film and Television has prepared him for real-life experience as a director. Though "Most Wanted" is a 15-minute student short rather than a feature-length film, the shoot followed industry protocol and etiquette.
"There's always setbacks," said Michael King, 31, who is not related to Dallas King and plays seasoned FBI agent James Dice in the film. "It doesn't matter if it's a big budget … everybody has delays and kinks … and that stuff happened on ours, but I will say it was a very professional set."
Dallas King said he began working on "Most Wanted" last March, but the original inspiration came from watching episodes of "America's Most Wanted" as a child, and his fascination with the concept of being a public enemy.
"Most Wanted" mirrors the story of Prohibition and the government's efforts to regulate the use of potentially harmful substances. The year is 2030 and Hype, an aerosol drug inhaled through the nose, is an illegal upper produced by America's most wanted criminal, Bodega.
In the film's world, teleportation allows FBI agents to "jump" to their targets' whereabouts; Dice, the agent with the most jump arrests, has been following Hype's female inventor Bodega for the last five years.
Dice, who is both a recovering Hype addict and worn from years of jumping, is motivated in part by the loss of his young son to the drug.
"That gave me a lot to work with, a lot of meat for my character, to have that pain and that sorrow and that anger brewing inside," Michael King said.
The climax of the short takes place at a rave, where Dice and his partner Chang have a run-in with Bodega.
The rave scene, in which Hype serves a similar function to ecstasy, was filmed in Culver City and required more than 70 extras, including stunt actors who played Bodega's body guards and actors on wires who were thrown across the room during fight scenes.
All of the stunt scenes were coordinated by Steve Rizzo, 43, who is 20 years into his career. Rizzo said he returned to working on student films to be around up-and-comers in the industry.
"I started doing it last year to try and get back to the young and upcoming people," Rizzo said. "I'm a big believer in helping the new guy."
Rizzo is part of a large crew with several departments "" including wardrobe, special effects, makeup, hair and art "" that donated its time to make the "Most Wanted" shoot possible.
"At the end of the day people congratulate me, and they give me praise for a job well done … but, at the end of the day it's not just one person who pulled it off "" it's an army," Dallas King said.