Different cuisine makes delicious food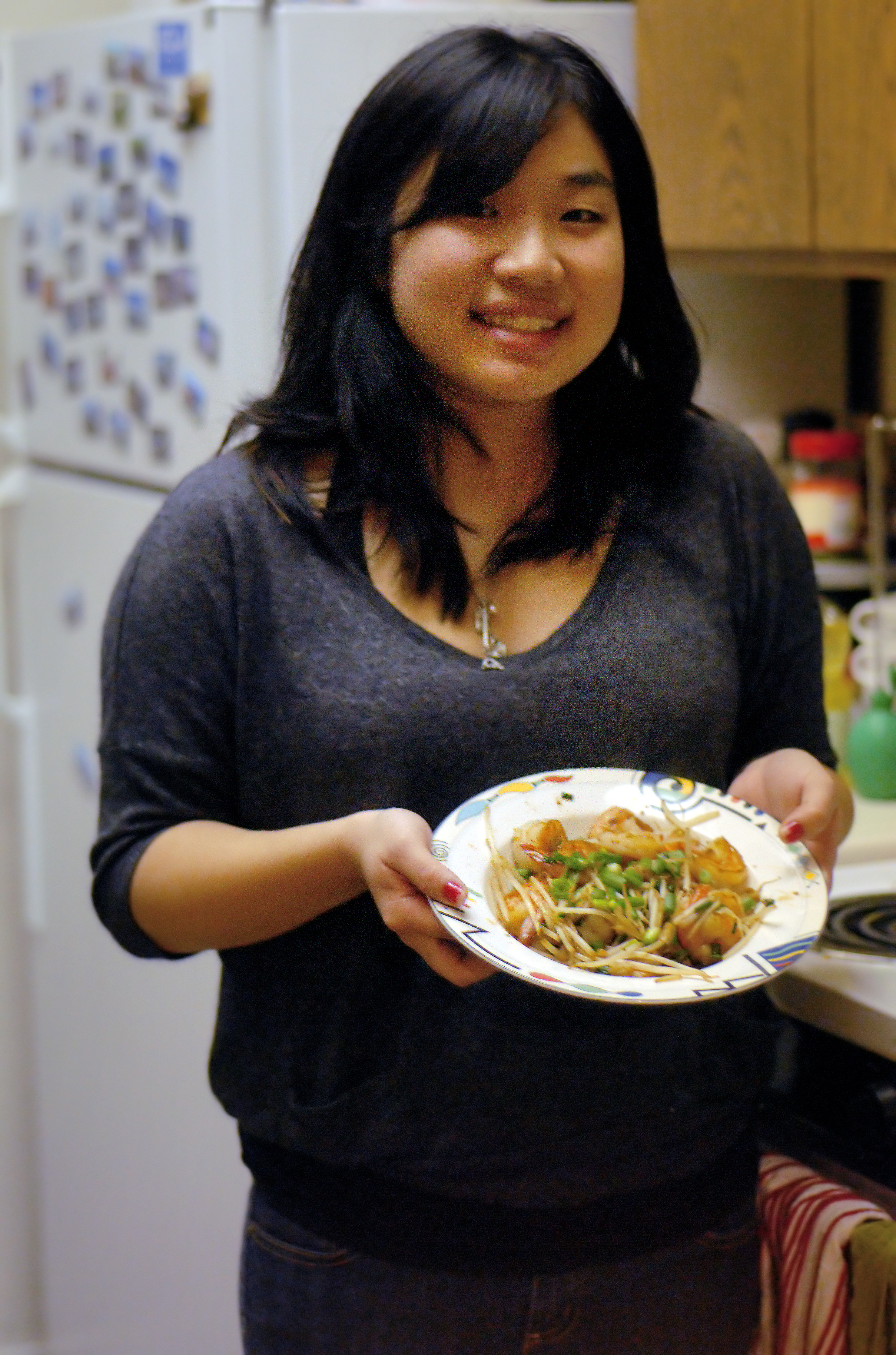 Sous chef Amy Chen provided a traditional Chinese lemon shrimp stir-fry recipe comprised of shrimp, ginger, green onions, brown sugar and rice.
It's a small world after all.
A few days go, one of my fellow editors told me that she went to a dinner party where the host served bruschetta as an appetizer, which turned out to be the bruschetta recipe I wrote about in my last column.
I wanted to meet this student chef, third-year sociology student Amy Chen, to see how it went and to see what else she cooks. When we finally met on Monday night, she told me that the bruschetta turned out well because other recipes called for the tomatoes to be peeled too early and the skin removed, which made the texture mushy, but this one was just right. Then, I got the news I have been waiting for during the five months I have been writing this column in the form of my next recipe.
After making Persian stews, Pakistani desserts and Mediterranean baklavas, I always wondered what it would be like to make a dish from a completely unfamiliar cuisine "" an Asian dish, for example. This week, after five months of wonder, I cooked a traditional Chinese plate with Chen.
According to Chen, there is one thing to know about Chinese cuisine, which is that all Chinese dishes have two basic options for ingredients: ginger and green onions, or garlic and green onions. The lemon shrimp stir-fry recipe used the former choice.
Chinese cuisine is meant to be quick "" with big families, it's optimal to cook and eat quickly so that everyone gets fed. This sounds like a perfect option for students on limited time schedules. The problem is that Chinese food is communal in nature "" it's usually made in large batches and meant to be shared, an issue when you're trying to cook for one.
But if I were to give ratings to all of these recipes based on time and efficiency, this stir-fry would get a perfect score.
Here are the steps: Peel the shrimp, chop a little bit of ginger (don't be afraid of the root's ugly outside appearance) and some green onions. Put the shrimp on a pan and cook until they are pink on both sides. Sprinkle the ginger, green onions and sprouts on top and stir together, cooking for a few more minutes. Pour a little bit of soy sauce and brown sugar on top, and add a squirt of lemon juice at the end. Serve with rice. The end result comes after about 20 minutes.
The taste was simple, not spicy or overwhelming. It was very rewarding after so little time spent "" I'm disappointed that I had never tried cooking Chinese food before. Even though the shrimp can be slightly more expensive, if you're only making a meal for yourself (this recipe is enough for two) you don't need that many. Out of all of the recipes I've tried so far, this is by far the one I'd recommend to any average student.
So, finally, after five months, my dream to make a decidedly different dish came true. Moral of the story: Try new things. They might be easier and more rewarding than the standard routine, with a lovely ginger aftertaste.
If you want to expand Krivoruchko's horizons more, e-mail her a recipe at [email protected].