ACEing Autism teaches children tennis to help improve motor and social skills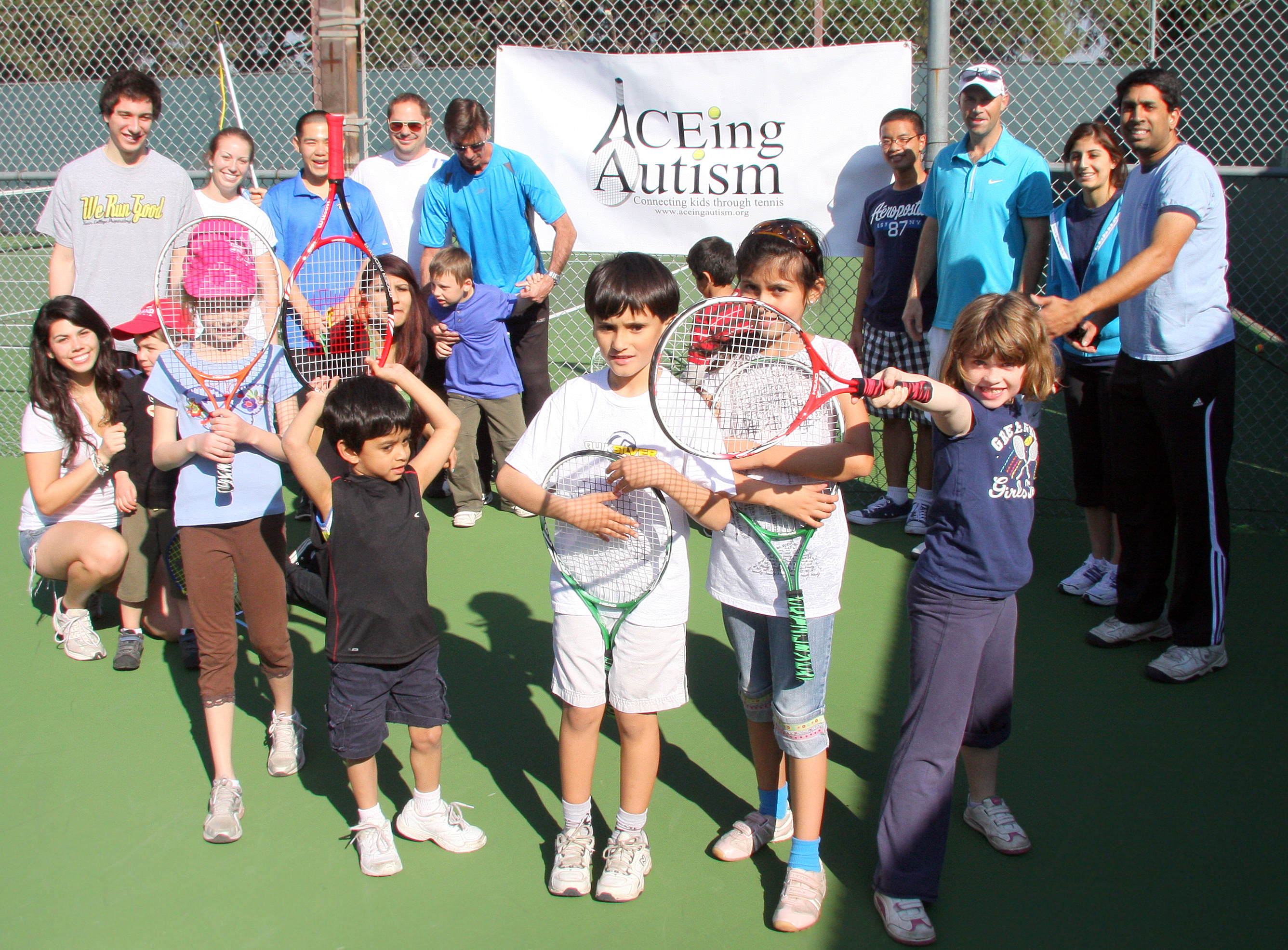 Volunteers meet at Sunset Canyon Recreation Center every Saturday to teach autistic children about the fundamentals of tennis through a program called ACEing Autism. The program helps kids improve coordination and the ability to focus. (courtesy of Harvey Rubin)
Waldo Yan had some trepidation at first.
As an employee with UCLA Adaptive Recreation, the second-year political science student had seen a variety of disabilities and impairments but had never worked with autistic children before.
He wasn't really sure what to expect, and frankly, was a little bit afraid.
"They're so extremely capable, … you come in a little hesitant, "˜What should I do, how easy should I go?' And then, very quickly, you realize that these kids excel, that "˜disability' isn't exactly what you thought it was," Yan said.
Every Saturday, volunteers head to the tennis courts at Sunset Canyon Recreation Center to teach autistic children about the fundamentals of tennis through a program called ACEing Autism.
Participants also improve their hand-eye coordination, motor-skill development, social skills and ability to focus.
These seemingly minor developments can be significant obstacles for autistic children, said Dr. Shafali Jeste, an assistant professor of psychiatry and neurology at UCLA and co-founder of the program.
Through sports like horseback riding, swimming or tennis, autistic children can develop these skills in addition to increased muscle strength.
As a result, the tennis program focuses on basic movements like running, jumping and skipping to develop other motor skills such as coordination, which can be a problem for autistic children, Jeste said.
Tennis practice also helps to improve attention span, and autistic children are often easily distracted.
Though Jeste emphasized that the program does not fix attention problems, it does help children to engage with others while focusing on another object.
While skill development is a major part of the program, the social aspects are also important.
Because autism spectrum disorders imply certain social- and communication-skill deficiencies, these children are often set apart from their peers or are unable to understand social cues.
But on the tennis courts, surrounded by other autistic children, the kids are free to interact and learn from others.
In addition to organized sports programs, behavioral therapy can also help autistic children gain new social skills and overcome anxiety.
In a UCLA treatment study for children with autism or Asperger's syndrome, researchers utilize individual family therapists to help children and their parents handle anxiety and understand the physical triggers of emotions, said Cori Fujii, a doctoral student in education who is part of the research team.
With this knowledge, the children start to understand their feelings and learn to cope.
During weekly sessions, the researchers slowly expose the children to situations they fear, such as being alone, and teach them calming techniques, Fujii said.
This approach has a relatively high success rate, as many children from a previous study had no anxiety disorders after treatment.
"We thought if we could kick out anxiety, that would hopefully pave the way for other areas," she said.
This personalized approach also helps to guide parents and address any concerns, such as a fear that their children will not be able to function on their own when they are adults, Fujii said.
Likewise, the tennis program also benefits parents.
"I think it allows them to gain a sense of normalcy with their children," said instructor Harvey Rubin. "It takes the pressure off them, because they get an hour of watching someone else handle their children."
While watching his daughter Dorothy exercise and socialize at the clinic, Boyce Bugliari stood with a smile on his face and gave words of encouragement.
"(The instructors) are great," Bugliari said. "They have incredible patience. It's very nice to see, nice that people care this much about these kids."
This positive feeling also extends to the volunteers.
"It's amazing. … It's just so hard to not be having a good time when you see them having a great time," Yan said.
That proved true during the session; everyone on the court that day couldn't help but smile.
With reports from Samantha Masunaga, Bruin senior staff.