*Live Blogging |* Maryia Krivoruchko: "Time for a nap. Thanks for following my experience of DM 2011"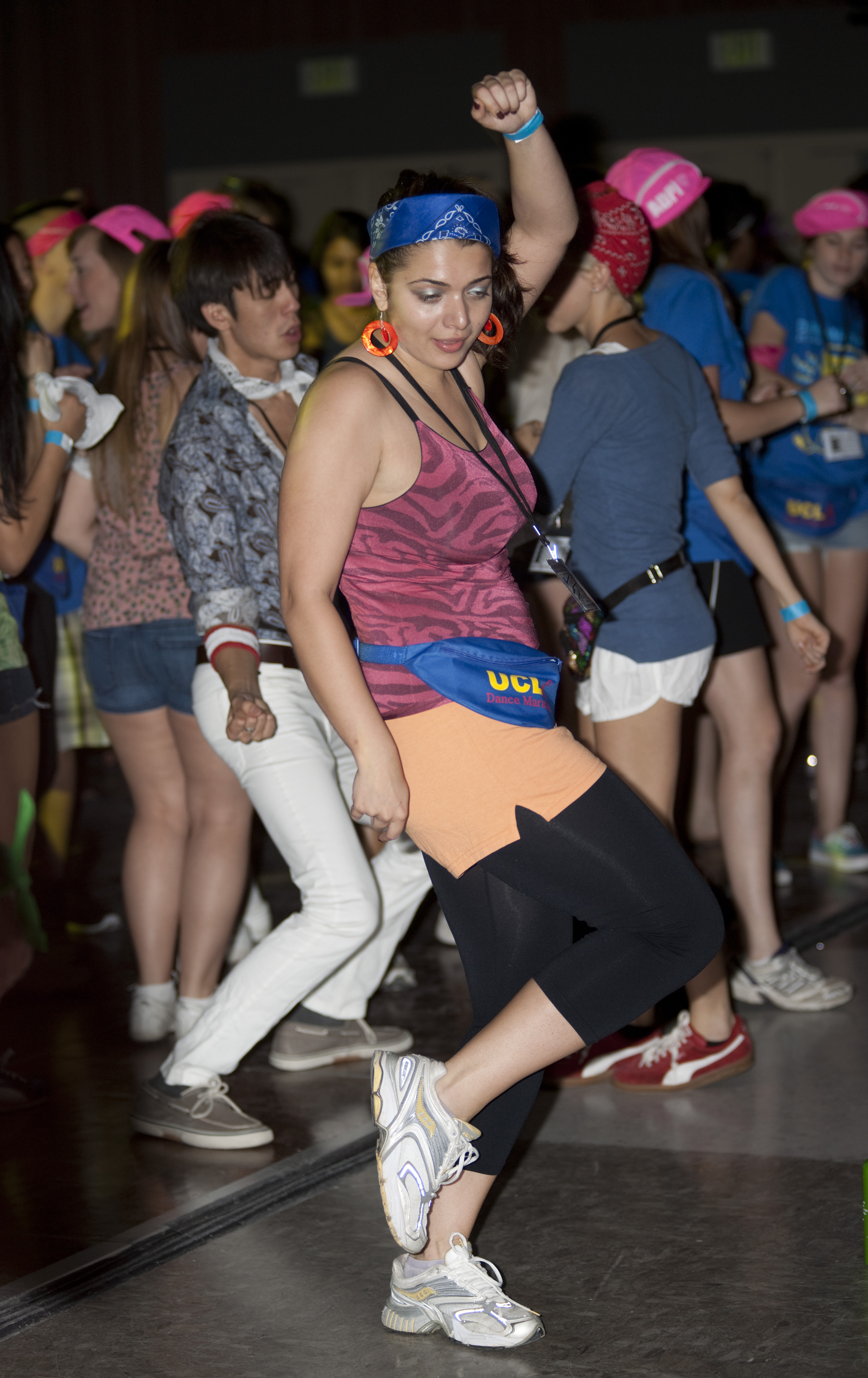 Daily Bruin Arts and Entertainment editor Maryia Krivoruchko is sending in regular status updates as she dances through the 10th annual Dance Marathon.
Maryia Krivoruchko, our very own Arts & Entertainment editor, will be sending us her comments and rants throughout the 26-hour event. Follow along here to get a firsthand account of Dance Marathon through the eyes of a dancer. Check out fellow dancer Leah Christianson's thoughts here.
Updated at 1:27 p.m.
Time for a nap. Thanks for following my experience of DM 2011! Be sure to check in next year when UCLA does it all again.
Updated at 1:24 p.m.
The final total raised during Dance Marathon 2011 is $401,530.68.
Updated at 1:19 p.m.
Inspirational speeches from Chip Lyons and founders of the Elizabeth Glaser Foundation are being followed by footage and photos from the last 26 hours.
Updated at 1:02 p.m.
Sitting feels unbelievable. Best part coming up: fundraising results.
Updated at 1:00 p.m.
3-2-1 SIT
Updated at 12:57 p.m.
Last song of Dance Marathon 2011: "Don't Stop Believing" by Journey
Updated at 12:47 p.m.
I'm screaming the lyrics to "Firework" by Katy Perry, wondering what it will feel like to sit.
Updated at 12:43 p.m.
The audience just jumped and screamed to Blink 182, sang along to "Survivor" by Destiny's Child, finishing up strong.
Updated at 12:34 p.m.
Floor is packed, less than 30 minutes left.
Updated at 12:10 p.m.
Dancers are in circles, getting back together as a crowd and splitting off again and everyone dances with the kids. The committee is all on stage.
Updated at 11:56 a.m.
A body's circadian rhythm is unwavering…25 hours in and I don't feel tired anymore. Exhausted, yes, but not sleepy. Almost at the last stretch!
Updated at 11:33 a.m.
The last 26 hours' emotional roller coaster is winding down – 30 minutes until the last drop, a.k.a. Power Hour.
Updated at 11:03 a.m.
There's a dancer on crutches. Now that is perseverance.
Maybe it was fourth-year advanced mathematics student Jordan Lipman
Updated at 10:48 a.m.
We're more than an hour away from power hour, but everyone is pumped up like it's noon already.
Updated at 10:25 a.m.
Continental breakfast was pretty stale…It's okay, 2.5 hours left.
Updated at 10:11 a.m.
Kids from Camp Kindle are speaking about what life-changing opportunities Dance Marathon provided for them.
Update at 10:02 a.m.
Everyone is walking around, looking at each other with glazed over, half-open eyes.
Updated at 10:00 a.m.
Three hours to go!
Updated at 9:40 a.m.
Current status: foot pain = 6/10. Body pain = 8/10. Fatigue = 9.5/10. Excitement to finish for the cause 10/10.
Updated at 9:22 a.m.
They've opened the curtains – I can see the light.
Updated at 9:09 a.m.
22 hours down, four to go. Superpower theme!
Updated at 8:51 a.m.
Just watching Zumba instructor Lorraine dance is exhausting, wow! Taught the audience Waka Waka at the end. Impressive six-pack.
Updated at 8:20 a.m.
I think we all just caught our seventh wind (the second wind was about 14 hours ago).
Updated at 8:06 a.m.
Loved Awaken's rendition of Cee-lo Green's "(Forget You)"
Updated at 8:05 a.m.
Awaken A Capella is performing. The Daily Bruin's Andrea Wang is a soloist, but the mic isn't quite turned up enough. Cleanest a capella performance yet though.
Updated at 8 a.m.
My roommate and I were barely holding each other up on the dance floor when my friend danced up and rubbed our backs, full energy for the whole song. Hero.
Updated at 7:49
Leaned against a wall. Almost fell asleep.
Updated at 7:30 a.m.
I don't remember feeling this physically ill last year. Result of old age?
Updated at 7:07 a.m.
It's officially 7 a.m., breakfast has been served and I have just stuttered over the word "goldenrod." The cold has made me have convulsions, but we're good now.
Updated at 6:27 a.m.
The sun is coming up. Glory, glory, hallelujah.
Updated at 6:20 a.m.
Starpower theme shift! Got my sparkly tights on. Need to stop drinking gallons of water before I start throwing up. Everything in moderation, including hydration.
Updated at 5:57 a.m.
Tip: If you're not feeling 100 percent emotionally, realize that DM will push you 100 percent physically. And why is it cold right now?
Updated at 5:19 a.m.
"That that that that don't kill me, can only make me stronger, I need you to hurry up now, 'cause I can't wait much longer…"
Updated at 5:08 a.m.
Color Wars – bridal challenge? So confused.
Updated at 5:00 a.m.
Officially only eight hours left!
Updated at 4:42 a.m.
Nasha was the best dance performance so far. So impressed by the blending of contemporary music and traditional dance, precision and energy.
Updated at 4:39 a.m.
Nasha dance troupe is performing Bollywood-style dancing. I want their purple and gold outfits – also major props on the energy level.
Updated at 4:20 a.m.
I officially thought back to the YouTube video of Justin Bieber teaching Barbara Walter how to dougie. J Biebs taught me how to dougie.
Updated at 4:14 a.m.
So counterintuitive, but dancing feels so much easier than standing.
Updated at 4:07 a.m.
Friends are standing, hugging each other. There are massage chains. People are leaning on each other. You need people to get through these tough hours.
Updated at 3:48 a.m.
Everybody is moving more slowly now, trying to pass the time.
Updated at 3:10 a.m.
My feet don't hurt as much as my head or quads. Everyone's eyes are dilated.
Updated at 2:48 a.m.
Going back to the game room. Need a chance of pace, here come the crazy hours.
Updated at 2:34 a.m.
Amazing talent from the dance trio though. That was the most entertaining "pa-pa Americano" rendition I've ever seen.
Updated at 2:30 a.m.
Technical problems for the Body Poets … they keep playing the wrong song.
Updated at 2:10 a.m.
Currently "whipping my hair back and forth.
Updated at 2:03 a.m.
The delirium is fun … it's when it subsides that you feel exhausted. But we got good music going, on to hour 15!
Updated at 1:24 a.m.
Overall, the food was much healthier and better planned this year. Subway for lunch, Bibigo for dinner, and then a much-appreciated carb pizza snack.
Updated at 12:55 a.m.
I have never been so aware of the inside of my knees before. Ouch.
Updated at 12:53 a.m.
Last year, Dance Marathon had 842 registered dancers. This year, 1,591 (dancers) registered, according to the walk-through.
Updated at 12:49 a.m.
Finally went to the walk-through upstairs, which conceptualizes the timeline of HIV/AIDs. Very powerful.
Updated at 12:25 a.m.
Great survival technique: lean back to back with your friend and alternate bending forward. Back massage and temporary support in one.
Updated at 12:16 a.m.
Another performance, this time by a musical trio featuring (UCLA) alumnus Arkae Tuazon. Really loud on the mic.
Updated at 12:12 a.m.
I got a confirmation that yes, we're halfway done. But why wasn't there any kind of announcement?
Updated at 12:10 a.m.
Wait, or is the halfway point next hour? Oh wow. Numbers have become difficult to process. I need to double check.
Updated at 12:05 a.m.
We're finally at the halfway point! Here comes the moralers and the mildly dirty music.
Updated at 12:04 a.m.
I heard it's raining outside. I have no idea if that's true, but inside Ackerman Grand Ballroom, a new theme shift has begun: "Get Charged."
Updated at 11:58 p.m.
"What Did She Say" by Imogen Heap. Finally something I can sing to.
Updated at 11:51 p.m.
I was so excited to hear "Hotel Room" by Pitbull until even that was techno-remixed. I need lyrics! Only 12 more minutes until the halfway mark.
Updated at 11:45 p.m.
Explosive performance. When I grow up, I want to dance like NSU Modern.
Updated at 11:40 p.m.
And we're back. NSU Modern is about to take the floor.
Updated at 11:26 p.m.
Taking a locker room break to charge my phone to keep the updates coming. And get away from this DJ's unwavering music choice. And utilize the tennis ball.
Updated at 11:17 p.m.
At almost the halfway point of the night, the music should be more motivating. This is giving me a migraine and I don't dislike techno.
Updated at 11:16 p.m.
Green Team won, my team (Blue) didn't. The techno is back…
Updated at 11:15 p.m.
This edition of the Color Wars makes no sense. Why would you ever know at what age your dancer captain was potty-trained?
Updated at 10:53 p.m.
Bruin Harmony is performing. We're almost at the end of the twelfth hour. Just had a sudden surge of energy.
Updated at 10:50 p.m.
Will the techno music go all night? Seems like the crowd is getting tired of it.
Updated at 10:35 p.m.
Just made up an autobiographical story about a squirrel that lives in Franz Hall. With each hour, I feel more creative juices flowing. Carpe DM.
Updated at 10:15 p.m.
I'm not sure why the game Uno is so difficult to comprehend right now. Official delirium so unexpectedly early.
Updated at 9:36 p.m.
First erratic outburst due to delirium just hit: sang Rihanna's "Unfaithful" while hitting the table in the game room after losing a game of 21. Not sure why.
Updated at 9:10 p.m.
Two guys wearing full body leotards covering even the face, and snowboard glasses are freaking each other and doing gymnastics. With each minute, I have more questions.
Updated at 9:09 p.m.
There is a mash up of Lakers and Nasa on the screen, courtesy of the Super Mash Bros (the new DJ). Confusion isn't ceasing.
Updated at 9:07 p.m.
This marks the tenth hour of dancing. New theme is "Power Outage." When I figure out what that means, you'll be the first to know- monsters?
Updated at 8:49 p.m.
Rubbing a tennis ball on the bottom of your foot after almost 10 hours of dancing is a sensation I can't describe, but let's just say it's positive.
Updated at 8:25 p.m.
Took a picture with the team from Millionaire Matchmaker. Hope this means I can go on the show!
Updated at 8:06 p.m.
Fusion has been my favorite performance so far.
Updated at 7:59 p.m.
One of the Camp Kindle kids, Catalina, is killing it on the dance floor.
Updated at 7:50 p.m.
If I watched True Blood, I'd be really excited about the celebrities on stage right now. Instead, I'm confused
Updated at 7:20 p.m.
There is economics homework lying around the locker room. UCLA kids are dedicated.
Updated at 6:36 p.m.
I don't remember feeling this tired at this point last year. Hope dinner helps. It's not even 7 p.m. yet.
Updated at 6:12 p.m.
Unfortunately the hardhat was infant-sized. Looks like it's back to my regular Dance Marathon shirt for the next three hours. No costume change.
Updated at 6:05 p.m.
Officially past the seventh hour. Going to get my hardhat on for the next theme: Power Tools.
Updated at 5:59 p.m.
I decided to only slow dance until dinner. Then Cascada came on and I had to pretend I'm at a rave. I'm also disturbed that I still remember how to do the "Crank Dat Soulja Boy" dance.
Updated at 5:23 p.m.
Jonathan Bennett and the Fly Girls were just on stage. Constant cussing and references to the audience's sexual attractiveness is inappropriate – kids are around.
Updated at 5:21 p.m.
Jonathan Bennett, who played Aaron Samuels in "Mean Girls," is here with his "posse." He's a counselor at Camp Kindle, another one of the charities that UCLA Dance Marathon supports.
Updated at 5:18 p.m.
Just danced with Manny from "Modern Family." No big deal or anything.
Updated at 5:05 p.m.
Six hours ago I was able to put my palms flat on the floor when stretching to the front. Now I can barely touch it. Why does flexibility decrease from standing?
Updated at 4:57 p.m.
Elizabeth Glaser's son is speaking about his fight with HIV, and how he has recently celebrated his 26th birthday. Good way to celebrate the six hour DM mark.
Updated at 4:48 p.m.
…but my knees still hurt. "Power" was great, but "Teenage Dream" was kind of pitchy. I've never heard that from the Scattertones before…
Updated at 4:39 p.m.
The Scattertones are performing Kanye West's "Power." My ankles just stopped hurting, I'm so excited.
Updated at 4:33 p.m.
And now "Single Ladies" is playing. This doesn't make sense.
Updated at 4:32 p.m.
There was just a marriage proposal on stage!!
Updated at 4:07 p.m.
I find it odd that there are couples at DM, freaking. Not the right event to spend making out either, in my opinion.
Updated at 3:55 p.m.
Band thatwasthen is getting the crowd moving with a rendition of "Twist and Shout."
Updated at 3:51 p.m.
Speaking of wearing pajamas, after this night I will have slept a total of nine hours in three days. Kind of excited for the delirium to kick in.
Updated at 3:02 p.m.
Four hours down, 22 to go. Feeling a new surge of energy in my pajamas for the next theme: "Power Nap." How ironic.
Updated at 2:49 p.m.
A man in a unicorn suit is dancing next to me while "Jizzed in My Pants" is playing. Carpe DM.
Updated at 2:35 p.m.
"Be a Man" from "Mulan" is on. I feel as swift as a coursing river, with all the force of a great typhoon all of a sudden.
Updated at 2:22 p.m.
Who knew a song about pulling out could be so effective to educate about HIV and pregnancy prevention?
Updated at 2:20 p.m.
The UCLA Sex Squad is performing a song about the five fluids that transmit HIV. All I hear is "vaginal fluid" and "pre-come."
Updated at 2:01 p.m.
Time is going by fast, feet kind of hurt. Three hours down, 23 to go!
Updated at 1:57 p.m.
Kimberly Caldwell is the first celebrity guest, but I'd rather listen to the founder of One Heartland, speaking now!
Updated at 1:49 p.m.
There's an arts and crafts table here, but I just want to dance.
Updated at 1:07 p.m.
Doc Brown and his flying DeLorean are one of the winners of the costume contest.
Updated at 12:56 p.m.
Loving some of the throwback music. "Baby Don't Go" by Fabolous is my jam. "Carry Out" by Justin Timberlake is not.
Updated at 12:42 p.m.
Color wars: Team Blue places third, Team Purple wins.
Updated at 12:20 p.m.
Speeches from the kids affected with HIV, whom this event helps, are what keep you going from beginning to the end.
Updated at 12:14 p.m.
First shift theme costume change: about to put on a hot pink zebra shirt and some orange shorts to take it back to the '80s for "DM to the 10th power."
Updated at 12:06 p.m.
The skit videos are a lot funnier this year, I am busting up. And the moralers have just arrived!
Updated at 11:53 a.m.
Everyone just learned the morale dance to "Can't Stop the Beat."
Updated at 11:09 a.m
I feel like I'm clubbing at 11 a.m. I like it.
Updated at 11:02 a.m.
Dance Marathon has officially begun!
Updated at 10:56 a.m.
UCLA Aids Institute Director David Gere is opening with a speech: "We are artists, we are dancers." So excited to leave it all on the floor and "power up!"
Updated at 10:37 a.m.
Three-time Spring Sing winner Katie Boeck is singing the National Anthem.
Updated at 10:30 a.m..
Hundreds of people are sitting in Ackerman Grand Ballroom, stretching out. I'm treasuring every sitting moment "" 30 minutes until Dance Marathon begins.