Going vegan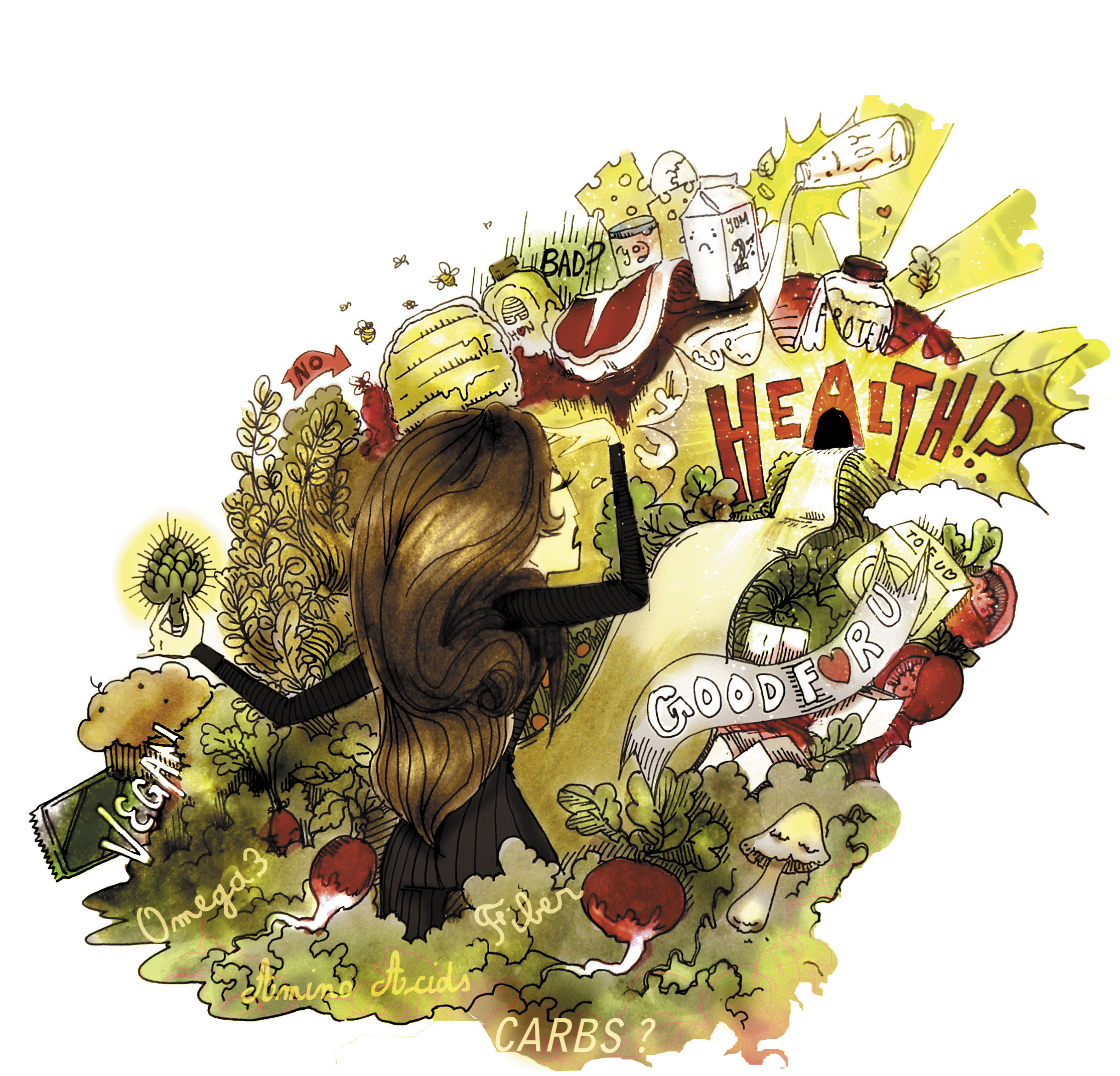 Jan. 1 came as a shock this year when I couldn't reach for a piece of toast the morning after New Year's Eve. No meat, no dairy, no eggs, not even honey in my tea "" I began my week as a vegan.
Vegans cut out all animal products (some go as far as lip balm, which is often made from beeswax). Second-year biology student and co-president of Bruins for Animals Laurel Brewer went vegan for animal rights reasons after being vegetarian since age 13. Third-year linguistics and English student Miranda Freeman went vegan for health reasons but mostly just to prove that she could do it. Third-year physiological sciences student Dhithya Ramaswamy was raised vegetarian and has never tasted cheese because she is allergic to dairy and eggs. Their stories are different, but the result was the same "" a lifestyle that brought me to my breaking point after just one week.
All three vegans said that not eating animal proteins increased their health and helped skyrocket their energy levels. I, on the other hand, dragged myself around sluggishly for seven days, slouching in office chairs and wanting to sleep until Jan. 8. My body was in shock after going from a winter break diet of a meat-abundant eastern European household to eating leaves, soy and tofu.
The first two days I actually felt OK, but then I became increasingly irritable and eventually was just too tired to care anymore. I heard I was pale and spacey from those around me and remember not having much of an appetite. I did reportedly stare at my co-workers' food, however, which made them feel uncomfortable. Maybe if I continued my diet for more than a week my tired body would have recovered, but I also caught a cold, which hasn't happened in about a year.
According to Christian Roberts, physiological sciences professor and diet researcher, vegans tend to cut out unnecessary carbohydrates and sugars, which can mean feeling less sluggish, but there is no research that proves that cutting out animal products automatically increases or decreases energy. Maybe my health issue was all mental, but I felt like death.
I did have some great food along the way: Native Foods and Rosalind's Ethiopian Restaurant were rays of sunshine in a dark week, parts of which I frankly can't quite remember "" it became a sort of blur. I can't afford to eat out every day, however, and am no chef "" I write a weekly food column in the Daily Bruin about not being able to cook, and vegan culinary arts presented many challenges for me. The best thing I made was a tofu and brown rice tortilla breakfast burrito, but I also failed at making vegan lasagna, which fell apart because it was cheese-free.
Drinking my five cups of tea a day without honey was different, too.
According to Brewer, honey is like bee vomit, and eating honey is stealing food from bee colonies "" one reason why vegans may choose to opt out.
Another challenge was accidental mistakes. I had a portobello burger on the second day, whose buns are, of course baked using eggs, though I never thought about it in that way. Soy was suddenly my best friend, albeit high in estrogen. By effectively combining different plant proteins, the missing amino acids can be replenished, simulating the nutrition of animal proteins. I just didn't have time to constantly think about correctly combining proteins with two part-time jobs and four classes "" I wanted to eat something healthy and quick, and this was never an option.
The whole veganism thing seemed to go against nature "" humans evolved as meat eaters, after all. Roberts disagreed.
"Ten thousand to 50,000 years ago, the animals were completely different than they are now. They ate plants off the ground that would have a lot of fiber, vitamins, minerals, omega-3, so the tissue of the animals would be full of those," Roberts said. "Now we feed animals corn … and raise them in very unhealthy environments … so we're talking about apples and oranges. Eating an animal 50,000 years ago is different than eating an animal today."
Considering that some fish farms now raise salmon by genetically modifying them to feed off of corn, and cows are artificially inseminated and pumped full of hormones, of course the carnivore lifestyle sounds terrible. But in my opinion, free-range eggs and wild-caught salmon are viable non-vegan options, too. Roberts agreed that one does not need to be vegan to derive the benefits of being healthy "" meat is fine in moderation, although a plant-based diet is best.
Both Freeman and Brewster seemed upbeat and healthy and said they wanted to be vegan for their whole lives, if possible. Ramaswamy does not have a choice in being vegan or not because of her allergy, but she was full of energy and had no negative side effects from her diet. I am happy for all of them and respect the movement in trying to change the course of animal abuse in the food industry. My time as a vegan, however, is up.