'Genesis' exhibit artist Oksana Chepelyk hopes to raise questions about social issues with videos related to babies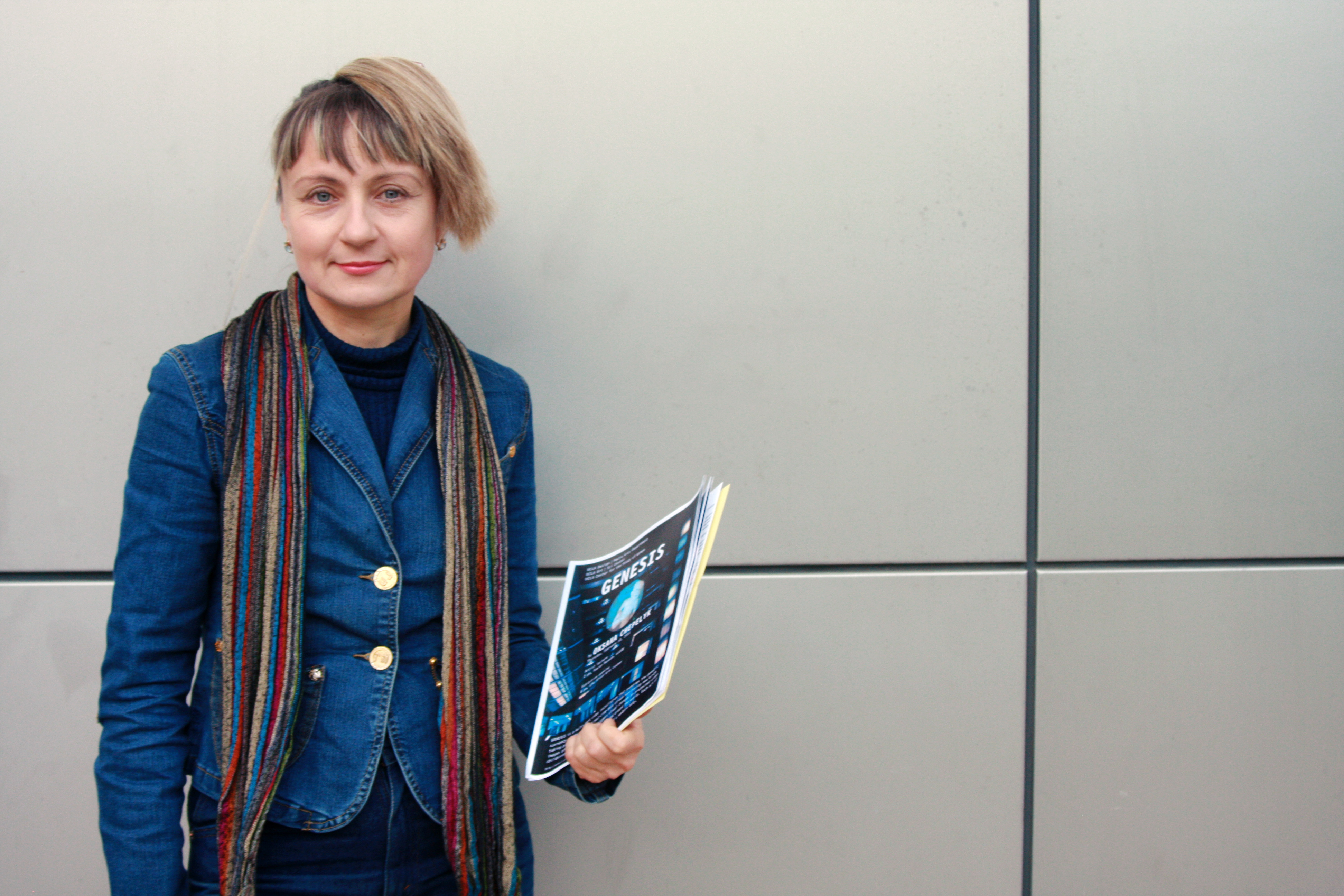 Oksana Chepelyk, a Ukrainian artist, will present her multimedia project "Genesis" today in the Experimental Digital Arts gallery of the Broad Arts Center.
Genesis "" Opening Reception
Today, 5 p.m.
Broad Art Center EDA Gallery, FREE
It's not every day that one encounters a bright-eyed newborn baby on a college campus, let alone one that has been projected onto a massive balloon suspended high above in midair.
This outdoor video installation is just one component that gave birth to "Genesis," a multimedia project created by artist Oksana Chepelyk that will be presented today at 5 p.m. in the Experimental Digital Arts gallery of the Broad Arts Center. The presentation will be preceded by a lecture at 2 p.m. located in Fowler A103B.
Chepelyk is an internationally acclaimed experimental artist from Ukraine who, in recent years, has spent much of her time conducting research at UCLA. She came to UCLA on a Fulbright scholarship in 2003, and has returned to further her research. Visiting the same institution twice is quite atypical for Fulbright scholars, but when presented the opportunity to return to Los Angeles, she accepted the offer.
"When (the Fulbright program) asked me if I wanted to go to the same place as before, I said yes. Why not? It is not so scary to me. I already know how to deal with Los Angeles, more or less," Chepelyk said.
Though several other components of this project feature photography and paintings, this particular exhibition will showcase four separate video installations, all of which explore the collective image of a newborn baby. A spark ignited in Chepelyk's eyes as she described the initial inspiration for the project, which came to her six years ago.
"It started with the birth of my son, Slavko. This was a very important event for me. I had been thinking about all kinds of cases around this, not only for myself, but for women and society (in general)," Chepelyk said.
Chepelyk said that the beauty of her art is not what matters; rather, she seeks to raise questions regarding a myriad of social issues, which she refers to as the "social space." These issues range from the ethicality of surrogate motherhood to Ukraine's declining population, which fell from about 52 to 46 million over the last two decades.
"In (Ukraine) we had a lot of posters like "˜Let's Make Love.' We cannot deal with this stuff simply by saying, "˜Let's make love,' and everything will be solved. That is ridiculous, in fact. So the project started with this kind of simple thinking," Chepelyk said.
The projected video installations each take their own approaches to the process of childbirth. The balloon projection, for example, consists of real-time streaming images of newborns in California. The visuals are sychronized with heartbeats and sounds derived from the human body.
David Wilson, the director of the Museum of Jurassic Technology who has known Chepelyk for more than a decade, said Chepelyk is well known around the world for her use of large-scale moving objects.
"(The concept) is obviously so powerful. To have these projections adapted to this enormous surface, floating above, is, in my opinion, almost like a symbol for hope. And it'd be amazing as a kid to look up and see yourself before you were born on a balloon in the sky," Wilson said.
In another projection, Chepelyk documents a childbirth from the beginning to its very end, which many would consider to be a hard image to deal with. However, Gareth Walsh, a lecturer in the department of Design | Media Arts, said such an image could leave a lasting impression on the audience.
"I think it's a very intimate place to put the viewer. Really it's a ridiculously personal aspect of life you don't always get to see, but in this case you do," Walsh said.
Chepelyk said she believes contrast is a key element that resonates throughout her work. While she said she wants her audience to be enveloped by emotion, she simultaneously incorporates an analytical and scientific perspective in order to instill a sense of balance.
"I'm a radical artist on one hand … but on the other hand, I like very quiet and conceptual projects," Chepelyk said. "I like conceptual art that is scientific and technological, but I like human feeling and I like mixing them. This project has everything."