UCLA's Dr. Gary Mathern gives children with untreatable seizures a second shot at a normal life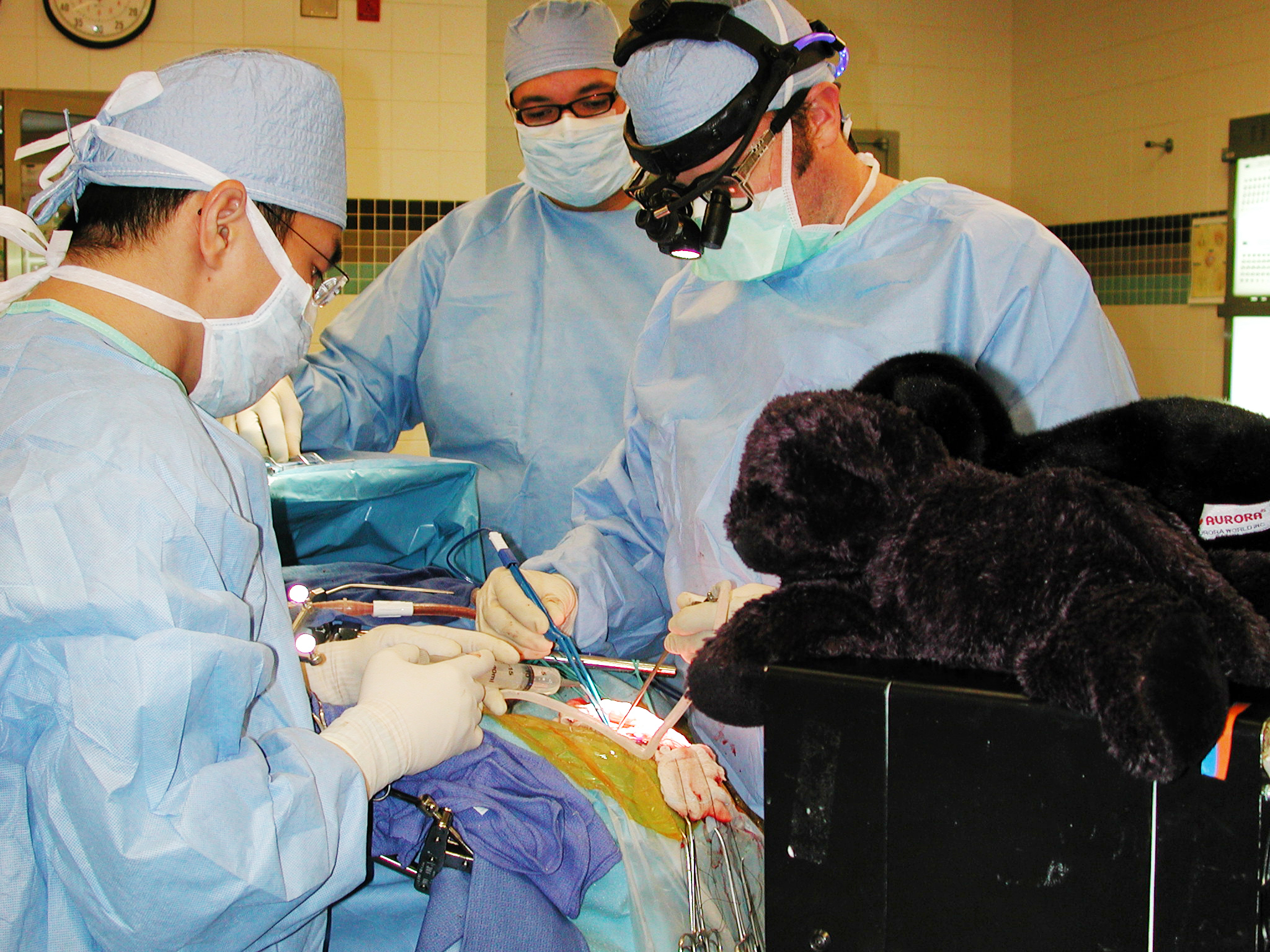 COURTESY OF GARY W. MATHERN
Dr. Gary Mathern and his team perform a hemispherectomy. The procedure is undertaken to treat severe, otherwise-untreatable seizures.
Walking into the operating room, Dr. Gary Mathern's jitters consisted of only one thought: "Have I really thought all the details through?"
Once at the table, focus took over. He was about to remove a piece of someone's brain.
Mathern, who said he no longer has jitters about operating, specializes in a procedure known as a hemispherectomy, which is primarily utilized to treat epileptic disorders in infants and children.
This type of surgery recently gained media attention with the story of Dylan Catania, an infant with hemimegalencephaly. His rare disorder causes one half of the brain to be oversized and malformed, inducing constant seizures. The only two treatments are medication or surgery.
Dylan's condition, however, was only one of many that can be treated with a hemispherectomy, a procedure in which one half of the brain is removed or disconnected from the other.
The use of this procedure to treat childhood epileptic disorders did not arise until the 1980s, according to Dr. Raman Sankar, Dylan's doctor and the chief of pediatric neurology at UCLA Medical Center.
Newer brain imaging technology helped UCLA researchers realize that the seizures experienced by these infants were located in only one hemisphere.
"It looks like the whole brain is a mess, but we think there is a lot to salvage, if we take one part out," Sankar said. "It is a very unique and specialized procedure."
More than 200 hemispherectomies have been performed through the history of UCLA's pediatric epilepsy program, and Mathern said he is continually fine-tuning the process.
"I don't do the operation today as I did it 10 years ago," Mathern said.
Back in 1986, when the pediatric epilepsy program was just forming at UCLA, Mathern said the most practiced type of this procedure was an anatomic hemispherectomy, in which the entire half of the brain that caused the seizures would be removed.
But after a patient died on the table because of massive blood loss, Mathern said he sought to refine the technique to minimize operational risks.
His new technique, dubbed the UCLA modified lateral hemispherotomy, focuses on two goals: first, the disconnection of the bad hemisphere from the brain stem, and secondly, the disconnection of the same hemisphere from the good one.
While this procedure still removes a piece of the brain, Mathern, who is professor in residence at the UCLA Medical Center's department of neurosurgery, said research shows it holds advantages over other type of hemispherectomies.
Although these procedures are the most effective way to treat epileptic disorders in infants, not all children affected by such conditions are eligible for this type of surgery.
Medication to control seizures is often the first course of action, said Sankar. However, even this less radical approach has its drawbacks, since the medication targets the whole brain, rather than just the bad part.
The toxicity from heavy medication inhibit a child's brain from forming the neural connections that make necessary development possible, Sankar said.
When surgery is performed while a patient is still an infant, Sankar said there is a better chance of the remaining half of the brain taking over some of the functions of the removed hemisphere.
If healthy amounts of medication fail and the child has one good hemisphere, Sankar said the child is then considered for surgery.
One-year-old Evan Stauff met the criteria, and was considered a good candidate for a hemispherectomy to control the seizures induced by a condition known as infantile spasms.
"We went through about seven different medications and a few months on a ketogenic diet, but Evan grew worse," said David Stauff, Evan's dad. "To us, the idea of surgery was great, since nothing else was working."
The then-10-month-old baby from Oregon received the operation at the UCLA Medical Center by Mathern, who performed an anatomic hemispherectomy. He successfully removed Evan's entire left hemisphere.
Stauff said the group of doctors at UCLA did a good job of detailing the long-term effects the procedure would have on Evan. The removal of his left hemisphere would cause right-side impairments, such as poor vision out of his right eye and the loss of some function in his right limbs.
"We had trepidations," Stauff said. "There's always a certain risk with surgery, especially with infants. To us though, it was worth the risk, 100 percent."
And while families undergoing the harrowing process of having part of their child's brain cut out may experience great unease, Mathern said he remains rather cool during the taxing operation.
"To complete the procedure successfully, you have to work through the steps, focusing on each individual one," Mathern said.
It all comes down to focus.
And in the end, Mathern's experience and focus has benefitted many families.
Stauff said Evan has not shown any signs of seizure since the morning they took him in for surgery.
"The changes were almost night and day," he said. "The fact that you could remove half the brain and be so much better off is amazing to us."