Thanksgiving begins with donations through annual UCLA Food Drive, Swipes for the Homeless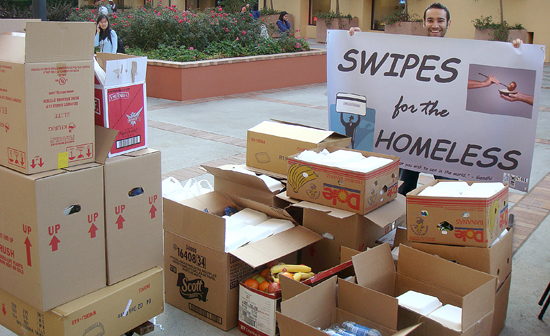 Swipes for the Homeless, a program in which students can donate meal swipes for food to feed the homeless, will take place during 10th week. (courtesy of Bryan Pezeskhi)
Correction: The original version of this article published on Nov. 22 contained several errors. Danny Duel is the special projects director for Swipes for the Homeless and is organizing the the Inter-Fraternity Food Drive. Bryan Pezeshki's name was misspelled.
Thanksgiving marks the beginning of the so-called season of giving, and groups across campus have stepped up to collect for students and local homeless people in need.
The giving begins with the annual UCLA Food Drive, which started last week and continues through Dec. 15. According to Antoinette Mongelli, executive director of the UCLA Volunteer Center, the collected food will be distributed equally between the UCLA Food Closet and the Los Angeles Regional Foodbank.
Mongelli said that with two pickups from the bins outside of Murphy Hall alone, turnout this year has been incredibly positive, but the goal is still to get more students, faculty and staff involved in donating.
These efforts to expand collections to a wider audience also led the student group Swipes for the Homeless to create drives both on the Hill and throughout the fraternity system.
According to Bryan Pezeshki, president of Swipes for the Homeless, the fraternity food drive began in seventh week and will go to the end of 10th week. The swipes drive, which allows students to swipe meals that would go to the homeless, will take place throughout 10th week.
Pezeshki added that the end-of-quarter swipes drives typically collect more than 1,000 pounds of food to be delivered to the homeless.
"We wanted to bring out the philanthropic side of students who didn't live on campus as well," said Pezeshki, a third-year neuroscience student.
The food collected through the fraternity drive will be divided between a number of outlets, including the UCLA Food Drive and the UCLA Food Closet, which allows students to get the food they need but cannot afford.
For Danny Duel who is organizing the Inter-Fraternity Food Drive, the drive also allows off-campus students to tap the more readily available resources of supermarkets in Westwood to participate in a way different from those who live in the dorms.
"Part of our goal is to get food for homeless people, and I figured an easy and quick approach to start off our first project, which would be a canned food drive with the frats," said Duel, special projects manager of Swipes for the Homeless and a second-year biology student.
The drive also gives fraternity members incentive to participate in the UCLA Food Drive as they receive philanthropy points for the food they bring in. If the drive is successful, Duel said the plan is to extend it to sororities next quarter.
In furthering the Thanksgiving spirit on campus, Swipes for the Homeless will be holding its annual on-campus dinner this Wednesday for students and their families who cannot ordinarily afford a holiday dinner of their own, Pezeshki said.
With reports from Sonali Kohli and Kelly Zhou, Bruin senior staff.