Theater Review: "Maestro"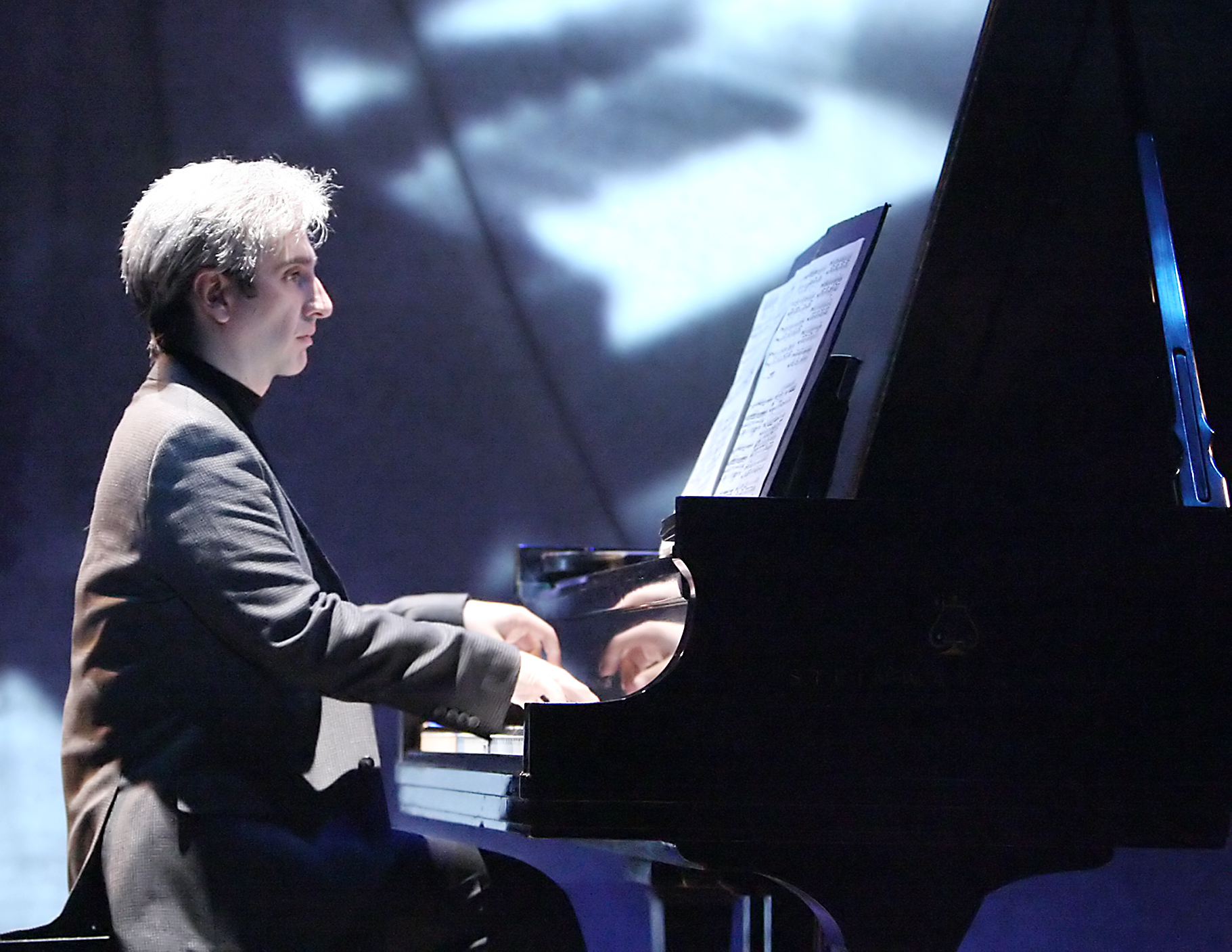 "Maestro"
Directed by Joel Zwick
Through Dec. 12
As the house lights dim, old footage of Leonard Bernstein's television program, "Young People's Concerts," projects onstage, and the maestro teaches the audience how to prepare to conduct a symphony. His presence is striking: He is tall with elegant salt and pepper hair; he is eloquent and uses precise diction; and his love of music permeates every word and gesture.
The video stops, the house lights at the Geffen Playhouse fade to black, and Hershey Felder takes the stage. The Canadian-born actor and concert pianist becomes Bernstein in his one-man show, "Maestro: The Art of Leonard Bernstein."
Immediately, the discrepancies between Bernstein and the imitation become apparent. Felder is less imposing and less authoritative. Felder speaks clearly and strives for pedagogical precision, but he lacks Bernstein's natural New England loftiness, and his voice comes off as artificially pompous. Even Felder's hair, which is either a wig or dyed silver, lacks that verisimilitude that so many performers and directors seek in the theater.
Felder's talent as a musician, however, cannot be denied. The music is exceptional and this biographical one-man show format has become an old hat for Felder. In similar productions, he has taken on the roles of Gershwin, Chopin and Beethoven. In "Maestro," Felder traces Bernstein's love affair with music from the first triad he ever played on his aunt's upright piano to one of his last concerts, where he changed the name of Schiller's "Ode to Joy" to "Ode to Freedom" before the Berlin Wall fell. He also recounts Bernstein's personal life, exploring his bisexuality and the professional conflict he experienced as both conductor and composer.
At the piano, Felder's fingers nimbly navigate the piano's ivory as he uncovers the continuum of music. The continuum, according to the production, is the long chain of great musical compositions that continue to influence music, starting with the works of Bach and culminating with Beethoven. The show posits that Bernstein desired to be the next link in this musical chain, but that his work as a conductor overshadowed his contributions as a composer.
Even if Felder is impressively versatile as he sings and plays nigunim, traditional Jewish chants, and strides along Broadway classics, the continuum is still his elaboration.
And therein lies one of the show's greatest struggles: Felder is a performance biographer trying to present Bernstein's life as an autobiography. It is difficult to discern what is Bernstein's voice and what is Felder's interpretation. Without knowing Felder's sources, the audience must question the themes constructed in "Maestro."
Was love really the creator of his professional life and the destroyer of his personal life? Was Bernstein really torn between his aspirations to compose and his talent to conduct? Was using music to find the divine really an idea of the maestro himself, or Felder's creation?
Like a professor theorizing on the causes of World War II, Felder recounts the historical facts and tries to give them purpose by analyzing the possible meanings and logical connections between them. Felder tells Bernstein's life story based on seminal events and significant relationships that the conductor had, but he must infuse them with meaning "" a pure act of opinion.
"Maestro: The Art of Leonard Bernstein" is equal parts performance and pedagogy "" and perhaps this is exactly as Bernstein would have wanted it. The audience learns more about Bernstein in 100 minutes than most UCLA professors might manage to teach in 10 weeks. As a theater piece, Felder perfectly implements his art, but the dramatic elements do not complement the show's themes as well as they could. It is interesting, but Felder's show may amount to nothing more than the best lecture in Westwood offered this quarter.
E-mail Boden at [email protected].