Trainers and athletes build relationships for rehabilitation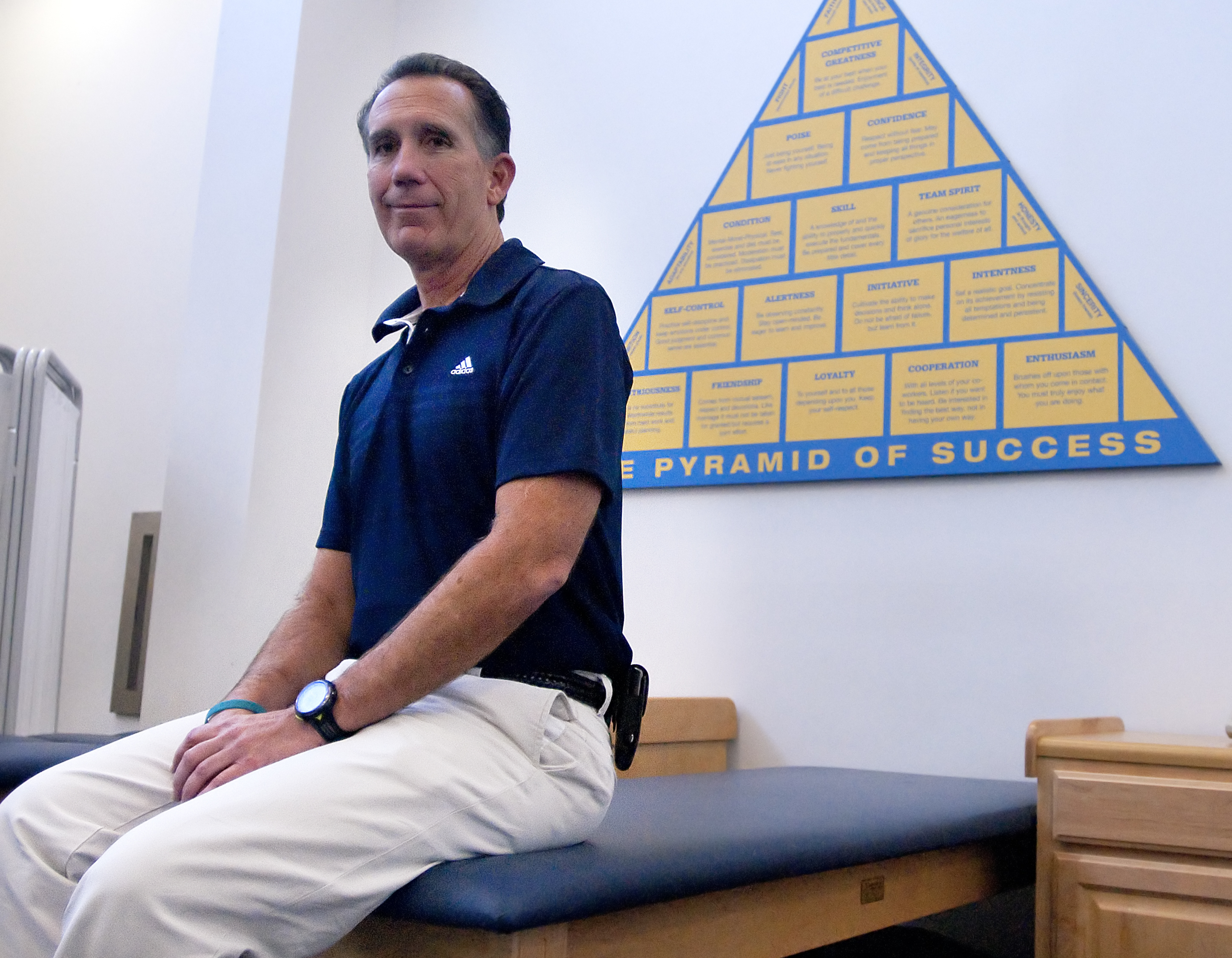 Director of Sports Medicine Dale Rudd, pictured in the Acosta Athletic Training Center, oversees the physical health of all UCLA NCAA athletes. Rudd and the UCLA athletic trainers work one-on-one with athletes to help them rehabilitate injuries and return to competition.
As the doors open to the sports medicine facilities of the Acosta Athletic Training Center, there are several rows of athletic training tables. Many of the day-to-day interactions between athletes and trainers take place on these tables, where trainers help athletes down the road to recovery.
By nature, these interactions become close interpersonal relationships through the course of injury rehabilitation. Jeremy Vail, Rehabilitation Director for the sports medicine department, physical therapist and athletic trainer, spends time with athletes on a daily basis over the course of the recovery period.
Vail described his relationship with athletes as a "love-hate relationship." UCLA tight end Joe Fauria, whose hip was the grindstone to Vail's elbow at the moment, added, "Yup."
"If you don't develop it, then you really aren't going to get the outcomes that you want," Vail said.
"Then this would turn into a fight," Fauria said, given a break from Vail's insistent elbow.
One of the joys for any sports fan is seeing human bodies in peak physical condition perform to their maximum capabilities. Sometimes, though, bodies break down and need rebuilding. Injuries take not only a physical toll on athletes, but a psychological one as well.
"A lot of dealing with long-term injuries can be (a student athlete's) psychological makeup," said Dale Rudd, director of sports medicine. "We all know how to do the physical part of it, and initially … they go through, actually, the cycles of grief."
UCLA has one of the top medical departments in the nation. But according to Rudd, even if you are well equipped to handle any and all physical problems, it can be the problem you can't see that holds you back.
"I'll allow a little bit of self pity for a while, because it's natural. They have to progress through that to get to acceptance," Rudd said.
"Occasionally, there are athletes who need real assistance with that, and it's part of our job to recognize that maybe they need some assistance."
As emotionally straining as injuries are for athletes, the trainers' job is just as exacting.
Being an athletic trainer is a demanding, never-ending and sometimes thankless job. The hours pile up, ranging from 50 to 70 hours a week, and "" in rare cases "" run as high as 100 hours per week, said Rudd.
The job may be emotionally demanding, but Rudd says it is worth it.
"If you look at somebody like myself, and a couple others on my staff who've been doing this for over 30 years, that's the most gratifying thing, working with the student athlete," Rudd said.
"It's the student athlete, and seeing them return to practice and competition, that keeps us going."
In most discussions about physical rehabilitation, new technology is the forefront of the conversation.
In every respect, UCLA is on the cutting edge. Acosta Athletic Training Center is home to a SwimEx resistance pool, an AlterG Anti-Gravity Treadmill (for running with reduced weight), a fluoroscope machine for live body scans of hands and feet, cardio machines, medicine balls and even a medical clinic.
"We have all the whistles and bells in the room, in terms of technology, the machines, the latest this and that, but it's really the people who are working on those, who are working with those individuals, that matter," Rudd said.
"Technology gives us better tools to analyze and measure … but nothing in technology changes biology," Vail said.
As for the goals of the athletic training department, both Rudd and Vail were very clear.
"We're taking care of 18- to 22-year-old people, and that's somebody else's child," Rudd said. "And I take that very seriously."
There can be some tension between the training staff and coaches, because the specialty of athletic trainers "" injuries "" is always bad news.
Coaches can have a tendency to want players back on the field as soon as possible, and in some cases, the training staff can judge that a player is safe to play before they are 100 percent. But in the end, Vail has only one thing in mind.
"Our jobs are not dependent on wins and losses," Vail said. "Our jobs are dependent on whether we do right by the athlete."