"Annie Okay": a plotless play with a message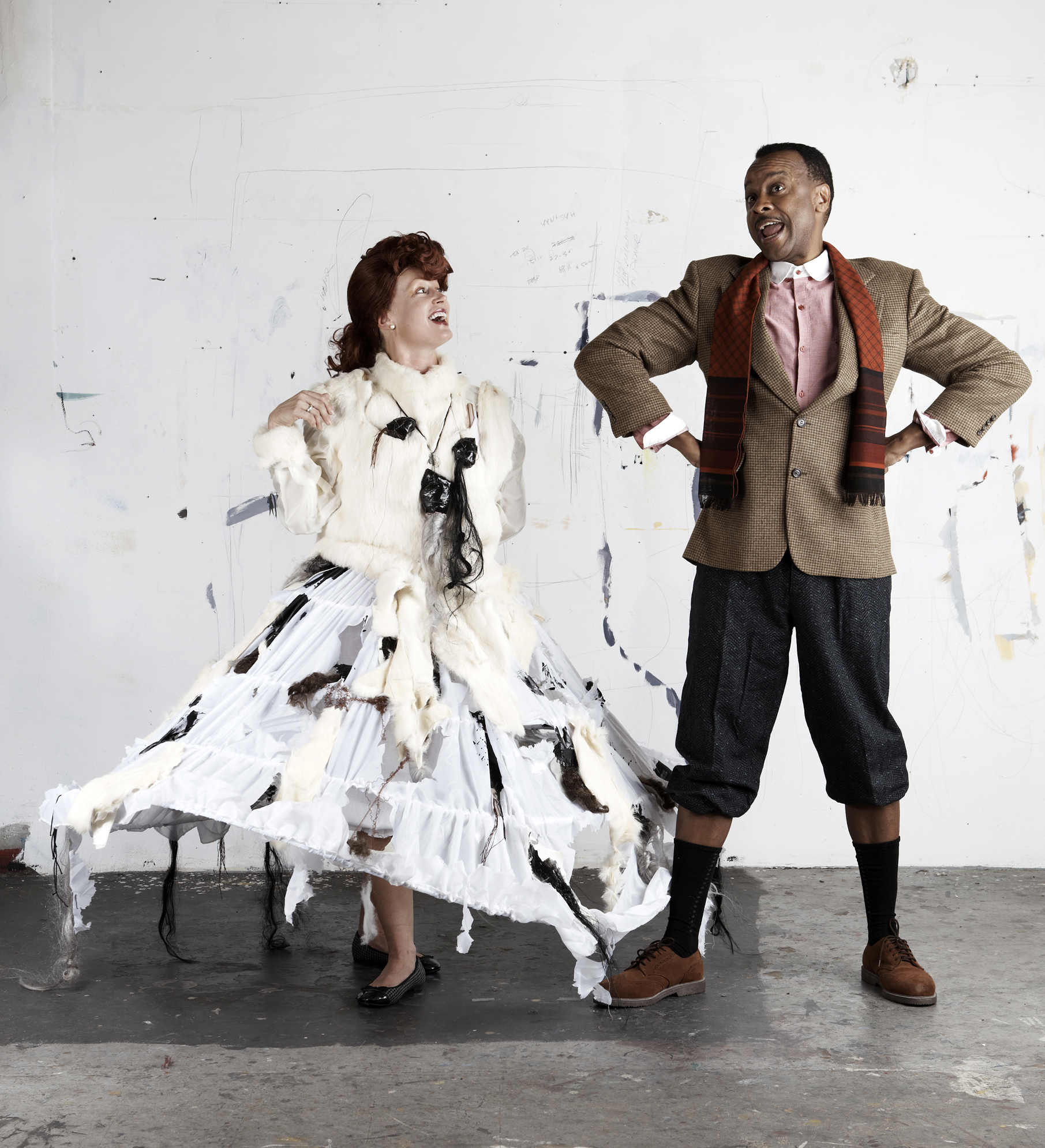 MARCHIONNO & MCCARTY
Rochelle Fabb (left) and Paul Outlaw play Anna Leonowens and Louis in "Annie Okay," an upcoming experimental theater piece at the UCLA Hammer Museum.
Annie Okay
Tonight and Saturday, 8:30 p.m.
UCLA Hammer Museum, FREE for students
"Annie Okay" is not a traditional production. It has no plot, it has no stage and the casting includes three Annies: one female Anna, one male Anna and someone portraying a Thai prime minister who himself is playing a vampire. And if that weren't enough for you, it's a musical. Well, sort of.
"Annie Okay," an upcoming production at the UCLA Hammer Museum, is directed by Asher Hartman. A combination of "Annie Get Your Gun" and "The King and I," "Annie Okay" functions as more than just a musical.
"It works a little like theater and a little like performance. We have a number of trained actors that have a script and it's all rehearsed; we have performance artists that have music and art," Hartman said.
Despite this, "Annie Okay" does not have a traditional narrative. Hartman warns strongly against audiences coming with the idea that they will find a true plot.
The performance, according to Hartman, addresses topics of colonialism and what, to a modern audience, would appear to be racism.
One example of this is addressing how the play "The King and I," replaced the character of Anna Leonowens with an English school teacher when she was actually Indo-European, according to Hartman.
"We are not didactic, I hope, but instructive in the sub-current (of colonialism) that runs under the whole show," Hartman said.
Rochelle Fabb, who plays the female Anna, was not deterred by the performance's non-traditionalism.
"(Hartman) called me up and said, "˜Hey, I'm writing this crazy production and I want you to be Anna. … You get to be sexy, you get to commit suicide, you get to come back as a ghost, what's not to love?'" Fabb said.
"Annie Okay" functions as a counterpoint to the traditional musical. According to Fabb, the acting drives the show, while the music is simply there as an additional layer.
"The music is super, super tongue-in-cheek. … It's very effective in kind of flogging … the stagnant and dead form of musical theater," Fabb said.
Franc Baliton, a performance artist in "Annie Okay," plays a female character named Tuptim, a reflection on the actions of Fabb's character.
"They are really very strong female characters who were powerless in the society they were in. It references a lot of the issues of women and people of color from (the 1950s)," Baliton said.
Fabb said that she is also excited about the differentiation between the character she plays and the way female characters are generally cast.
"It's so great to have a role for a woman which is not a daft or overtly sexual character, that is a complex and a multi-layered riddle with all kinds of angst. It's been a real joy to dig into this woman," Fabb said.
The performance itself is set up in three stages, according to Hartman. The production moves throughout the museum, into the lobby, and then the actors leave to go to the foyer, and the audience follows to see something get played out. The production ends on the second floor's Lindbrook Terrace, where pillows are arranged for audience members to sit and watch the majority of the performance.
"Annie Okay" fixates on violence, but is not inherently violent on its own. According to Hartman, the purpose of the violence, which he calls linguistic violence, is to encourage audience members to think about their relation to violence.
"How do we imbibe violence in our entertainment? I don't even mean to condemn violence in entertainment, but it's really striated through the culture and … violence has become normalized," Hartman said.
Hartman's advice for how to appreciate the show: Simply take it and absorb it as it is.
"The audience should come with the sense that they're going to see something that is not a narrative, they should watch it the way they would look at a musical score. Someone might get frustrated to not see a story," Hartman said.