Larry Yust's photographs capture how graffiti art transforms urban environments into canvases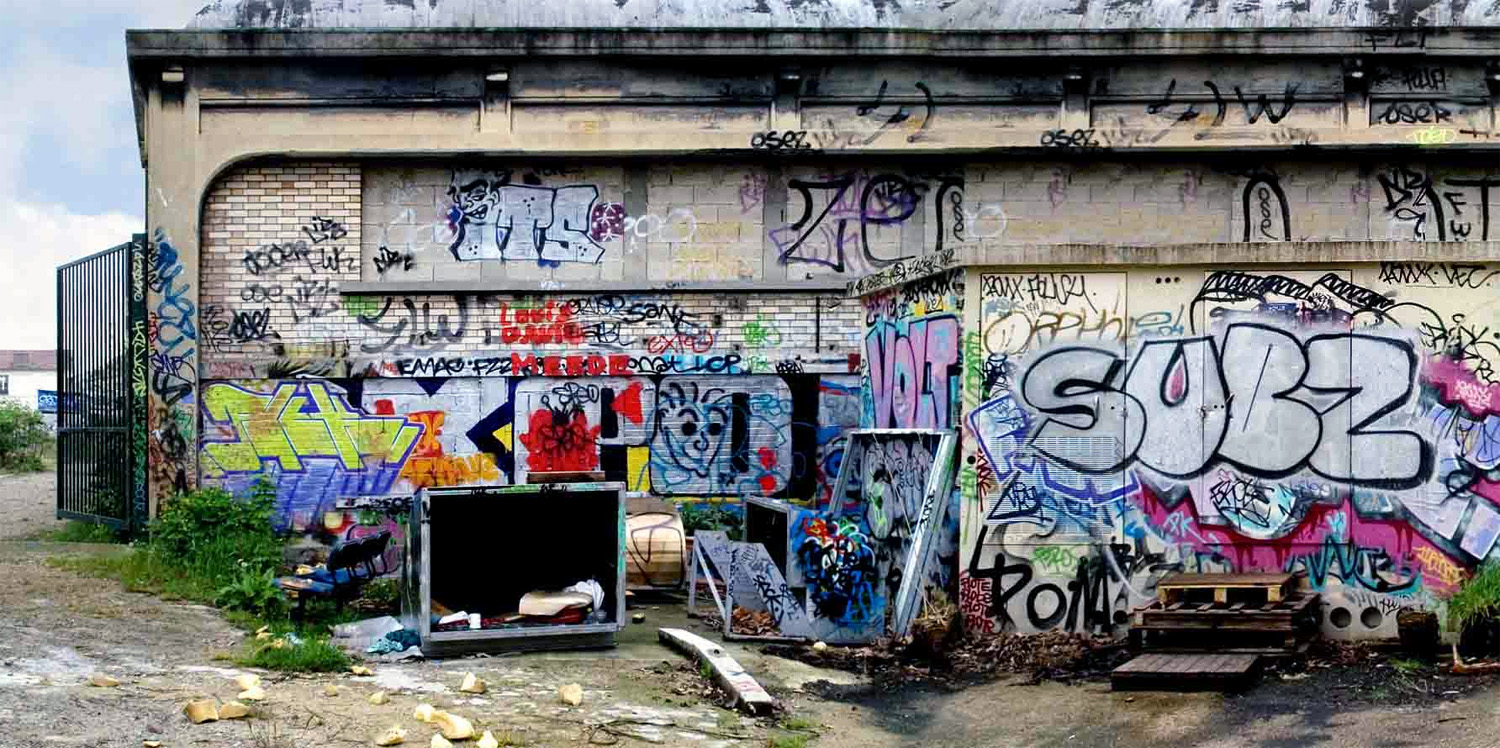 Paris, France. Courtesy of Larry Yust.
Street Art: Photographic Elevations of Los Angeles, Paris and Berlin
Sept. 19 to Jan. 16
Fowler Museum, FREE
Sept. 17, 2010 12:08 a.m.
On the side of a shoddy industrial building in Berlin stands the image of an eight-story-tall headless man made entirely out of spray paint. The painter, an Italian graffiti artist known only as Blu, used the brick wall to declare his own personal statement to society.
According to filmmaker and photographer Larry Yust, this work is art.
Yust traveled to Berlin, Paris and Los Angeles looking for the best masterpieces of graffiti art he could find to photograph. Taking wide lens shots, Yust stitched the images together to create a wide panoramic view of the entire area, fabricating a single seamless perspective of the massive artwork. These pieces, titled "Street Art: Photographic Elevations of Los Angeles, Paris and Berlin by Larry Yust," will be featured at the Fowler Museum at UCLA through Jan. 16.
"What he does is create these large vistas on neighborhoods that you can't otherwise really see with the naked eye," said Patrick Polk, the curator of the exhibition. "He creates images that let us perceive differently, or more accurately perhaps, elements of our environment that usually go unnoticed. He's now turned his eye toward graffiti in his art with the understanding that while some people see this as merely vandalism, some see it as a developing art form."
Yust's photographs call attention to that so-called vandalism, showing graffiti artists in a more comprehensive light to reveal their artistic merit.
"I say very simply that I find street art very beautiful. Graffiti is, to me, the most important form of art, the oldest form of it," Yust said in reference to cave paintings. "I enjoy seeing high-quality pieces among graffiti writers. When I see one on a street I haven't been on, it's like a gift I've been given."
Graffiti art in the U.S. is often viewed as vandalism and illegal property damage, according to Yust, but various countries in Europe take on a more liberal perspective. In both France and Germany, graffiti is accepted as a genre of artistic expression, and the government even allows street art to be made on various buildings and construction walls.
"In Berlin, when the wall came down, there were sections that were left standing. A local graffiti artist saw one of the longest sections and called artists from all over the world to come paint on it. So they came and painted it. After a couple of years, the city decided it was time to tear that piece of wall down. There was an uprising since the people liked what they saw. It's now the East Side Gallery officially protected by the government," Yust said.
Yust's photography does not just show images of street art, but also incorporates the paintings within their surrounding environment. These include warehouses, abandoned train stations, construction sites and fences. The seemingly mundane landscapes have, in fact, been the canvas for generations of graffiti painters, creating an evolutionary history of how people perceive street art.
"Once people saw the amazing pieces, they realized it was a legitimate art form," said Jacob Patterson, an alumnus who now commissions his stencils and graffiti art. "Then they realized that you could make statements with the art in places everyone could see, in places that you can't find anywhere else in the world. It's art that's interacting with the streets. … You can convey a message that moves."
Even if one moves past the debate of graffiti as a form of artistic expression, obstacles still arise for street artists. When compared to more conventional modes of painting, such as works featured in studios or galleries, images composed on streets and building walls enjoy at best a temporary existence before getting painted over, with the artists themselves acquiring little, if any, recognition.
"The primary difference is that a real graffiti artist has no hope of his work being permanent in any way," Yust said. "People who paint uninvited on walls know it's not going to be permanent. He doesn't have any hope of making any money off of it. It's done for the sake of the art, the expression of how the writers feel. That gives it a vibrancy that some art lacks. You're dealing with a lot of color. Advertising art, for example, isn't as good and lacks life. Those artists are trying to please a client. The graffiti artist is doing it for themselves."
Yust and Patterson said they feel the gap between graffiti on the streets and commissioned works in a studio is quickly narrowing. More and more street artwork is being featured in galleries throughout the U.S., including Yust's previous graffiti exhibition in Fowler Museum in 2004. One of the major problems impeding this transition lies in the anonymity of the artists.
"Street art is making its transition in the face of the gallery," Patterson said. "The artists recognized are the artists that are marketable, but in order for history books to write about these people, they need to have names to write about."
As urban artists popularly go by street names that both distinguish their work and conceal their identities, they are not always easily identifiable.
"That's really difficult "" we can't give our street names because it ties back to us," Patterson said.
Yust's photographic scenes now call attention to street art to smooth that transition.
"He creates these photos that make us look at spaces we normally don't because we're zipping by in a car, or we're at an angle where we can't see the full picture," Polk said. "It gives us the moment to really stand back and look at the eminent processes of the landscape. The environment has become the canvas."