Alum are stars of gaming world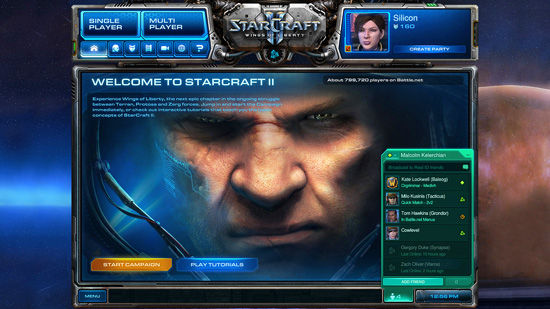 Initially developed in 1996, Battle.net is an online game service that allows users to connect via Blizzard games. Users can purchase and download games and access their respective accounts from different computers without losing progress. (Photo courtesy of Blizzard Entertainment)
It began with three UCLA graduates, $20,000 and a 600-square-foot office in Irvine.
Three young entrepreneurs started working on video games just months after receiving their undergraduate degrees from UCLA using computers brought from home, and even some borrowed equipment.
Silicon & Synapse, the small company Michael Morhaime, Allen Adham and Frank Pearce started nearly 20 years ago, is now Blizzard Entertainment. The company has since developed hugely popular PC games, including "Diablo" and the "Warcraft" series, and it recently released "StarCraft II" nearly 12 years after the original game's debut.
Though Morhaime, Blizzard's president and CEO, and Pearce, Blizzard's executive vice president, didn't meet each other until they started the company, they both knew Adham from class, and they all shared a love for gaming.
Adham, who left the company in 2004, convinced his future business partners to quit their respective jobs to join him in a video game venture just a few months after graduation.
"I wasn't having a whole lot of fun in the aerospace industry, so it was a pretty easy sell for me," Pearce said. "I was only 22 years old, and it didn't seem like there was a whole lot to lose."
Neither Morhaime nor Pearce had much experience in game development, but Adham assured them it wasn't rocket science "" they were smart enough to figure it out. They started working on their first original game about six months after starting up. Then, in 1994, Blizzard released "Warcraft," the company's first major hit, after about 11 months of development.
The concept for Warcraft emerged as Morhaime and his coworkers discussed where they could go with a fantasy-themed real-time strategy game like "Dune 2," which many of them played at the time.
They also drew inspiration from the games, science fiction and fantasy they grew up with, such as the role-playing game "Dungeons and Dragons" and "Star Trek," Morhaime said. They wanted to push the limits of multiplayer games to allow users to not only play computer-controlled opponents, but also other gamers.
"Nobody in the world knows how to do the stuff that we're doing, we've constantly just had to keep up with the tech and try out new things," Morhaime said. "Allen, Frank and I just poured 110 percent of our focus and attention into just trying to make really good games."
Part of the company's popularity stems from its games' intricate story lines, powerful map editors that allow gamers to program different scenarios themselves, and the ability of players to connect with each other via the online gaming service Battle.net.
Brian Le, a fourth-year physics student who has been playing "StarCraft" since fourth grade, said the polished multiplayer and map-building features are appealing because they increase the possibilities when replaying a game.
"StarCraft," a real-time strategy game set in space, is well-balanced with three factions that encourage competition and different playing styles. Le recently purchased "StarCraft II" and has found that it lives up to its predecessor.
""˜StarCraft' was just one of those games you can go back and pick up because even though better graphics came out, it basically started real-time video games," he said. "It's the classic in my mind."
Morhaime said Blizzard hires people who are passionate about gaming, and employees from multiple developing teams play every game they produce so each one can be perfected.
"Everything we've learned, we've learned from experience along the way," Pearce said. "UCLA gave us a great foundation in terms of allowing us to understand that we can teach ourselves the new things that we don't know how to do."
Pearce said when he was a student he didn't know what he wanted to do when he graduated, but he always thought a job in the video game industry would be fun ­"" he just didn't know how to get one.
He was fortunate to be friends with Adham, he said, but for students today, the industry of video game development is very different.
"This is really a great time for people that are interested in making interactive entertainment," Pearce said. "There are all these platforms (like Facebook and the iPhone) that don't require huge teams and huge amounts of money to make."