Playwright Henry Ong's piece "˜Fabric,' the story of 72 Thai garment workers enslaved in El Monte, comes to the Company of Angels Theatre at The Alexandria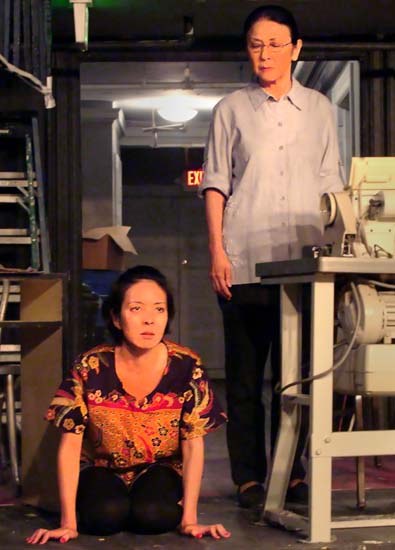 Actresses Jolene Kim (left) and Dian Kobayashi will perform in "Fabric," a play about the enslavement of Thai garment workers, opening July 8 at The Alexandria.
Fifteen years ago, 30 miles east of Westwood, the first widely known case of slavery in the U.S. since the end of the Civil War was uncovered in Los Angeles County's city of El Monte. In an apartment complex ringed with barbed wire, its windows boarded up, 72 Thai garment workers were held captive and forced to labor in conditions of slavery. Some had been confined for as long as seven years.
A seven-member Thai family led by a ringleader known as "Aunt Suni" was apprehended at the scene. Five days later, the rest of the country and the world would find out in the paper. Among those reading was playwright Henry Ong.
On Saturday, Ong's play "Fabric" will open at the Company of Angels Theatre at The Alexandria hotel in downtown Los Angeles to commemorate the 15th anniversary of the Thai garment workers case. The play is co-presented by the Company of Angels and the Thai Community Development Center, and proceeds from the opening night and previews on Thursday and Friday will benefit the center's anti-human-trafficking program.
Ong recalled he was completely shocked when he read the article.
"I thought slavery ended with the Civil War," he said.
Intrigued by the involvement of Thai immigrants and interested in researching further, Ong approached the Thai Community Development Center, where he was able to speak with Chancee Martorell, the center's executive director and part of the team that raided the apartment complex at 4 a.m. on Aug. 2, 1995.
"There was a lot of commotion, first of all. Everyone was confused. The workers were upset and fearful and just crying, … and they didn't know what to do," said Martorell, a UCLA alumna who has taught two courses on Thai and human trafficking issues at UCLA.
Ong also spoke to a special agent from the U.S. Immigration and Naturalization Service, members of the California and federal labor commissions and others present at the raid to find out how the ring was uncovered.
A journalist before he entered the world of theater, Ong said he has always been interested in real stories and biographies, but does not want to limit himself. The challenge of writing "Fabric" was finding a balance.
"I tried to be as true as possible to the main story. In drama, you always have to take a little bit of (artistic) license," Ong said.
Certain aspects needed to be fictionalized, such as the experience of Aunt Suni, with whom the playwright did not communicate.
Ong was primarily interested in the experience of the Thai workers and sought to speak with them.
"I wanted to give a sense as to who these women were," Ong said. "And how it was that they got to be in El Monte, and what was it like to be in El Monte?"
When the Thai-English interpreter didn't show up on the day of his meeting with the group of Thai workers, the two parties were left staring mutely at each other. Ong thought about rescheduling, but instead casually asked if anybody spoke English.
"This shy woman "" or who I thought was shy "" said, "˜Well, I speak English,'" Ong said.
So Ong turned on his tape recorder and started to ask questions.
"Her words, even though it was halting, even though it wasn't fluent English, conveyed the sense of what they were going through," Ong said.
It was this English that Ong used as the basis of the language of his play, and where language became insufficient to communicate, Ong substituted it altogether.
In a tender turn to the story, the lead characters' experience of falling in love is expressed through dance. UCLA alumna Waewdao Sirisook choreographed the sequence in the style of traditional Thai dance.
"I think I try to take it deeper. … (It) is not only about being romantic, but is about trying to identify who she is and where she came from too," Sirisook said. "(She is trying) to speak without a word."
A Thai native who moved to Los Angeles only five years ago, Sirisook said it was quite a surprise to learn about the case "" like something that would only happen in a third-world country.
"I think the image of the U.S. is (that you) have a lot of freedom, and also all the democracy, all the human rights (are) very strong," Sirisook said. "So it's just like, OK, something like this (can happen) everywhere in the world."
Martorell said that modern-day slavery remains an issue that has yet to be eliminated in society.
"It's a very opportune time also to tell people how resilient these individuals are "" that despite what they went through, what they suffered, the trauma and all that, they've become independent and productive," Martorell said.
Ong said he hopes audiences will learn something about the people and the stories in Los Angeles.
"We have no knowledge if the person who's serving us, bus boy or whoever, would be a slave." Ong said. "There's more to people in our city than we know."