Bruin takes time off to tour Europe with indie band Princeton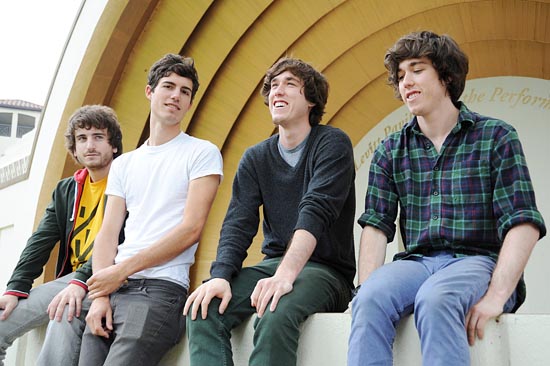 Ben Usen and David Kitz joined twin brothers Jesse and Matt Kivel to form Princeton, a Los Angeles-based indie band named after Princeton Street in Santa Monica. The group will perform tonight at the Troubadour.
Ever since drummer David Kitz joined indie pop group Princeton, his life has been a balancing act. The third-year art student temporarily withdrew from his studies this year so he could tour with his band, but it is proving to be worth the sacrifice. Tonight, Princeton stops off in the band's hometown to play a show at the Troubadour.
Princeton's music is well-suited for a daydream-like drive down Pacific Coast Highway, perhaps because all the members grew up inhaling sea breezes. The band name comes from the street in Santa Monica where twin brothers Matt and Jesse Kivel grew up. Kitz and keyboardist Ben Usen lived nearby.
"I approached Matt and Jesse with the idea of starting a band after watching "˜That Thing You Do' in elementary school, and they seemed interested," Usen said. "However, it took them about six years to get guitars. But the day they brought them home, I came over with the small keyboard I had gotten as a bar mitzvah gift, and the rest is history."
Usen and the Kivels played together in high school, with Jesse on guitar and vocals and Matt on bass and vocals. Though they went to different colleges, they continued to jam during breaks. But the band was not official until the three were reunited in London while studying abroad in 2005, during which they recorded an EP and played several shows. They moved back to Los Angeles after graduation, and that's when they added Kitz to the band.
"We had a few drummers before David, but they were never an official member of the band," Usen said. "We knew David because we grew up with his older sister, and we remembered him being a great drummer."
They asked Kitz to join, and he said he was happy to do it.
"They obviously share a deep history with each other that I just sort of came into, but I've never felt like an outsider in any way," Kitz said. "From the start they made me feel like Princeton was my band as much as theirs."
In 2008, they released their second EP, "Bloomsbury." Armed with another album's worth of songs, they set out to South by Southwest Conference and Festival last year in hopes of landing a record deal, which they did. Their first LP, "Cocoon of Love," came out late last year on Kanine Records. They did a nationwide tour with Ra Ra Riot in support of the record. Princeton has also opened for hot indie rock acts such as Vampire Weekend, The Fiery Furnaces and Phoenix, but they said that Ra Ra Riot has been their favorite band to share a bill with.
"They are such wonderful people, and we have so much fun with them." Usen said. "Occasionally they joined us on stage for a few songs, which was orgasmic."
Princeton's jam-packed touring schedule has forced Kitz to put his education on hold more than once.
He transferred to UCLA from Santa Monica College in 2008, and though he hasn"˜t been to class since last spring, he is confident he will finish eventually.
"I'm sure I'll be back (at UCLA) sooner than later, but for now I'm following my path with Princeton as far as it can go," Kitz said.
Instead of sitting in lecture halls next month, Kitz will be playing shows across Western Europe to promote "Cocoon of Love," which the band is excited to share with audiences abroad.
"I think we have refined our sound and developed our songwriting," Jesse said. "There is also a dancier element to some of the new songs that wasn't there (on Bloomsbury)."
After the tour, the band heads back to the studio this summer to record its second album. With so much planned in the months to come, Usen said tonight may be the last chance to catch a Princeton show in Los Angeles for quite a while.