UCLA professor transforms the guitar in shape-shifting concert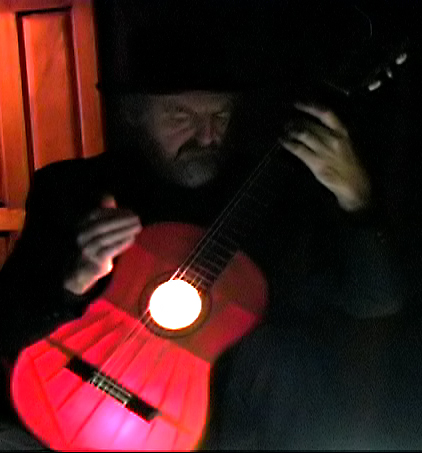 Professor and guitarist Peter Yates performs tonight at the Jan Popper Theater at 8 p.m. alongside performances by local guest musicians.
Shape-shifting is not just for wizards and politicians anymore "" Professor Peter Yates is applying the concept to guitar as he plays multiple shapes of the instrument and produces a variety of sounds this evening. Tonight at 8 p.m., performers will play new compositions by Yates and others, as well as Bach's Second Gamba Sonata in Jan Popper Theater.
This concert will feature the Los Angeles premiere of Yates' song cycle "Seven Victorians, Four Cranks, and a Crone," which integrates old and new texts into song. The cycle is composed of seven texts by imminent Victorian writers who are also known for their work in other fields such as Karl Marx, Abraham Lincoln and Charles Darwin. The cycle also features four of Yates' own imaginary crank letters to the editors, with titles such as "Tainted Seafood" and "Sport Motorcycles," and a crone-like postcoital depression poem by Beatrice Wood.
"I call them pop art songs because they bring the energy of the popular music with the sophistication of the art song," Yates said.
Yates said he preferred regular speech to poetry for the songs, stating that the words themselves have musical shape and rhythm. These will be sung by Yates himself and a guest vocalist. Other string instruments will accompany Yates on the songs, along with keyboards and percussion such as pots and pans and a brake drum, among other household objects shape-shifted into percussive instruments.
Yates himself has also shifted the shapes of two instruments into one, crafting an arpeggione "" which is fretted and tuned like a guitar but bowed like a cello "" to play on Jonathon Grasse's "Five Scenes." An unusual combination of instruments including mandolin, oboe and arpeggione is used in this piece based on scenes from the life of the controversial Edward de Vere, Earl of Oxford, who some believe is the true author of Shakespeare's plays. The instruments provide an antique quality and Renaissance sound that adds to the historical tone of the music.
"These instruments fit the character of the piece that takes Elizabethan music and puts it through a prism of modern music, so it's half Renaissance and half contemporary," Yates said.
Grasse wrote the piece with Yates in mind, as they were colleagues when Grasse was a professor at UCLA, where he also earned his doctorate degree in composition and cognate in ethnomusicology.
Grasse's interest in literary history led him to compose this programmatic piece, in which an unmusical narrative is rendered by an instrumental work.
Of all his other pieces based on people's lives, he said this story is particularly bizarre and absurd. The movements reflect important moments in de Vere's life chronologically, like his childhood, coming of age and involvement with Elizabethan courts that support the argument that he was capable of writing to Shakespearean standards. While the biographical aspect may be lost on audiences, the sentiment is not.
"The meaningfulness of music is very individual," Grasse said. "Though the audience might not know the story, the passion and mystique of it comes through in the music."
While the middle movement provides an abstract tonal quality with the modern composition technique of serialism, all the other movements are in the traditional tonal system based on the 24 major and minor keys.
"In terms of melody and harmony, tonality offers a lot of typical consonances and sweet-sounding music that you get from traditional tonal music," Grasse said. "A lot of modern music isn't very tonal in that sense."
Moving from traditional music to rock "˜n' roll, Garry Eister's "Strum Furiously" commands the players to do just that throughout the piece, not common of most classical guitar music.
"When people go to hear a classical guitar concert, they don't expect that hippie, rock "˜n' roll energy that the piece has," Eister said.
Eister, who has composed everything from chamber music to radio theater, also wrote this piece for Yates and mandolinist Buzz Gravelle. Eister said he is confident in writing guitar music because he plays guitar and understands how the instrument works. With these two talented musicians performing the piece, he also said he did not have to hold anything back when writing it.
"It's short, fast and fun. I wanted to make a really energetic and ecstatic feeling in the music, and strumming is particularly suited for that because you're basically beating the guitar like a drum," Eister said. "It drives pretty hard."
Throughout the pieces, there are combinations of old and new, serious and humorous, familiar and unfamiliar.
"There is an element in this music and music in general, which is that it is capable of being very fun and very serious at the same time. It's entertaining but also something beyond that," Yates said.