Bruins behind beauty of "˜Avatar'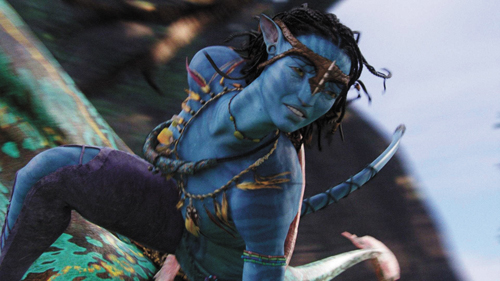 By now, we all know that "Avatar" has catapulted past (or shall we say sunk?) James Cameron's last blockbuster, "Titanic," breaking all-time box office records for the top-grossing worldwide release. The cutting-edge, razor-sharp 3-D technology that plunges viewers into the gorgeous, lush world of Pandora and its population of lithe, blue Na'vi inhabitants has propelled the film to be an Oscar favorite, with the movie grabbing nine nominations, including Best Picture and Best Director. What might not be apparent after a journey through Pandora's floating mountains and mossy forests is the role of several UCLA alumni in translating Cameron's vision to the screen. So before the Academy's big night on Sunday, here's a look at the Bruins who lent a hand in crafting the blockbuster.
""mdash; Elizabeth Packer
Laeta Kalogridis
Master's, screenwriting (1994)
UCLA School of Theater, Film and Television alumna Laeta Kalogridis has had a busy year. Not only is she the executive producer of "Avatar," but she is also the executive producer and screenwriter for the recently released "Shutter Island." She is currently in the works of adapting a script of the Japanese manga story "Ghost in the Shell," and after that, perhaps she'll be back for an "Avatar" sequel?
Lula Washington
Master's, dance (1984)
Dance and song are pillars of Na'vi culture in the film, so Lula Washington used her experience as a choreographer to bring the Na'vis' movements to life. Washington is known for her diverse style of dance, blending elements of everything from jazz to street dance, so her eclectic style and strong background matched well with Avatar's unique culture. Under her direction, dancers from her dance company "" Lula Washington Dance Theatre, which is based in south Los Angeles "" performed choreography used for the film's ritual dance scenes, and their movements were recorded through the performance capture process.
Wanda Bryant
Master's, music (1989); Doctorate, ethnomusicology (1995)
Wanda Bryant served as a consultant to James Horner, the film's composer. She brought her immense knowledge of world music to the role and worked with Horner and Cameron to combine different vocal and instrumental elements from various cultures that inspired the film's score. Drawing on her extensive CD collection, Bryant brought musical samples that included everything from Swedish cattle herding calls to mining songs from South Africa. The result of her work can be heard in the film's haunting, ethereal score, which matches nicely with Pandora's rich spirit world.
Andrew Richard Jones
Bachelor's, Design | Media Arts (1995)
Even before Oscar night, Andrew Richard Jones' work in helping animate the Na'vi and the world they inhabit has won recognition. As animation director, he is part of the team that won the BAFTA Award (England's version of the Oscars) for Best Special Visual Effects, and he is nominated for an Academy Award in Visual Effects. Avatar's stunning imagery is the result of Cameron's visual performance capture, which combined live acting with the computer "" generated images and extensive special effects sequences that Jones helped bring to screen.