Cello-rock duo Oak and Gorski combine symphonic, acoustic sounds for a signature brand in L.A.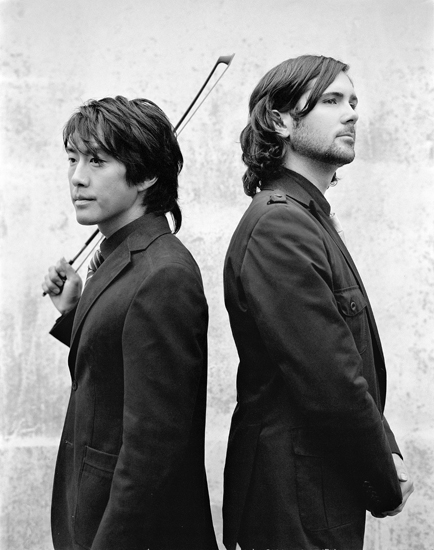 Ken Oak (left) and Ed Gorski (right) of the L.A.-based band, Oak and Gorski, will play at the Dakota Lounge tonight.
The city of Santa Monica is many things to many people: To some, it is a playground for the super wealthy; Jack's Mannequin deemed it home to a freak show. But cello rock duo Oak and Gorski could call the shopping center and tourist-magnet Third Street Promenade home, while many of its regulars could call its music the soundtrack to the city.
Tonight, cellist Ken Oak and guitarist Ed Gorski will play at Dakota Lounge in Santa Monica, showcasing the band's rare blend of symphonic cello rock, acoustic guitar and self-reflective lyrics, a concoction that has become their signature style.
"Their instrumentation is very unusual, you don't see a lot of cello-rock," said Bryan Cook, who mixed the band's most recent album, "Good Advice, Bad Advice."
"And obviously, people like pure emotion. These guys are wearing their hearts on their sleeve."
The band formed in 2004. Oak, who graduated from USC with a music degree, had been moving coast to coast and getting by as a solo artist playing acoustic guitar in the folk scene. Through a friend of a friend, Oak and Gorski met, jammed and eventually formed the Ken Oak Band with a third guitarist, Chris Ramos.
With three guitarists in the band, Oak switched to playing the cello, an instrument he hadn't played since his youth.
"It was really (Gorski's) suggestion early on," Oak said. "He said, "˜Why don't you pull the cello out and see how it works?' I did, and it was difficult because I hadn't played in so long. But I got used to it. I taught myself how to sing while playing, which is really difficult. But it was worth it. In the end it became our signature sound."
Since releasing the first of three albums, "Symposium," in 2005, the band has had what Oak called a "crash course" in being an indie band. After Ramos left after its first national tour, the band became Oak and Gorski and completed two more while traveling in an old van.
They've lived in parents' homes and gotten used to record deals falling through. They have also sold over 25,000 records, played hundreds of shows at venues and colleges around the country, and had their song "Inda" featured in the 2006 DreamWorks film "She's the Man." Oak and Gorski even established their own record label, Cello Rock Records.
While both men are both singers and songwriters, Gorski wrote many of the songs on their newest album. Some were written about a particularly bitter breakup he was dealing with, while others touched on booze and a self-reflective state.
"Girls, cigarettes and booze are what I write about a lot," Gorski said.
"Some of the songs on that record are about one girl I was dating for a while," Gorski said. "We were equally crazy musicians and broke up badly. She was focused on her career. I was focused on my career. But there are other songs … about getting old, or we were having a rough patch and just thought, "˜We can sing and make it through.'"
While the band hopes to find a bigger break, the members are in the process of recording a fourth album, one they said they believe will capture their most genuine essence after a trio of albums experimenting with live acoustic, semi-produced and completely pop/rock sounds.
"We've gone from super stripped-down to a little bit built-up to full-on rock band," Oak said. "We finally figured out we want to stick with what we're good at, which is cello rock."
As Oak and Gorski move forward, they intend to stick with the soul-searching, symphonic melodies that have made Promenade-dwellers, college students and fans across the United States fall in love with the cello rock aficionados of Los Angeles.
"I know my experience of joy just from writing songs, playing songs and seeing something come from nothing," Gorski said. "Touring and getting to meet people and connect with people who really enjoy our music, there's no better thing in my mind."