Rising student band makes music a family affair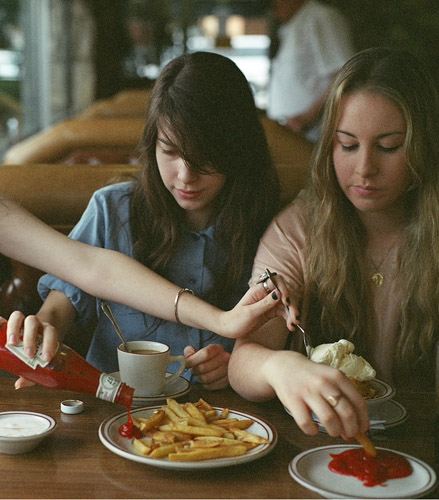 Danielle (left) and Este Haim (right) will perform alongside their sister Alana tonight at the Echo.
The three ladies of Haim have been rocking out since they were toddlers.
Este Haim, a fourth-year ethnomusicology student, started the group with her sisters, Danielle and Alana, two and a half years ago, and they have been performing in venues all over Los Angeles ever since.
They play tonight at 8:30 at The Echo in a show presented by Buzz Bands LA.
Music has always been a family affair for the Haims. Their father put each of them on drums when they were just 4 years old, and their mother was teaching them guitar by the time they were 7.
"Our parents are crazy, they always wanted us to be rock stars," said guitarist Alana. "Instead of giving us tutors in math and English, they got us guitar lessons, piano lessons, vocal lessons. They've spent tons of money on us, and we're so grateful it's finally paying off."
Este, the oldest sister at 23, got her first bass guitar when she was 9 and has been playing it ever since. By the time Este was 11, she and her sisters were skilled enough that their parents got the idea to form a family band.
"We were called Rocking Haim," Este said. "Haim means life (in Hebrew) and we have a really rockin' life."
Rocking Haim played a lot of country fairs and street fairs in Los Angeles and in towns up the California coast. They played covers of oldies such as Jackson Browne's "Brown Eyed Girl" and a lot of Santana songs.
When Este was 15, she was diagnosed with diabetes, and her family became especially interested in helping spread awareness about the disease.
They started performing at benefit events for the American Diabetes Association and Children's Hospital of Orange County. Through her family's involvement with these organizations, Este has met other young people with diabetes, and she says it helped her overcome the challenges and remain upbeat.
"I'm a glass-half-full kind of girl," Este said. "Sometimes I'll be on stage and I get really into it and there's all this adrenaline rushing and I'll have to stop the show, but I just ask the bartender for a Coca Cola."
Este and Danielle also used to play in an all-girl pop band called the Valli Girls, but they quickly realized it wasn't the right fit for them.
Because they were contractually obligated by their record label, the two had to wait a year to officially start their own band with their younger sister, Alana, but it finally came to fruition. It had always been a dream for the three sisters to play and write songs together, so it came naturally.
"We wrote our first song in, I think, 20 minutes and we wrote our first five songs that week," Este said. "My sisters are the best musicians I know, boys or girls, hands down."
In July 2007, they played their first show as Haim, with Danielle on lead guitar and vocals, Alana on guitar and vocals, and Este on bass and vocals.
They added Alex Fischel on keyboard and drummer Jeff Conrad, who used to be in Phantom Planet.
Haim has played countless shows in the Los Angeles area over the last two and a half years to growing audiences, but recently Danielle has been on loan as the drummer for Julian Casablancas' tour.
Prior to that she played drums on tour with Jenny Lewis, which landed her on the stage of the Hollywood Bowl last summer.
"It gives me a taste of what I hope is to come," Danielle said. "When I look at Jenny and I see how much her fans love her, singing along to every line, or with Julian, people just go crazy, I want that."
Haim's sound is heavily laced with the vibes of the classic rock they grew up playing, but it has also been influenced by Este's ethnomusicology education. Her father is Bulgarian and moved to Israel after the Holocaust, so she was especially impacted by her studies in Israeli music and singing in the Bulgarian women's choir.
"I wanted to explore that part of my musical heritage," Este said. "It has opened my ears up to new sounds and new kinds of phrasing."
In June, Este is set to graduate from UCLA, Alana will be graduating from high school, and Danielle will be done touring with Julian Casablancas, so the girls are planning to tour this summer. In the fall, Alana hopes to follow in her sister's footsteps and study ethnomusicology at UCLA.
The girls are just finishing recording their first official EP and Este said there is a lot of interest in Haim from record labels.